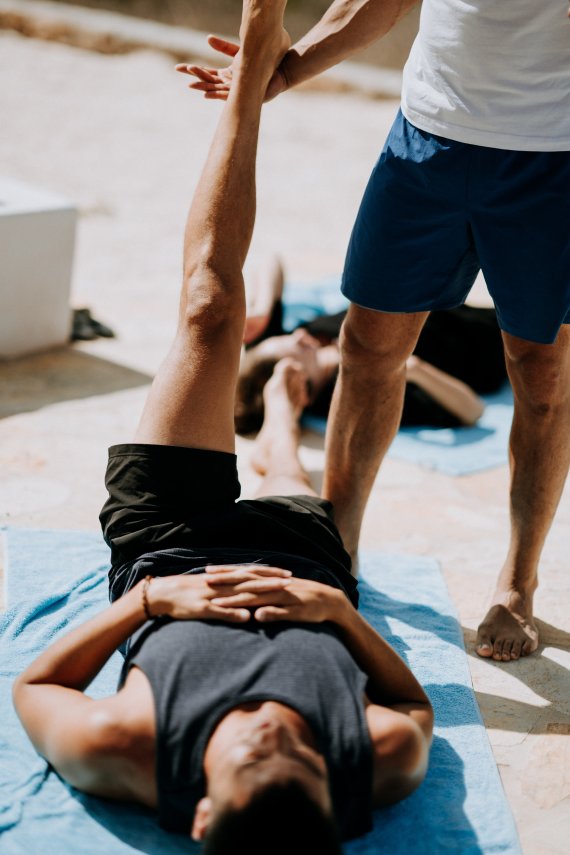 The realization that illnesses can be alleviated, healed and also prevented with targeted physical training has prevailed in medicine for about two decades and subsequently led to the job description of sports therapist. In order to promote healing after an illness and to stabilize health, health insurance prescribes sports therapy. Weight training endurance training and muscle building are also now accepted as part of sports therapies.
"We have known for some time that exercise is good for heart patients. But current studies suggest that high-intensity training achieves the best effects," says Martin Halle, a cardiologist and sports physician at the Technical University of Munich, in an interview with Focus and states, "We are in the midst of a paradigm shift." Sport instead of medication, sport instead of rehab, sport instead of care, sport instead of early retirement. The sharp increase in illnesses due to physical inactivity and obesity, as well as the aging of society, is giving sports therapy more and more work and confirmation."
The goal of sports therapy is prevention and improvement of health. What exactly a sports therapist does depends on his or her specialization. Each form of therapy has a medical approach and aims to alleviate health as well as physical complaints with the help of sports.
Sports therapy begins with an examination of the patient and analysis of symptoms, followed by diagnosis and individual treatment plans. The selected exercises are initially completed under the expert guidance of the sports therapist, but in the long term they are also designed to help patients help themselves.
In the first step, sports therapy is intended to solve acute health problems, and in the second step to prevent and avoid new diseases by leading the patient to an active lifestyle. Active lifestyle means transferring the learned exercise into the patient's everyday life - adapted to his or her specific life situation - often in conjunction with a change in diet. In order to achieve these health-promoting behavioral changes, the sports therapist needs, in addition to practical and training experience with the various types of sports, basic knowledge of anatomy, physiology, biology, biochemistry, as well as pedagogical and methodological skills for counseling and treating patients. In other words, the requirements for a good sports therapist are high.
Here are some, professional possibilities: From self-employment with own practice to the employment in spa and rehabilitation clinics, nursing homes, day care centers and institutions for the disabled.
The possible applications of sports therapy are extremely diverse. Comparative studies show that a sports therapist is just as effective in helping many clinical pictures as medication or psychotherapy. Specializations are possible, among others in the direction of orthopedic sports therapy, health behavior, sports physiology - i.e. the processes in the body during athletic movement - all the way to sports therapist for competitive athletes.
There is no training that is aimed at the profession of sports therapist, but a degree is always helpful as a first step. A degree in the fields of sports, nutrition and health sciences is possible. For example, the Deggendorf University of Applied Sciences offers the possibility of studying in the field of applied sports science. The study of sports psychology at the SRH University of Applied Sciences in Heidelberg is also suitable.
Those who are already pursuing a profession in sports have corresponding opportunities for further education. You can learn the basic principles of sports therapy by continuing your education as a fitness trainer, rehabilitation trainer or fitness coach.
As with other professions, the salary of a sports therapist depends on several factors. These include work experience, what industry you work in and where you live. The starting salary of a sports therapist is approximately 2,000 - 2,500 euros gross. Self-employed people have better earning potential, although it depends on whether the self-employed activity is only pursued on the side.
Sports therapy is a growing professional field. Therapeutic activities, including sports, have key functions in the treatment of diseases, but also in the development of fitness. Proper prevention is important to avert even worse injuries, but also to keep fit in the long term.
Finally, we answer frequently asked questions about sports therapy.
The starting salary is between 2,000 and 2,500 euros gross. With increasing professional experience, more salary is also possible.
The professional title is not yet recognized. Sports therapists include sports and health scientists, physiotherapists and sports specialists with additional qualifications.