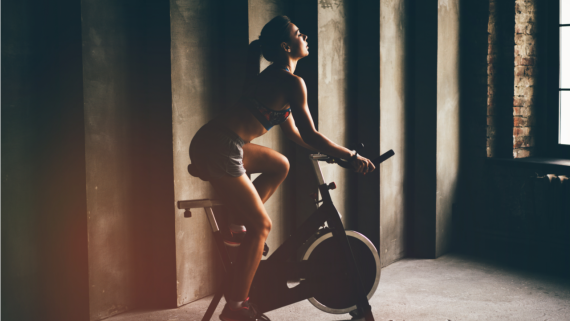 Thumping basseswheezing classmates and cheers from the coach - what for many people is indispensable motivation during sport, prevents others from exercising. They prefer to work out within their own four walls instead of at aspinning courseon the saddle. So why not get yourself a spinning bike?
More and more sports enthusiasts seem to think so, because the demand for spinning bikes is unabatedly high. No wonder, because if you do sport at home, you save the trip to the gym.gym and also overcrowded courses as well as given training times belong with the own Bike to the past. Last but not least, the financial factor can also play a role. Although a good indoor bike is not exactly cheap, with prices starting at 600 euros, in return you save the membership fee at the gym and the petrol costs for the journey. Hidden costs such as the time spent travelling to the gym must also be taken into account.
For all those who like to Endurance training at home and want to keep fit, a bike of their own is definitely a purchase worth considering. But what do you actually have to consider when buying one?
If you want variety in a workout at home, a spinning bike is not for you. This training method aims for speed and a high load, but the sequence is always the same. Indoor bikes are also not suitable for strength athletes who like to pick up the iron, because training with a bike is primarily designed for speed and, apart from the legs and calves, is less aimed at building muscle. Nevertheless, some muscles are heavily used and need a break between training sessions to avoid muscle soreness. After all, too much training weakens athletic performance and can lead to serious injuries.
In order to make the right choice among the huge selection of spinning bikes, you should know beforehand exactly what you want to demand from the bike. Prospective buyers need to ask themselves the following questions:
- How often and how intensively do you expect to train?
- Are there any special wishes?
- What about height and weight - after all, the maximum load limit is around 120 kilograms.
All these points should be clarified in advance so that the bike meets your own requirements. The type of training also plays a role in the selection: Weight reduction, increase in fitness, muscle building - not all bikes are the same and if you want to train efficiently and do something good for your health, you should keep an eye on the small differences.
If you are aware of your own requirements, nothing stands in the way of buying a bike. But how can you recognize a good spinning bike? First of all, you should not be tempted by the all too low prices - a good spinning bike has its price: If you want to get something out of your purchase for a long time and train effectively, you should rather keep your hands off offers below the 600 euro mark.
An indicator of a high-quality bike is, among other things, the problem-free adjustability of the saddle, handlebars and feet , as this is the only way to ensure an optimal sitting position. Likewise, the typical spinning turntable should not weigh less than about 20 kilograms in order to ensure a smooth and steady pedal. The stepless adjustment of the intensity is also indispensable for an optimal workout and should be easy to control. Last but not least, you should also take a look at the saddle, pedals and little extras such as the drink holders.
A good bike for home training should not cost less than 500 to 600 €. But not only the price plays a role, but also the following criteria:
- Weight and dimensions
- design
- material
- load capacity
- Flywheel mass (should be between 18 and 26 kilograms)
- Workmanship
In addition, spinning bikes should have extras in the equipment. This includes:
- Hold for drinking flasks and smartphones
- pulse measurement
- Bluetooth interface
The bikes are exposed to high loads, accordingly, the workmanship must be good. The frame and the frame should be made of stainless steel. You should also make sure that the straps are made of Kevlar and not plastic, because these are more durable.
For athletes, comfort is especially important, so you should pay attention to a leather saddle and sweat-repellent and non-slip steering wheel.
High-quality models can measure time, speed, distance, calories burned, cadence, pulse and wattage. Depending on the goal, different settings are also possible, which affect the level of difficulty.
Working out at home is growing in popularity and more and more people are looking for an alternative to the gym. You're now well versed in the criteria for a good indoor bike, but which manufacturers are making the rounds? Some of the best brands include:
- Schwin
- Sportstech
- HAMMER
- AsVIVA

Here it is recommended to regularlyread through current tests or experience reports to find the best bikes. Often models are also offered in retail stores, but here you have to pay attention to the quality criteria.
Spinning is one of the gentlest ways to increase fitness and do something for your heart health. However, the workout is only healthy if you pedal within your own limits. In order to be able to objectively assess your performance and always keep an eye on important bodily functions such as heart rate, recording various data such as speed, distance, calories burned and heart rate is standard.
If you want to plan your training precisely, you should also look for a bike with an integrated personal training program. Many modern bikes now have such functions, with which you can train specifically in the areas of endurance, strength endurance and fat burning.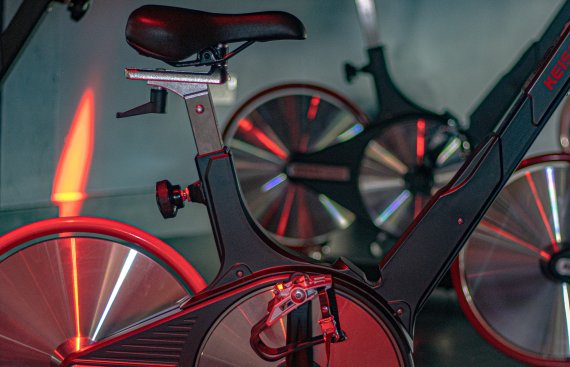 At the end of the article we have summarized the most frequently asked questions about spinning bikes / indoor bikes.
Classic spinning describes a variation of indoor biking where a group of people cycle to music. So basically indoor biking and spinning are the same thing, especially if you do it at home.
There are spinning apps in the Apple Play Store and Google Play Store that have the features of the attached computer. Other apps simulate a race track to make the riding experience more realistic.
Depending on the speed, you burn between 450 and 600 calories with indoor cycling.
It depends on the experience and the goals. Beginners can train two to three times for 45 minutes. Advanced exercisers longer and more often.