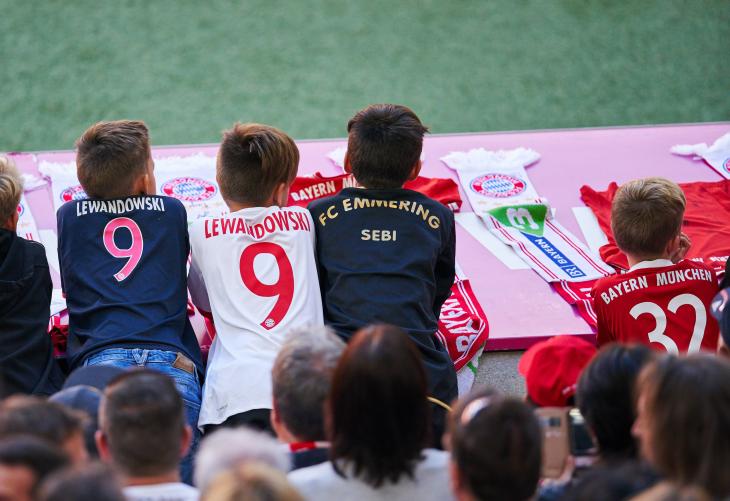 Experience in product management, retail, and e-commerce: As a merchandise manager, the applicant needs to bring a broad wealth of experience to the table. However, successful applicants can look forward to a creative job with the opportunity to develop their own products. Staffing consultant Gunther Schnatmann has analyzed which qualifications prospective merchandising managers need to bring to the table for this job.
No fan merchandise is newly developed and produced "on a hunch." Anyone who's completed a commercial degree and preferably has a focus – ideally with internships and initial practical experience – in product management will know the requirements for an item before it is available in the store. Whether sporting goods or supermarket goods. Product management is an important component of the business, especially for manufacturers of consumer goods.
Whether it's a new yogurt going onto the shelves or a new toy figure: The new product needs to match the brand and image, there needs to be a need for it – tested by market research – and it needs to be so high that the product pays for itself. In addition, commercial knowledge and dealing with numbers are also very important, because merchandising managers usually also have to direct and calculate the purchase of items, for example from textile manufacturers. So you should buy as cheaply as possible, but still buy at a high quality for your own image and find the right balance.
In addition to basic knowledge in business administration and product management, experience in retail and/or training as a business economist for retail are among the very best prerequisites. The job ad for a merchandising manager at the German basketball club Brose Baskets Bamberg words it thusly in the ISPO Job Market : "Ideally at least three years professional experience in a responsible position in the merchandising sector or in clothing retail in the textile industry."
People who know what's happening in retail and how customers tick will have it much easier selling fan items. "Naturally sports retail is an ideal springboard for that, because fan merchandise is usually also offered and sold here," knows insider Andy Gugenheimer. What can be a really big plus here: Experience in e-commerce – retail online! The marketing of fan merchandise – not just in the pure sports and clothing sectors – is increasingly moving online. Experience with this, or at least a high affinity for online marketing, are increasingly becoming a requirement.
In sports especially, the business with fan merchandises lives off of the up and down of the seasons and special seasonal items. When are the jerseys for the new season coming? When do I sell them at a discount at the end of the season? Which fan items do we throw onto the market during the Christmas season? When are which new players coming whose jerseys could be in demand? There are always occasions to develop new products or to get rid of old merchandise as quickly as possible. To this end, the merchandising manager needs to plan campaigns to boost the sales of individual products, make new ones known, and create desires. A basic understanding of marketing, of advertising products, helps here.
The merchandising manager also needs to become a "barker" who can control sales campaigns with a lot of tam-tam across all channels, from the arena offer to the online shop, and thus reach the right target group at the right time and at the right sales price. Industry expert Gugenheimer: "However, especially in sports with their unpredictability, planning also needs to be prepared for short-term demands – for example, when, as happened at the Olympics, a boom in demand for jerseys from the German national ice hockey team breaks out via the association as a licensor!"
As merchandising insiders have long known: The national markets will soon be exhausted. Today, every club and association with global appeal needs to consider international merchandising as another source of revenue. When FC Bayern opens offices in the US and the Far East, the club not only plans matches with clubs there, but also boosts the marketing of fan merchandise. When Borussia Dortmund registers high interest in the uses of player Shinji Kagawa in Japan, the fan merchandise machinery of the BVB runs hot in the Far East. Gugenheimer: "Next to soccer, the trend sports from surfing to skateboarding, all the way up to eSports, are absolute candidates for international marketing. The protagonists, and thus their sponsors and hardware suppliers, are then almost always globally positioned." So anyone entering the merchandising business and planning for the longer term should definitely look at the international markets. And, of course, speak English very well!
In merchandising, creativity is a prerequisite. What new opportunities are there to sell conventional products with the club or organization emblem? But creativity goes even further, and this is where the wheat is often separated from the chaff, the old-school fan shop manager from the high-flyer. For example: The 2011 Women's World Cup in Germany. Athletically, not a glorious chapter for the previously success-spoiled German team. But in merchandising, there was an ingenious idea: Panini collector cards of women's national teams were released – as a merchandising product – for the first time. A creative merchandising manager needs to also keep these marketing paths in mind.
The same applies, for example, to collaborations with charitable organizations (NGOs), for whose support fan merchandise – for example made from plastic waste from the world's oceans – are sold. Without profit of course, but with an image upgrade for future sales. Those who can already show unusual and creative successes here on the lower club or federation levels will often have the wild card in the application poker!
So: Not everyone is the jack of all trades that is so popular in the merchandising business. However, anyone who really wants to do this versatile job and has at least three of the five prerequisites should apply!
An article by Gunther Schnatmann, personnel consultant (schnatmann media), application coach, and media trainer.