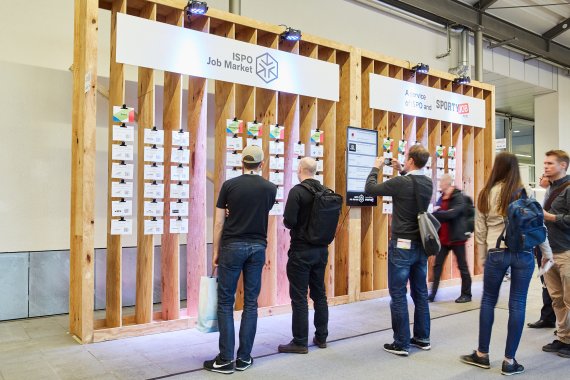 Background information: Major sports brands are increasingly opening their stores in city centers and shopping malls around the world. Therefore, sales clerks and executives are constantly being hired. As a store manager, you're up close and personal with the trends. Then, later on, you can have a fantastic career in the corporate universe of Adidas, Puma, Nike + Co. as an area sales manager or sales manager. 
Andy Gugenheimer (head of sportyjob.com and cooperation partner of the ISPO Job Market) and recruitment consultant Gunther Schnatmann outline the five requirements of a future store manager.
"The most important thing for a job in sales is to be fully behind the sport and the brand, and be genuinely enthusiastic about them," says Andy Gugenheimer. Then it's just one small step further to convince others – the customers and your colleagues – too.
Branded sports stores are fundamentally different from other stores – whether in electronics, fashion, or food. In sports brand stores, salespeople and customers usually meet as "like-minded people" who both have an affinity for the brand and the corresponding sports. So this is about real conversations between insiders. "You're on a first-name basis right away, you talk about trends, it's a completely different approach," explains expert Gugenheimer, who has occupied hundreds of sales positions and started his career in selling sports goods himself. 
So, connecting with the customer is easier in sports brand stores. But at the same time, the manager of a brand store has to constantly tune himself and his team into giving high quality-advice to customers in a collaborative way – this is an essential part of the brand experience.
Brand stores in popular towns generally attract many tourists as well. And for the big brands, there are also wealthy clientele from the Far East or the Arab states of the Persian Gulf. That's why many job advertisements include requirements such as "ideally experienced in selling premium products" and "good English skills." In addition to the sports fans, there are of course the international customers who just love the brand, who also need expert advice. 
However, mostly in English and in a more formal manner. "That's why applicants who have already gained experience in the international sector and in premium products such as watches, jewelry, and luxury cars have a clear advantage in sports brand stores, whether this be from an apprenticeship, a student job, or an entry-level job," recruitment consultant Gunther Schnatmann points out.
Job ads for a store manager or assistant store manager often ask for experience in visual merchandising, such as in the VR Corporation (Timberland, The North Face, Eastpak, and many more). The point here is to have an idea of the visual impact of the store; how the displays, shelves, and shop windows meet the brand-specific presentation concepts – i.e. whether the customer experiences the spirit of the brand with all their senses.
"The biggest brands have their own visual merchandiser for that – a development from window dressers", explains recruiter Schnatmann. "Today, having this expertise – an eye for aesthetics – is usually required for store management, so that the entire offer is appealing. Anyone with this knack who can also guide staff in their displays and arrangements has the best shot in the application process!"
Human resources expert Andy Gugenheimer definitely knows the worth of well-known industry giants: "A newbie there has the advantages of becoming familiar with very professional structures, as well as having roadmaps to help them get promoted and develop further. This can be very beneficial." But, especially when starting your career, it would be worth taking a look at smaller, dynamic sports companies and start-ups. "There are often very good opportunities there for beginners," says Gugenheimer. "Anyone who proves themselves there can often develop much more quickly than in large firms and can really rise through the ranks!" This is especially the case at brand stores increasingly being opened by trend brands.
One final tip: As in other stores, new job titles often unknown to many applicants flourish at brand stores. For example, in the ISPO Job Market there are many vacancies, such as for a "Supervisor"! This is usually a deputy store manager with a lot of logistical responsibility for incoming goods and in the merchandise management system, among other things. Or, vacancies on the hunt for a "Retail Operations Manager" – in a larger store this is the commercial manager who generally has nothing to do with direct sales to customers, but has to keep an eye on the numbers.
Naturally, a business degree is generally very helpful for a managerial role in brand stores. But, often all you need is "just" a training course in commerce or in the commercial sector, paired with entrepreneurial and selling skills. Newcomers are always welcome in sales, too – but naturally, need to have extra enthusiasm for sports and the brand and no shyness about customer contact. Sales expert Gugenheimer: "In sales, you can learn so much for your profession and your life. It's always worth considering for any sports enthusiast!"
An article by Gunther Schnatmann, recruitment consultant (schnatmann media), career coach, and media trainer.