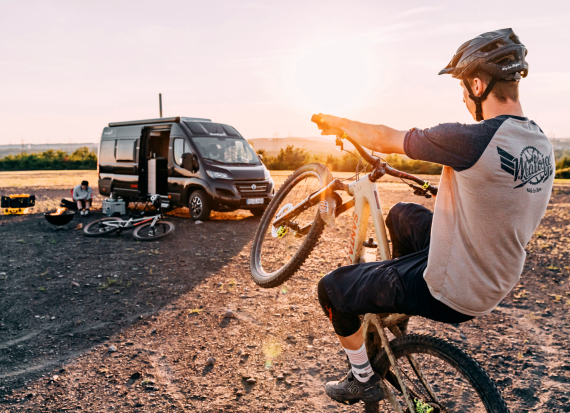 Your own camper is like a partner with whom you create and share many memories. Like any partnership, this one should last as long as possible. To achieve this, you need to think carefully about what suits your own needs. Which vehicle is the right one for which sport? And what else is there to consider when choosing a camper? Unlike dating, don't swipe right, but think about it in advance: what are my camping needs? The more thought you put into it before you buy, the better. This way, the relationship status remains "happily in love" even when traveling and doesn't mutate into "it's complicated" in no time.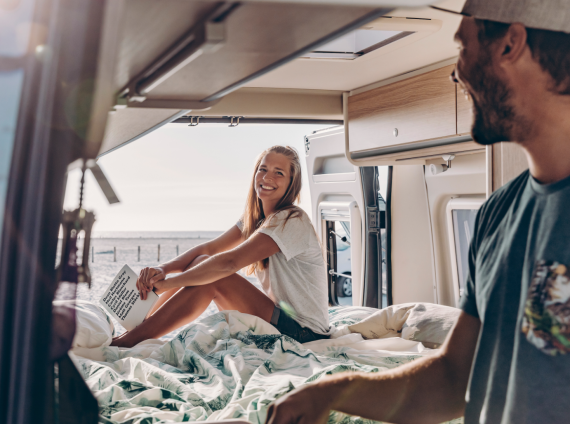 Buying your own camper is a huge investment that needs to be well thought out. The best way to plan a vehicle and adapt it to your own needs is to build it yourself. However, unfortunately not everyone is equipped with the necessary craftsmanship. That's why there are modular solutions that can be fitted to vehicles. And many camping models offer different equipment and floor plans on the large van market, which you can configure according to your own preferences, even without DIY hands or with a lack of time to expand your own van. Whether with kitchen or without, with how many beds and how these are arranged, everyone can decide for themselves with a new van. And used vans are also available in a variety of configurations.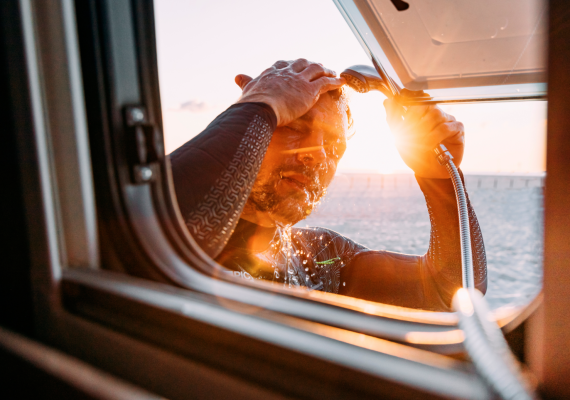 Further decision-making options are offered by different models and lengths of the camper. "When choosing a vehicle, the rule is always as small as possible and as big as necessary," says Janik Steiner from Sunlight. The young brand of the Hymer Group specifically targets the needs of adventurous and sports-minded campers.
Anyone who has ever circled through a narrow and steep lane in southern Europe in a large vehicle, or been on the road in snow and ice with a long wheelbase, probably knows exactly what is meant. Smaller vehicles drive more like a car and are also more comfortable to drive when off-road skills or maneuvering are required.
Especially for sports where you're heading to remote spots and want to get as close to the wall or beach as possible, such as rock climbing or surfing, camper vans with shorter wheelbases and even four-wheel drive, if necessary, are preferable to larger motorhomes. For those for whom all-wheel drive is too big a cost factor, it may help to know that with a little driving skill and practice, as well as the right tires and air pressure, the vast majority of roads can be negotiated.
"If you also travel a lot in bad weather, you should also feel comfortable together inside. Because of the headroom, spaciousness and the fact that you don't have to put up and take down the bed, this is no problem for two people in all our vehicles," Jannik Steiner tells us. In fact, most athletes also travel in pairs or team up with several vehicles.
The Sunlight vehicles all have a four-person registration, so they are also equipped with four belt seats. "If there are then more people, then you should pay closer attention to it, but if all the people traveling with you can also sit comfortably at the table, a lot is already gained here." In some vehicles, the sleeping area and living area can also be separated from each other by a door if you want your peace and quiet or the children need to go to bed.
However, if you spend a lot of time indoors, such as when you're out skiing or snowboarding in the winter, it's much more pleasant if there's a bit of space available. Here, you're often better off with a motorhome instead of a van, which offers more space inside.
"With a few accessories, such as a roof box or bike rack, you can actually do almost anything with any vehicle." It's less about the sport(s) and more about the number of people and the camper's personal preferences. Because often it's also about the look, price and availability of the models.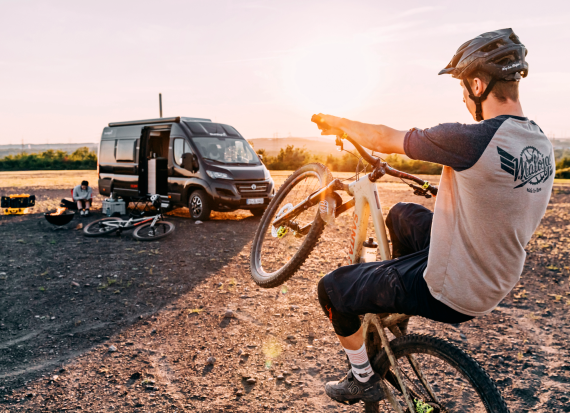 It's clear that a certain minimalism is part and parcel of van life. What you can
you can do without on vacation and what you definitely don't want to do without, that also depends on your personal perspective. Of course, this also applies to what you pack, but basic considerations tend to start with the vehicle. After all, everything that wants to be packed must find its place in the camper.
Here are not only different lengths of the camper possible, experts also distinguish between camper vans, on the basis of expanded box wagons Otherwise one speaks of motorhomes, which there are integrated and partially integrated, which offer more storage space and, for example, also with alcoves offer more sleeping places.
Campervans have the advantage of being mostly very variable, somewhat smaller and also sportier, but at the same time offer enough space for rather long equipment, such as longboards, because they can simply be loaded under the bed, where most of the storage space is available.
Especially with expensive mountain bikes and wheels, it is important to most that these can also be transported and stored in the vehicle. With most motorhomes this is possible without any problem, but with most camper vans due to the height not. "But according to the credo nothing is impossible, you can also put the bed in the camper van higher so that the bikes can be stowed under the bed, which is what many of our bike-savvy customers do," says Jannik Steiner about flexibility in camping. In the same way, there are camper vans with plenty of rear space and also motorhomes with a rather small rear garage. So a test trip with equipment does no harm in any case.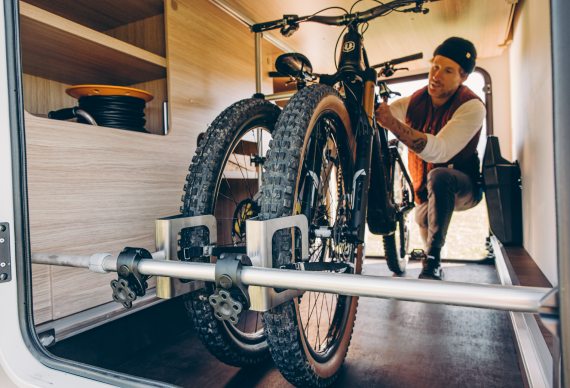 The bottom line is: the more equipment, the more storage space. If I have a lot of bulky equipment, for example always three wheels or equipment for different sports, it is worth looking at larger campervans or thinking about a larger solution in the form of a motorhome. Because so less time goes with organizing, repacking and stowing drauf and more time for sporty adventures has. "For example, you don't always have to turn the handlebars and unscrew the pedals to load the bikes," Steiner explains.
The length of the trip usually plays a rather minor role in size selection. "Most athletes travel in pairs in one vehicle or then team up with several campers." And if one has to change between summer and winter clothes and equipment, there is usually a stopover at home.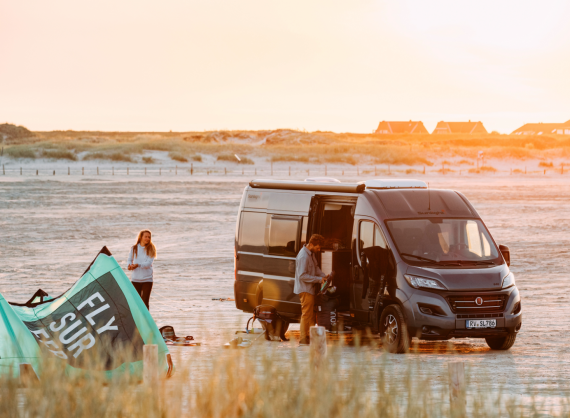 Even with families of several people, it is rather cozy in the campervan and some are simply also designed for only two people. But here, too, there are solutions, especially in longer models over six meters, such as bunk beds or a pop-up roof that provides additional sleeping space with a double bed on the roof, but disappears again during the day.
In the case of motorhomes, there are also different sleeping solutions, such as alcoves, i.e. the bumps above the cab that are familiar from classic motorhomes. Or additional sleeping spaces are achieved with lift beds that are lowered at night and disappear back into the ceiling during the day. So also in terms of sleeping spaces, there are a variety of solutions that can be designed according to personal preferences.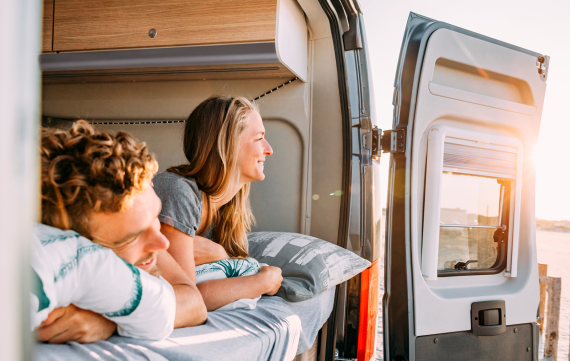 When deciding whether to go with a motorhome or camper van, the storage of wet, bulky or dirty equipment also plays a role. If I have wet boards or kites that I don't want to store inside, a vehicle with a rear garage is the better choice, because it's separate from the main room. "This is especially a point that matters in the winter, too. After all, when I'm skiing or snowboarding, I don't want the dew from the boards and thus the moisture in the interior of my vehicle."
Still, for those who don't want to go for a big motorhome and prefer to travel in a camper van, Steiner recommends a separate storage box here.
Neos or wet clothes are usually easy to hang and dry in the vehicle's bathroom via drying bars, even when it's raining or cold outside.
With all the space and storage space, it is always important to pay attention to the total weight of the vehicle. Different countries have different regulations regarding which driver's license is required for which weight. If you are traveling with several people and a lot of equipment, you should always pay attention to this and also check the regulations in the destination country before you set off.