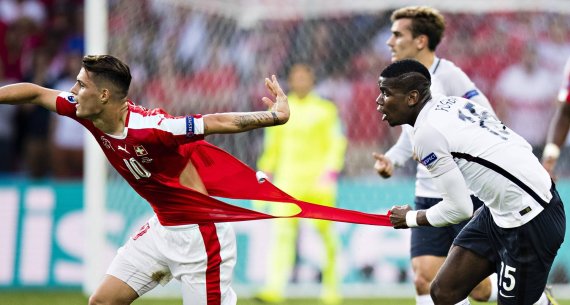 As holey as Swiss cheese – the European Championship shirts of the "Nati" (as the Switzerland national football team is known) did not pass the material test in the last group game against France (0:0). Seven shirts ripped straight away as the opponents held on resolutely.

An embarrassing situation for outfitter Puma. The sporting goods manufacturer from Herzogenaurach in Germany is on the receiving end of a lot of criticism and malicious gloating. Because a match ball from Adidas also burst during the game, England's football legend Gary Lineker mockingly said on Twitter: "Swiss team's Puma shirts tearing like paper. Adidas ball bursting. You can never rely on German efficiency!"

"Nati" player Xherdan Shaqiri, whose shirt did not rip, made fun of the outfitter of his own team: "I hope Puma doesn't produce condoms." The 24-year-old plays in soccer boots by his personal outfitter Nike.

Read more here, as well: How Adidas won the battle worth millions for DFB shirts
Puma makes a statement on its Facebook page
But how could it happen that the shirts of Breel Embolo, Valon Behrami, Blerim Dzemaili, Admir Mehmedi, Fabian Schär as well as Granit Xhaka (who even had to replace his one twice) ripped? On the Facebook page of Puma Group an official statement was published on Monday morning.

This reads as follows: "Our five Puma teams have previously played ten games in the European Championship without this problem arising. Our product experts are currently examining the shirt material. As soon as we know the cause, we will provide information." 

"ACTV Thermo-R" could be to blame
In November 2015 the outfitter boasted that it had created very special clothing products for the national teams of Italy, Austria, the Czech Republic, Slovakia and Switzerland.

The press release at that time stated: "All new home shirts have the new technology Puma ACTV Thermo-R, which is used at strategic places on the front and back sides of the shirt. This should help the players to maintain an optimal body temperature."
The material contains microcapsules that "absorb excess heat and, if necessary, send it back to the body." The particularly close-fitting shirt would enable a "quicker, more effective energy transfer to the stressed muscles" through "micro-massage of the skin".
Many replica shirts of the Switzerland national team sold
Fans that have purchased a Switzerland shirt, however, must probably not fear any similar damage if they cheer on the "Nati" in their last sixteen game: traders mainly sold the "Replica Dress" (85 Euro) that avoids the high-tech material. And at home in front of the television, people are not very likely to grab the shirts in the same way that the French national players did.