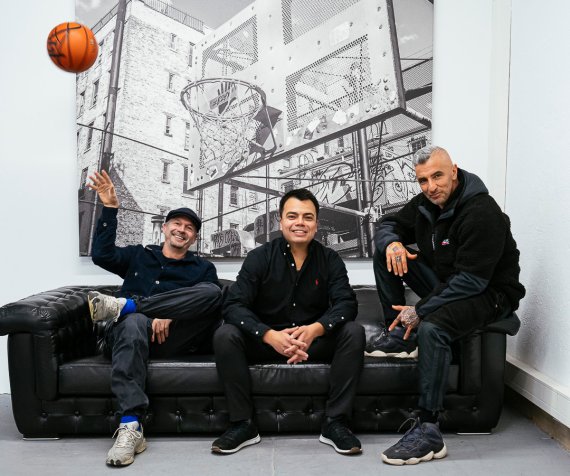 The deal was announced in December and is now complete: The streetwear and basketball retailer Kickz.com is now part of the Play Hard Group, a Munich-based subsidiary of Crealize GmbH based in Essen. Play Hard Group specializes in the design, production and distribution of sportswear and streetwear brands. The company designs and produces for clothing and shoe lines of hip-hop brands such as Karl Kani and Fubu, for the World Wrestling Federation in Europe and for the merchandising of the Basketball Euroleague. Play Hard is also a licensee of the basketball lifestyle brand K1x, which - like the retail chain Kickz.com - was founded by Christian Grosse in 1993. This relationship is expected to "lead to a permanent ownership of the brand in the foreseeable future", according to the company.
Behind Play Hard GmbH are Philipp Buchholtz and Niels Jäger. Buchholtz has been part of the team of Kickz and K1x since 2005. Crealize GmbH is owned by Jacob Fatih, who among other things built up the German fitness chain FitX and now invests in various industries. Crealize describes itself as a "Company Creator with the mission of founding and sustainably developing start-ups". The takeover should not result in any major changes for the basketball retailer. For example, Play Hard wants to take over the almost 200 employees of Kickz.com, but "redesign the website as well as the eleven offline stores - among others in Berlin, Hamburg, Munich and Stuttgart", explains Philipp Buchholtz, CEO of the Play Hard Group.
Zalando had bought Kickz.com in 2017. The investment was considered the next major project within Zalando's platform strategy. As an expert in the fields of basketball and lifestyle, Kickz was to provide the online giant with access to exclusive products on the one hand and strong, authentic content on the other. The goal was to build a basketball world of its own under the leadership of Kickz.com with a curated basketball assortment in the Zalando Fashion Store, which, together with the existing Kickz stores, was to become the first point of contact for basketball in Europe.
Zalando announced the sale in December 2019 on the grounds that Zalando's product range would now "largely overlap" with that of Kickz. The original idea, namely to expand the product range and attract new customers, seems to have been successful. In addition, as part of the new platform strategy announced by Zalando in February 2019, the company is once again focusing more on fashion, which is why Kickz "no longer fits to the current strategy," Zalando wrote in the press release. Since the takeover by Zalando, the number of stationary Kickz stores has been reduced from 15 to eleven.