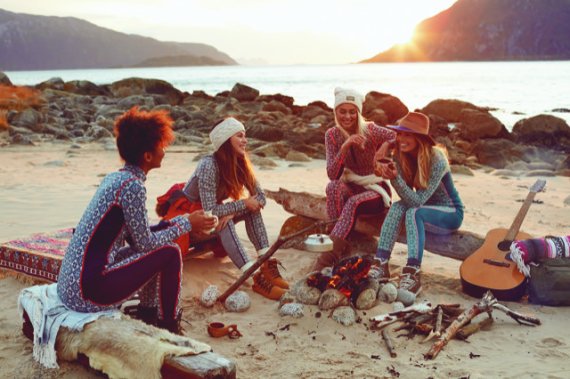 The brand is named after founder and four times freestyle skiing world champion and moguls gold medal winner at the Olympic Games 2002, Kari Traa. The same year she won her Olympic gold medal she founded the company specializing in women's winter sports, in particular base layers.
Since 2006 Kari Traa is sold beyond the borders of Norway. Today the brand is sold in several European countries and has a wider product portfolio including fitness and active wear. Kari Traa is part of the Scandinavian Active Brand group and since 2015 also available in North America.
ISPO.com: The current campaign "Celebrate Yourself" is very well received world wide and embraces the companies motto "by girls, for girls". Why is Kari Traa so extremely successful right now?
Kari Traa: We think it's a combination of great design, really hard work in the background and also the fact that we make a difference for the female community. We love mottos like "by girls, for girls" and "#strongerTWOgether". We just think it's important in sports to show women as well, not only men. Kari Traa is showcasing that women are even stronger, when working together.
How do you give back to the female community, how do you empower women?
We have a mantra, when we design clothing: We've got to make the women healthier, stronger and happier. We're really thinking about how they will feel wearing our styles and therefore in life. We want to empower all the women out there, not just selling them clothing.
Kari Traa triggers something that touches women. We are communicating with them, not about them or in other words, we're really making them part of our campaigns and we tackle issues that are important to them. We are also different compared to other brands.
How would you describe that difference?
From a design point of view, it's the colors and silhouettes we have been using since the very beginning. We actually used colors. That was something outstanding in the sporting goods industry 15 years ago. Everything was pretty masculine at that time. So for Kari Traa it was a perfect start and we changed the industry.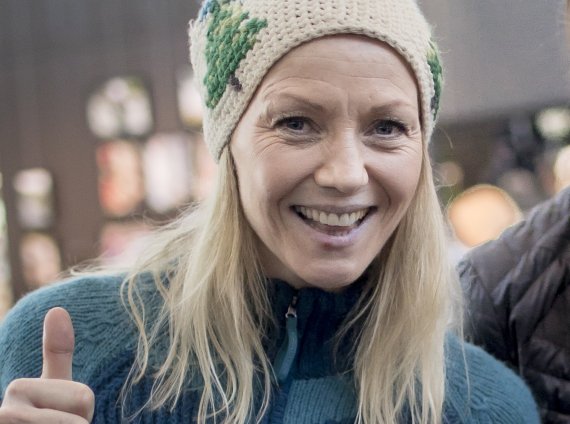 Do you think you influence the big players, like Adidas, Nike or Under Armour, who are dominated by men?
Especially here in Norway or in Scandinavia in general, where we ourselves are one of the big players nowadays, the competitors notice what we are doing and we definitely are an influence. But often times they struggle trying to emulate us, because they don't have the same company DNA.
With Kari as a founder and over 95 percent women working in the company, talking about the brand, selling it, producing it, each one of us simply knows exactly what to do. To communicate effectively with women another company might have to hire an agency to find the right words, and for them it's just a campaign, whereas for us it's our DNA.
The other difference is that, of course those big players have big budgets, but they also have various target groups. One day they talk to men, the other day to soccer players, the next day to kids or parents, which makes it difficult. That's especially true for our direct competitors in the base layer segment, by the way. We, on the other hand, only talk to women, our focus are solely women and what they are up to and the fun they are having. To sum it up, we really know women, by girls, for girls, I guess.
Comparing the outdoor and sporting goods brands of 2002 to the styles today: Are they still masculine or did that change significantly?
We think that most brands are still very masculine. Right now everybody talks about women empowerment and #metoo and we see all these great campaigns supporting women. A lot of brands jump on that bandwagon, since it's a global trend, but you don't know what's going to happen tomorrow, when there's new trend.
Then Kari Traa will still be there for the women, because that's what we are doing, despite trends. For example we always get the question when we will start making clothing for men – Well, it's never going to happen. I think we found our niche, where we are going to stay and we will always work it out from there.
Speaking about those other brands, what could they do better?
They certainly shouldn't try to copy us or other successful brands. Every brand has to find their own way and have trust in what they are doing. I really think that is the most important thing. We have been very true to ourselves and consistent. Even when people were like "Are you kidding me, you can't do that!"  our answer always was "Yeah we can!".
Once we make a decision, it's set. Trust yourself, what you have started. It compares to walking on a road, you don't zigzag, you keep walking straight ahead, if you want to reach a certain goal. We don't jump on trends. Trends are switching so fast these days. When you look back, twenty or thirty years ago one trend existed for a couple of years, now we have a new trend and the next month it's something else already.
Your sales are impressive in Scandinavia and solid in other European countries already. What are your sales goals for the upcoming seasons?
North America is an important market for us at the moment, and we are getting great feedback. We feel like we are at a breaking point in a lot of markets, in different stages with the brand, of course. So we are aiming to grow in Scandinavia, Europe and North America. At the same time we stay true to our roots in winter sports, this is where we come from and what we know best – Women and winter sports!
How does ISPO Munich help to reach those growth goals?
It's the place to be. This is our eleventh year at the show. The show always means a lot of fun and most importantly growth for the company. It's amazing when people stop by sometimes, just to tell us how they have been following us and watching us grow with a sincere kind of stoke.
The development of our booth at ISPO Munich in terms of size, architecture and placement represents the development of the brand pretty well. For example, when we were at ISPO for the first time in 2006, in the evenings we would talk about how amazing it was that day because there were over 20 people at our booth, and now we are slammed every single day. So the show really means big growth for us.
Kari Traa has been on the right track for more than 15 years. The team knows exactly how to position themselves in a competetive market and has set clear goals for the future. One of them being a women exclusive clothing brand. 
Lastly, we will answer some of the most common questions about Kari Traa. 
Kari Traa is a former olympic freestyle skier from Norway and the founder of the brand "Kari Traa".
Kari Traa is manufactured in China. The certified and non-mulesing wool, which Kari Traa uses, is provided by suppliers and then manufactured in the next step.