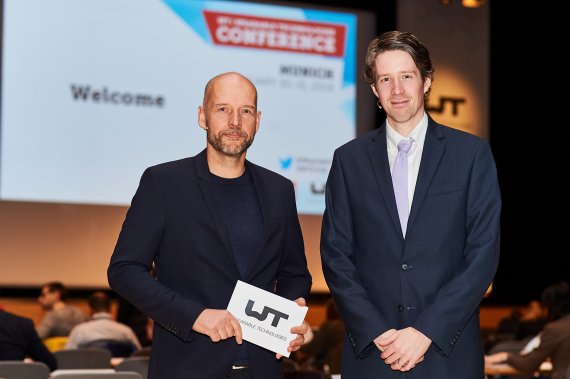 Of course, Nicholas Evans was asked for tickets for the 2018 World Cup in Russia at the Wearable Technologies Conference, which was organized in cooperation with the ISPO Munich 2018. Unfortunately, the head of the international soccer association's technology and innovation group was unable to oblige in this respect during his lecture at the ICM. However, he was able to comment on what FIFA imagines Soccer 2.0 will be like, and on the role wearables might then play. The industry came away from his lecture with quite a lot of "homework".
"Many wearables are currently simply not good enough for soccer, and the more not particularly convincing offers we get, the more soccer takes a skeptical view of them. The technology industry must respond better to the specific requirements of soccer," the FIFA manager explained. Although many of the currently state-of-the-art wearables collect plenty of data on speed, distances covered etc., the information the clubs are interested in is often not provided until later. "The coaches want to know at the end of the day how they can win a match. So they need the information in real time and not a day later. They would also find different data useful, such as information about how exhausted a player is or, ideally, how likely they are to sustain an injury," Evans said.
In addition, the problem that many players generally object to wearing wearables would have to be solved.  "You could say that flexible and soft devices would definitely be a good idea," Evans said beneath the image of a skin patch with an integrated mini data chip. Wearables designed to be attached to the players' jerseys, for example, would be problematic as it is customary in soccer to exchange jerseys after the match, or the players sometimes throw their sweaty jerseys to the fans. If one of them was equipped with an integrated device that costs 5,000 dollars, the collection of data could turn out to be a costly exercise.
Accordingly, there are many soccer-specific problems which the wearables industry has so far failed to understand properly, Evans says. Wi-Fi based systems, for example, would fail in huge stadiums that hold 80,000 people and the respective number of cell phones. He said that there was also a lack of sensory aids for the referees that could prove, for example, whether a foul had actually occurred or whether the players left the field for a dive. If the wearables industry listened closely to Evans and were to develop smart solutions for soccer, this could unlock a market that is worth many millions.
Evans confirmed that groundbreaking technical innovations will already be used at this year's World Cup, such as goal-line technology or a video referee that is fed virtual offside lines. In March, the International Football Association Board (IFAB) still has to officially approve the use of the TV referee in Bundesliga matches, after tests with controversial results. Just like a tool that makes it possible for data analysts sitting in the stands to directly communicate with the trainer on the bench. What has already been decided is that the data from all 64 matches will be made available to analysts and doctors in real time. The future, or Soccer 2.0, has long since begun…