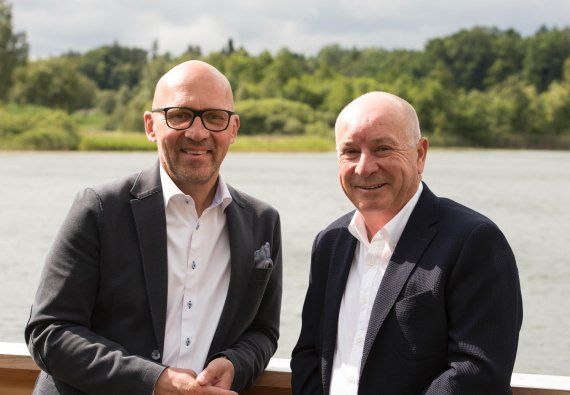 "We will be cooperating intensively", says Dr. Michael Schineis, President of Winter Sports Equipment Amer Sports.
"We are thrilled that everything we offer on our digital platforms is received so well and long-term by such strong brands as Atomic and Salomon", explains Klaus Dittrich, Chairman and CEO Management Board of Messe München.
In a joint interview they explain their new cooperation, which expands across the following consumer services:
ISPO OPEN INNOVATION providing consumer engagement and product development
ISPO JOB MARKET with its focus on employer marketing and finding new talent
The ISPO Data Management Platform for consumer research and marketing
The website ISPO.com for the publication of B2B and consumer information throughout the entire year.
ISPO.com: Dr. Schineis, Mr. Dittrich, you are both here today, that is a pretty strong indicator that you are not going to go separate ways after Salomon and Atomic decided that they won't be on the show floor at ISPO MUNICH 2018. The opposite is actually true: You discuss how the partnership can be expanded.
Klaus Dittrich, Chairman and CEO Management Board of Messe München: Following such a long exhibitor history we certainly are not happy that these two brands are not going to be part of the show next year. For quite a while though, we've been taking on a much bigger challenge than just selling space on the floor for four days a year. The challenge was to develop digital services providing real added value with the power to increase sales for brands 365 days a year, 24 hours a day. I am excited we are now working with Salomon and Atomic in this new format.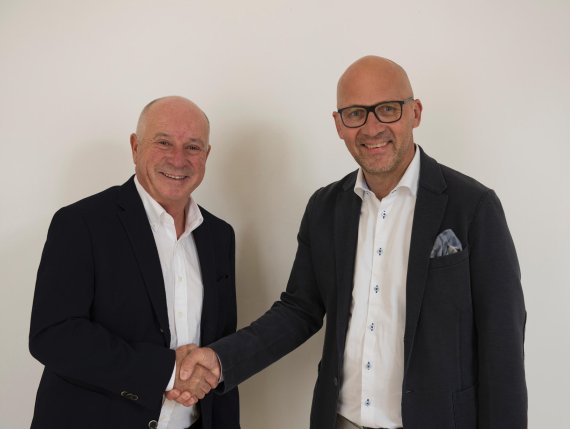 Head of Winter Sports, Michael Schineis: "We are not going to leave the ISPO Group"
Dr. Michael Schineis, President of Winter Sports Equipment Amer Sports: That's correct. We are NOT going to leave the ISPO Group. The opposite is true: We are currently figuring out how we can work closely together year-round.
ISPO.com: A cooperation year-round, but not on the show floor on the four days of ISPO MUNICH – Could you please explain that to us one more time.
Schineis: We realized that the market structure has changed in the last few years. Each consumer has different preferences nowadays. He or she reflects now whether to buy and own a product – or whether they only want to use it. This has led our retailers to develop a variety of concepts.
We work with specialists, buying groups, such as Intersport and Sport 2000, and with  retailers who primarily focus on the rental business. All of these different players are very specialized in their very own business models. In our view, a one-stop-event can only tailor to these different models in a limited way. We want to support all of our retailers year-round and this is why we want to cooperate intensively with the ISPO Group and its digital platforms.
CEO Klaus Dittrich: "Moving forward together"
Dittrich: I think it is a major opportunity – it's an innovation partnership. Atomic and Salomon are exploring new ground – and so are we. We're pleased to move forward together. Of course, we are glad, that the Amer Sports Group and their two strong brands, Atomic and Salomon, have decided to stay with the ISPO Group and to take advantage of ISPO's digital business solutions.
ISPO.com: Where do you see links with the most promising future?
Schineis: We see common topics wherever we take care of our end consumers. It's all really about innovation. Take ISPO OPEN INNOVATION for example…
ISPO.com: ...the ISPO service, where an entire community tests and develops new sporting goods before they enter the market. 
Atomic and Salomon: Great interest in OPEN INNOVATION, JOB MARKET and ISPO.com
Schineis: We consider this very interesting. It's also about exchanging research data, because you need good data to make good decisions. In addition, it is also about using different types of media together, for instance social media or ispo.com. We have already discussed specific topics and we will develop new ideas by working together very closely. For me this is the starting point of a new cooperation with the ISPO Group, a new era of collaboration.
ISPO.com: How could this new era look in more detail?
Schineis: We have to  develop new ideas and a few exist already: If we are looking for new talents and employees, we will use the ISPO JOB MARKET platform. And talking about ISPO OPEN INNOVATION, at the moment we are taking part in a very interesting experiment in the US with Wilson (editor's note: Wilson is also part of the Amer Sports Group). End consumers are invited to a TV show to develop a new generation of golf drivers. We can take this idea further. And we can use the data generated by ISPO as a benefit for the consumers to get better information faster. 
Messe München broadens digital offers
ISPO.com: How surprised were you about this new development, Mr. Dittrich, how did you react?
Dittrich: Digitalization is a major accelerator. As a company we are evolving, too. We formed a new digital business segment. This is where we invest right now. Our 5-year goal is to make 5 percent of our sales with digital services and products.
Having Adidas back at ISPO MUNICH is thanks to the long-term digitalization  and running new channels such as the high-traffic website ISPO.com, ISPO JOB MARKET or as mentioned, ISPO OPEN INNOVATION. Adidas is not back on the show floor but is our partner to initiate and to co-host the very first ISPO Adidas Symposium. The world is changing and we are changing accordingly.
Record numbers for exhibitors and visitors: ISPO MUNICH is more popular than ever
ISPO.com: Yet you may get asked, if the show itself, to be precise ISPO MUNICH, lost momentum – even though you were able to report record numbers for exhibitors and visitors in 2017
Dittrich: If the concept of ISPO MUNICH wasn't working anymore, the show wouldn't be growing every year. The growth performance has been very strong the last few years and this is for visitors as well as for exhibitors. On top of that we are also getting more and more international professionals, up to 80 percent. This wouldn't be the case if the tradeshow itself wouldn't be so important to everyone.
Face-to-face contact, networking, experiencing the look & feel of the products, exchanging views about trends, that is what the show is about: The concept of a tradeshow still works very well. I am sure, Dr. Schineis, you are interested to see how your trade customers will react to the cancelation. It's possible after all for them to say they miss Atomic and Salomon – this could then generate certain expectations for your company. 
ISPO.com: Is this a long-term decision for all tradeshows, Dr. Schineis?
Schineis: Never say never. We constantly watch the market and its dynamics and of course we have to make commercial decisions. Our business depends heavily on the weather, and we want to stay extremely flexible with our cost structure. For now we won't be on the show floor of ISPO MUNICH. However, we will continue to exhibit in the US with Atomic and Salomon, because the market is so different there.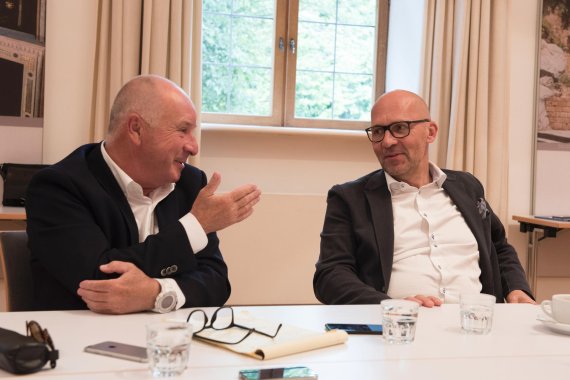 Affiliate Arc'teryx will be exhibiting at ISPO MUNICH 2018

ISPO.com: You are representing the Amer Sports Group today, Arc'teryx is part of the group as well.
Schineis: Yes, and our sister brand will continue to exhibit at ISPO MUNICH. That is another good example for Amer Sports not being against trade shows in general. It is a decision we make for each brand, and each continent, whether trade shows are an opportunity for return on investment or not. Arc'teryx has strong North American roots and for them ISPO MUNICH is a remarkable opportunity to win the competition in Europe.
ISPO.com: Arc'teryx will be exhibiting; Atomic and Salomon will not be on the show floor's first row at ISPO MUNICH. How are you planning to fill this gap?
Dittrich: The spot that opened up is already filled. There were a lot of brands who were looking for a front row spot, others are moving up. It will be tricky to get an adequate spot, if you decide to come back.

Schineis: I guess we'll have to work our way up again (laughs).

Dittrich: We will find a solution together.

Long waiting list for ISPO MUNICH, new  halls are being built 
ISPO.com: Do you think the classic tradeshow business concept is in danger?
Dittrich: We have a long waiting list for ISPO MUNICH. We are currently building two new tradeshow halls, among other reasons because of ISPO MUNICH, to be able to meet the need there. The major advantage of ISPO MUNICH is its unique selling point as the only multi segment sporting goods show in the world. This is where the market meets and we create important content to be communicated year-round on the high-traffic website ISPO.com. This was one of the reasons for Adidas to come back by initiating the digitalization symposium with us after being gone for eleven years.
By the way, I was very impressed when I met David Schneider, co-founder of Zalando and asked him why they bought a whole tradeshow… 
ISPO.com:… Bread and Butter…
Dittrich: … and he answered, that "for us a trade show is a staging opportunity for products: This is where we create content to be communicated via all our digital channels, and that on the other hand supports sales through our online channels." That is exactly what ISPO can offer as well: stage new products, communicate the content, right before the product hits the market. 
ISPO Group develops digital business models for the future
ISPO.com: The digitalization is also an opportunity for classic trade show models?
Dittrich: Just look at ISPO SHANGHAI: We just implemented a cooperation with TMall. They are part of the Alibaba-Group. We broadcasted two hours of live streaming and got three million likes in those two hours. The exhibitor, who had negotiated this cooperation deal, increased its sales significantly.  These are modern concepts we will continue to develop.
Our expectation is to develop business models for the future. We are not at a standstill. The ISPO Group is an outright trailblazer in this manner: For eight years we've been providing these digital options and platforms. And it proves us right when two strong players, Atomic and Salomon, think this all makes sense for them as well.
Schineis: We have a big topic in common: How can we help the sport itself, how can we help the end consumer, how can we make skiing more attractive? This is what we have to work on the entire year.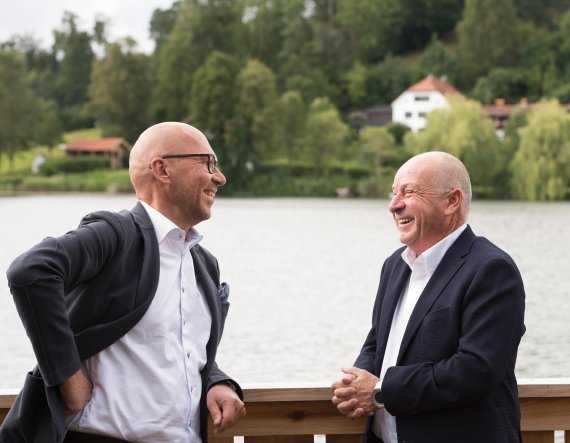 "Epicenter of Sport": This is how a consumer event at ISPO MUNICH could look like
ISPO.com: Apart from all of the digital options: How close can ISPO get to the consumer?
Dittrich: Our common ground is and will be to inspire more people for sports, or rather winter sport. All key players are at ISPO MUNICH. We've had great success with some of our other trade shows in bringing different show topics downtown. For instance, we run the leading building material machinery trade show, with a side event called "Long Night of Architecture". Everyone has the chance to enjoy architectural highlights in Munich – a huge hit. We are currently thinking about launching an end consumer event downtown during ISPO MUNICH, to show Munich's excitement about winter sports. I am pretty sure we are pulling in the same direction.
Schineis: Absolutely, that's very interesting for us.
ISPO.com: "Long Night of Sports" – Does that sound good to you, Dr. Schineis?
Schineis: If the City of Munich together with ISPO would succeed in becoming the world capital of winter sports for the month of February, that would be fantastic. As spokesperson of the ski industry, I am constantly in close contact with the international ski association FIS. We work on the evolution of skiing and already tried a variety of things in Munich…

"60 Percent of our global sales is made in the Central Alps"
ISPO.com: You are talking about the parallel slalom at the Olympic Park over New Year's Day – which was not continued after the first years.
Schineis: Why does it have to be a world cup with all of its requirements? There are other opportunities to get young consumers to the snow and to go skiing downtown. To include the whole city as well as all the strong retailers we have there. We have a lot of ideas. Bavaria has almost 13 million people, Austria almost 9 million, Switzerland has more than 8 million, South Tyrol another half million. That's our target group: 60 percent of our global business is made in the Central Alps. It is very much in our interest to set up an Epicenter of Sport as one big party during ISPO MUNICH.
Content year-round: This is how brands take advantage of ISPO MUNICH
ISPO.com: Does that mean ISPO MUNICH could be open to the public?
Dittrich: This is a recurring discussion. In my opinion it doesn't make sense at all for a show with 80 percent professionals from all over the world to be open to the local public in Munich and its surroundings for one or two days. Instead, we generate content during the show, which we can use to communicate with those consumers during the entire year. Our digital channels, like ISPO.com, are the perfect tools to do so. Our exhibitors can also send their message to their consumers this way. Thus we can cooperate with our retailers without diluting the different formats.
Schineis: Again, it's all about the platform. That's exactly what we are looking for. To me, our new cooperation is a chance to create a lot of new ideas in partnership with a big company. It's in our interest to further strengthen our position in the market; ISPO wants to expand their leading role in its segment. We can work together to reach those goals.
Atomic, Salomon and ISPO: "A new chapter, a new era"
Dittrich: Dr. Schineis is also a board member of the ISPO Advisory Board.
ISPO.com:..an advisory board which consists of industry professionals, retailers and associations...
Dittrich: And you will hopefully keep working for the board.
Schineis: I would love to, if I get invited...
Dittrich: Done. You see: We don't go separate ways. It's a new chapter, a new era, with new elements. I am very optimistic.