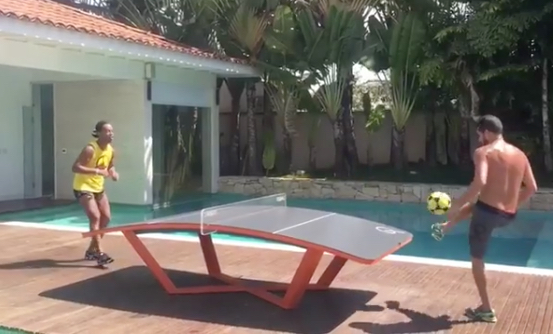 The curved Teqball table, known as the Teqboard, won an ISPO Award in the "Health & Fitness Products" category at ISPO Munich 2015. With the help of Ronaldinho, former Brazil and FC Barcelona playmaker, Teqball is reaching many fans. One of its Instagram videos from October 2016 generated over 1.8 million views within a week.
We spoke with Viktor Huszár, one of Teqball's founders and developers, about soccer, high-tech, and the eternal love for sports.
Mr. Huszár, isn't a soccer ball a bit too big for a table tennis table?
No, absolutely not. Teqball is not played on a normal table tennis table, but on a specially developed and curved table that allows the soccer ball to bounce further and higher. And once the ball is in play and flies over the net, great fun is guaranteed.
It was 15 years ago that my neighbor, good friend and co-founder of Teqball, Gábor Borsányi, was playing soccer on a normal table tennis table. An experience that moved and occupied him for over ten years. Finally, Gábor came to me and told me about it. As a former professional soccer player, the sport with the round leather had become too aggressive for him. In addition, the constant risk of injury was too high for him.
But soccer is and remains his eternal love. This is how the idea of Teqball, the cleanest kind of soccer ever, was born. Gábor is the creative one in our team, and I myself am a soccer-loving computer scientist. We started to tinker and play around with different tables and boards in our garage - until Teqball came out in the end.
Always up to date on the sports business: With the ISPO.com newsletter >>>
That sounds like a pretty simple development process?
No, it wasn't that simple. It took us a total of four years to develop the special design of the tables and the Teqball concept. A lot of hard and sweaty work went into it.
Is Teqball only something for professional soccer players or also for beginners?
You should already be able to handle a soccer ball. Children can play from the age of eight. Doubles is very popular, i.e. two against two. But Teqball is also used by professionals. They integrate our innovative equipment into their training sessions. Various clubs in the English Premier League and the French professional league are already training with Teqball.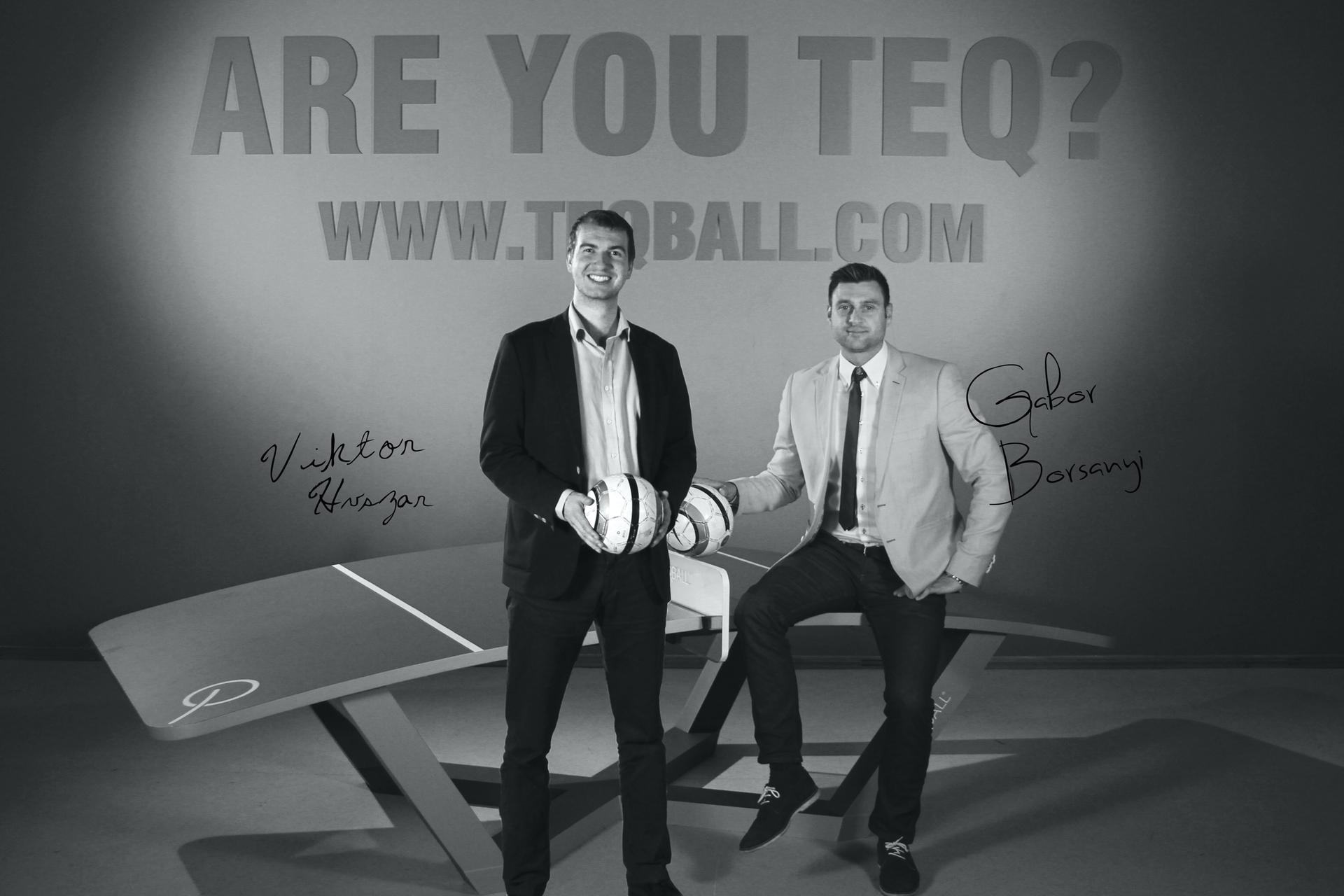 What do you need to play Teqball?
Not much, actually. Besides the Teqball table and a ball, you just need some feel for the ball, and after a good half hour you'll get the hang of it and be able to make your first rallies - with your foot, head, chest or knee. Only the hand should be left out of the game, just like in real soccer.
We also organize tournaments - on sand, grass or stone ground. Our Teqball tables are easy to transport, fit anywhere and everywhere. If you want to see such a tournament or play yourself, you can find the dates on our website.
Getting technical with the Teqbox
Do you have to follow special rules for Teqball?
The basic rules are very simple: A maximum of three ball contacts are allowed, then the ball must be played over the net. It is forbidden to touch the opponent or the teqball table. The sports can be played with two single players, four double players or several round running players. Once you stand at a Teqball table, you will immediately fall in love with this sport.
There is also a Teqbox for Teqball. What is it all about?
Exactly. The Teqbox is the technical accessory for Teqball. It records ball and player movements during a match. It also checks compliance with the rules, counts points and assesses a player's ball-playing development. The Teqbox is a package consisting of motion sensors and cameras as well as a data acquisition system that can be installed in any room in just a few simple steps.
This mix of sport and high-tech was also a reason for winning the ISPO AWARD in Munich. How important is this award for you?
It's just great how an award like this confirms and recognizes our entire product from experts and professionals in the international sports industry. This gives Teqball a great authenticity.
Facts about Teqball:
Weight: 161 kg
Size: 1,5 m x 3 m
Price: approx. 2400 Euros
All Teqball tables are weather resistant.
More information about Teqball:
Teqball website: http://www.teqball.com
Teqball on Facebook: https://www.facebook.com/teqball
All important questions about Teqball are answered below in our FAQ.
Teqball is difficult to play on a normal table tennis table. There are special teqball tables for the sport, but they are not cheap. Sportswear and a teqball ball should not be missing.
Although there is a specific table for Teqball, the ball used is a normal soccer ball.
Prices for a Teqball table range from €2,500 to €3,000.