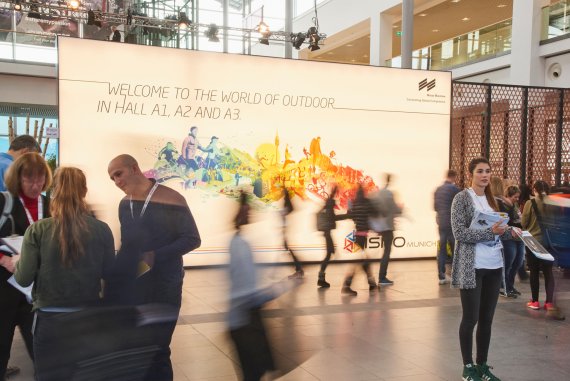 Monday noon there will be a particularly large concentration of celebrities at ISPO MUNICH. German Federal Minister for Economic Cooperation and Development Dr. Gerd Müller will report about the development of the Partnership for Sustainable Textiles at 1 pm at ISPO ACADEMY. Almost at the same time, world champion soccer player Philipp Lahm (Sixtus) and US alpine star Ted Ligety (Head) will make guest appearances at exhibitor booths. Beginning at 1:30 pm in Water Sport Village, world champion wakeboarder Dominic Guehrs will be giving a talk. You practically have to be in two places at once to be able to experience all these highlights.
Running shoe symposium by Runner's World
This is also true of the other exciting items on the agenda. In ICM Hall 5, the community will spend the entire day discussing exciting developments at the Runner's World running shoe symposium. Talented fashion students will get together for ISPO masterclass.

At the west entrance B32/B3, Pauline Shephard from the European Outdoor Group will report on the European outdoor market starting at 11 am. At 11:30 am in Atrium A1/B1, the symposium on the "Dein Winter, Dein Sport" initiative will begin. The initiative has had a big impact on winter sports outside of Germany as well. Starting at 2:30 pm, digital innovations in the retail sports industry will be discussed in ISPO ACADEMY.

And the awards keep coming on Monday in Hall B5-132: Monday's round starts at 11 am with ISPO AWARD Outdoor. This will be followed by ISPO AWARD Health and Fitness at 3 pm, and the day's awards will be completed with the presentation of ISPO BRANDNEW AWARD at 4 pm. 
Those looking to gather their strength for the day should head to the stage in Hall B4 to attend a yoga presentation given by the German national football team's yoga specialist, Dr. Patrick Broome, at 9:30 am.

Top models and parties

And a particularly unique highlight will be taking place at 11 am: Barbara Meier will be looking for 2016's top model for Polar in the grand finale. A few of the stunning participants are sure to be seen at ISPO after-work party in the Atrium between A1 and B1 at 5:30 pm.

Or maybe at the Spanish-themed evening starting at 6 pm in ICM Hall 14B. Olé! And there are plenty of other parties to go to out in the city: The Basty Mondays Party at P1 (10 pm) and the Rossignol Party at Crux (10 pm) are the ideal way to finish off such a busy day.