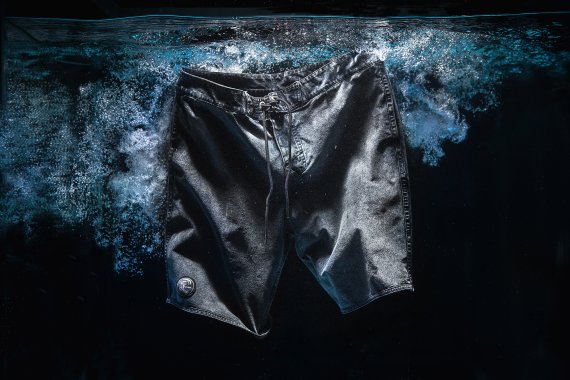 With the increase in 'active living', textile manufacturers are delivering the high level performance that appeals, in turn brands are producing products that are multi faceted. In an era of time being the new currency, brands have to deliver more efficient products. There is a growing interest in gym-to-swim activewear applications through to beach-to-street and sports-to-street offering the consumer a higher level of diversity from their garment purchasing.
Two leading brands, one from the textile world, ISKO, and one from the apparel world, O'Neill have joined forces in creating the world's first denim board short. Part of the O'Neill Hybrid range, this new innovative swimwear concept bridges the gap between land and sea.
The Denim Boardshort is a progressive collaboration uniting the heritage of O'Neill with the expertise of denim professionals ISKO. The result is a unique design that brings street style to the ocean yet naturally reflects the need for serious function. 
"Where ever you see people, you see denim. People are addicted to denim. Why not make a denim boardshort that you can wear in and out of the water," said Jan Lindeboom, Category Manager Surf & Snow Performance at O'Neill.
Made with fast-drying, lightweight, 4-way stretch and patented ISKO Blue Skin denim fabric, the woven structure of the fabric results in a hydrophobic finish from O'Neill's Hyperdy treatment, applied though a padding process during the production of the denim.  Water rolls off the surface. Unrestricted mobility and flexibility features, with the inherent four way stretch and quick dry attributes of ISKO's Blue Skin, ensuring the boardshort maintains its shape no matter how hard it has been ridden.
Featuring side, back pockets and iconic contrasting yellow stitching, the design has a relaxed silhouette and lace-up waistband. The short's denim is also 50 per cent  lighter than traditional jeans fabric and is water repellent thanks to the O'Neill Hyperdry treatment applied to the material in production. The treated fabric remains soft and breathable both in and out of the water, with a durability that can withstand surf after surf.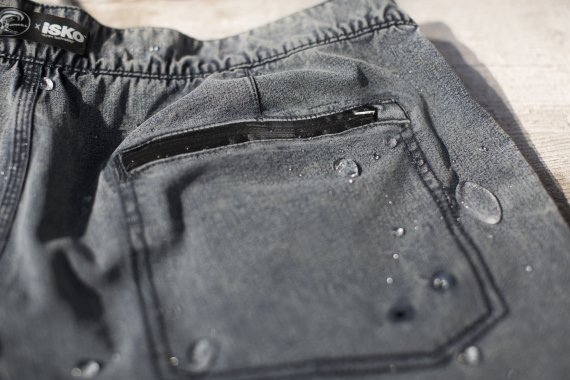 The original board shorts were introduced as long cotton shorts, protecting surfers from rashes occurring from paddling and sitting on waxed surfboard. Today's board shorts have advanced to ultra-light and flexible, but with this O'Neill x ISKO collaboration, the consumer will get all the performance aspect of a traditional modern-day board short that can cross straight through to streetwear.
Over past season's there has been a rise in performance denim, as denim suppliers look to final applications. High tenacity denim brands incorporating Cordura featured at the ISPO Textrends forum at ISPO Munich in January, delivering four-way stretch, lighter weights and anti-ripping as this cross over of a much loved fabric finds new applications.
The 'jog jean' set a precedent as denim mills explore the benefits of performance fibers from anti-odor through to moisture management and four way stretch in knit structures, now ISKO has also launched Arquas, a denim range specifically for the activewear market. This performance enhancing denim collection, woven in structure but giving the appearance of knits, is packed full of performance.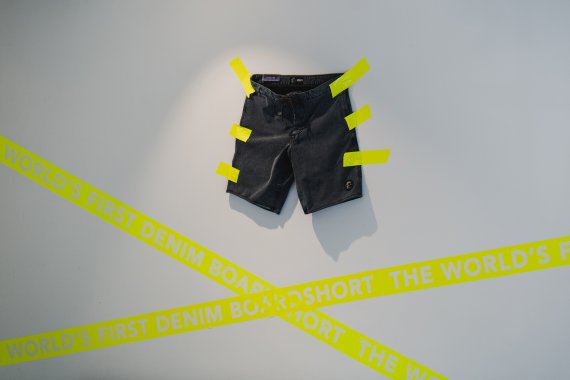 Water repellant, stain repellant, anti-bacterial, UV protection and anti-odor all feature throughout the collection, ensuring denim is to become an integral part of the activewear market in super lightweight fabric with high level elasticity that support the body at all levels of activity.
The ISKO Arquas platform is a wide range of  technical and stylistic applications focused on four moods – active, outdoor, hybrid and lifestyle, specifically developed to  cover and inspire the widest range of active lifestyle activities.
Expect to see an increase of denim applications in training, cardio, yoga, cycling or running through to hiking and sports to street applications incorporating the Arquas range. The consumer's insatiable appetite of denim will see performance qualities influence all aspects of their lives.