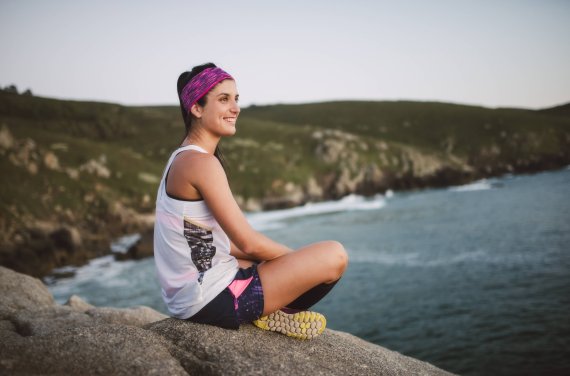 Resource conservation and environmental compatibility are the most important trends for Marlen of Trailkitchen. The (ultra)trail runner from Munich, who posts on her blog about training, competitions, and healthy eating, is convinced that customers now expect a completely sustainable production chain. In particular, she sees potential in synthetic alternatives to animal materials like down.
Lifestyle expert Rebecca has over 15,000 followers on Instagram and goes one step further: She hopes for further developments when it comes to recycling. Projects by Adidas, Patagonia, and Vaude aimed at the processing of PET bottles, plastic waste, or their own products are the way into the future for them. A savvy PR stunt, coupled with environmental awareness, is clearly rewarded by the end customer, and a little bit of "fair & trade" is no longer enough.
Female lifestyle and fitness bloggers feel well received by the industry and the associated advertisements – they even feel they are disproportionally well-represented. However, the situation is quite different in the outdoor segment.
Until now. Cindy from runfurther.de for example, who often accompanies women's running meets as a trainer and knows firsthand how much purchasing potential is still going unused, argues this will and must change. Jules and Barbara, two of the eleven-person core of Munich Mountain Girls, are actively involved. Their wish is that the industry, as well as tourism, recognizes the potential of (young) women and becomes more feminine and younger in style, functionality, and appeal.
A trend confirmed by Karoline Rettig, Marketing Director at Schöffel. Schöffel recognizes the potential and is adapting its product range to the female customer, particularly in the ski touring and winter hiking sectors.
While membrane is in fashion for climbing enthusiasts and technology lovers, Caroline Kynast goes for both. The fashion influencer from Munich sees this as the sector's biggest trend and notices that originally functional outdoor pieces are now becoming status symbols in urban areas. She describes an oversized Gore-Tex coat that can be turned into a casual shoulder bag with a flick of the wrist.
Caroline draws parallels with the Mini Cooper, which is nowadays being parked in front of a 4-star hotel as a lifestyle statement as if it were the most natural thing in the world. Eisbär is also going for this level of presentability. For decades, the hats in professional skiing have reliably kept ears warm, but now the brand clearly sees its growth potential in the urban and style segment.
The consistent use of high-quality materials, such as interwoven reflecting cotton ensuring visibility in both urban and rural areas, proves that they do not forego their normal functionality.
Vlogger Marius Quast believes an important trend for 2019 will be invisible. He expects outdoor hardware to become more and more digitally interconnected. For example, sensors in clothes should be linked to those wearing skis, thereby allowing weight displacement and training effects to be measured. Fitness blogger Linda also thinks tracking and artificial intelligence have not yet reached their full potential in this sector.
She often shares her successes with her nearly 100,000 followers on Instagram and justifies this with the desire to see how she measures up – with others and herself. A development to which wearable manufacturers like Garmin are responding with new products, but at the same time emphasizing that campaigns like #beatyesterday don't automatically mean running faster, but perhaps running a nicer route instead.  
An appropriate pack size and weight have already been reached when it comes to ascent-orientated skis, touring shoes, sleeping bags, and coats, but YouTuber and ski mountaineer Tobias still anticipates even lighter equipment. In particular, his trend forecast for 2019 includes developments in the field of alpine safety, such as weight-reduced avalanche backpacks.
An innovation that Kilian shares. The skiing enthusiast observes that more and more people are heading into open terrain and that there is more and more equipment for this. From the ski company Original+ from Salzburg, for example. In 2018, their first year, they won the ISPO Gold Award for snow sports and tailored skis that are adapted to skiing ability, height, and weight to ensure a safe skiing experience. For Kilian, this much is clear: "Safety is becoming a trend."