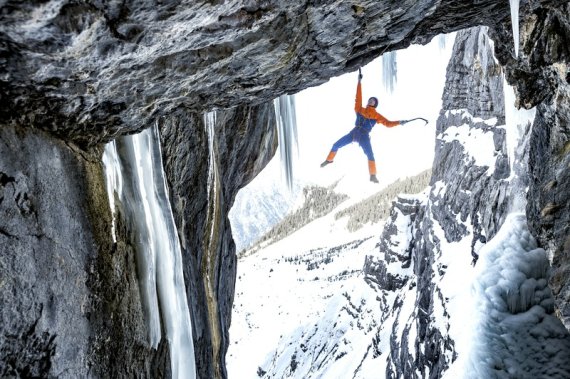 Adam Ondra, Chris Sharma und co. are the biggest motivators in the scene, because they set the standards. It's not just that they're always reaching greater heights, they also acts as role models when it comes to training methods and equipment. Their advice: With total dedication and rigorous training, anyone can achieve anything!
The climbing scene lives off its heroes – that's been the case since its very beginnings in Saxon Switzerland, the Yosemite Valley, and Frankish Switzerland. Sponsored athletes are more than just brand ambassadors, however, they're the middlemen between sports and businesses. They're also nowhere near the only marketing tool for brands to react to digitalization within climbing.
Adam Ondra set a new record at the beginning of September. He climbed what he believes is the most difficult route in the world: a 9c (French level of difficulty) in the Hanshelleren cave in Norway. His sponsors (including Black Diamond) will be pleased with his success – but is their marketing strategy built purely on the success of their athletes?
ISPO.com asked the experts from five leading climbing brands: How do you reach out to the climbing community? How important is sponsorship for the success of your brand, and how do you otherwise stay in touch with the scene? These industry insiders give us answers:
Black Diamond: Stephan Hagenbusch, Vice President of International Sales

Edelrid: Thomas Hodel, Brand Manager

Mammut: Andres Lietha, Head of Business Unit Hardware

Petzl Germany: Christoph Driever, Country Manager

Red Chili: Stefan Glowacz, co-founder
Black Diamond Equipment is a manufacturer of climbing, skiing, and mountain sports equipment headquartered in Utah. The company was founded in 1954, and also maintains global subsidiaries in Innsbruck, Austria and Zhuhai, China.
"The exchange of information on climbing routes, training methods, etc. via digital communities has rapidly increased. Black Diamond puts a clear focus on digital marketing. With the MountainHub, for example, we offer a relevant online community for tour planning, work closely together with relevant forums, and invest in the creation of digital content. We do, however, make sure to integrate all of these activities into the classic marketing mix (events, PR, in-store).
We're focusing less on targeted sponsoring, in exchange for strong athletes like Babsi Zangerl, Adam Ondra, and Alex Honnold. Furthermore, collaborating with associations like Austria Climbing and select climbing halls is important to us and we strongly value wide-reaching, high-quality content. The foundation for getting people excited about a brand was, is, and always will be an excellent product."
Edelrid is a German manufacturer of climbing and mountain sports equipment with headquarters in Isny im Allgäu, Germany. Founded in 1863, Edelrid has been part of the Vaude Group since 2006. The company has 160 employees.
"Digitalization is now an integral part of the climbing market. In the past, you would still see climbers wandering through the forest with their climbing guides. Nowadays, you increasingly see them staring at their smartphones.
We're see the advantages of digitalization above all with the use of PPE (editor's note: PPE=Personal Protective Equipment). We're currently working on an app for all users, testers, and renters of PPE items (climbing halls, mountain schools, PPE testers, etc.). It facilitates the registration, maintenance, and testing of PPE products. This saves time and money, increases transparency, and eliminates human error.
Sponsorship is extremely important for us. As a result, it's not all about the safety of our brand in the media. Our sponsorship partners are also important inputters when it comes to the development of our products. We work closely together on that with national associations, mountain schools, and climbing halls. Edelrid has already been supporting the Dav-Expedkader (German Alpine Club Expedition Squad) and the German national team for many years this way in sports climbing.
The Mammut Sports Group AG is a Swiss manufacturer of mountain and trekking equipment with headquarters in Seon, Switzerland. The company, which has 465 employees, was founded in 1862.
"We're successfully involved in the construction of communities on social media. This isn't only limited to the climbing market though, but rather for mountain sports in general. Climbing is a strong point of focus there, of course. In addition, we work with external platforms and communities like "I love climbing."
Sponsorship is very important for the creation of content, which can then be played on all communication channels. Furthermore, sponsored athletes have always played the role of influencers."
Petzl is a manufacturer of climbing equipment, cave equipment, work tools, and headlamps headquartered in Crolles (near Grenoble), France. The company was founded in the 1970s by cave researcher Fernand Petzl, and employs 700 workers.
"We're currently in a strategy phase, where we're finding the right ways for us, as a market leader in innovation, to also reach out to our customers in the future. However, our focus lies clearly on benefits meant to make it possible for the customers to understand our products more easily, in order to safely practice the sport of climbing in the end!
In the motherland of France, for example, the Petzl Foundation is an active supporter of the biggest public French, but also international, tour platform www.camptocamp.org
Sponsorship is a central component of our marketing. Athletes and influencers are no longer just brand ambassadors, but also partners in product management We reach out to our customers at our own events (e.g. workshops in climbing halls), but also at events hosted by our retailers, and therefore have not only a good understanding of the current needs and developments but also a close connection to the scene, both in the sport and within our activities in the area of workplace safety. Furthermore, we're also currently developing intensive partnerships in the blogger community."
Red Chili Climbing is a German company that produces climbing boots and climbing apparel. Stefan Glowacz is its co-founder. In 2017, Red Chili merged with Edelrid.
"For us, the digitalization within the manufacturing and management of our products is an important issue. But at Red Chili, the employee and his/her ideas and visions are still at the forefront.
We're focusing on 3D printing technology within the product development and construction of prototypes. Of course, we use the most important social media platforms as information and communication tools. But even here, people are at the forefront. Via many testivals in bouldering and climbing halls, we try to keep in direct contact with our customers as often and intensively as possible.
A majority of Red Chili employees climb, some at a very high level. This means that sponsored athletes are not as important for product development. But naturally we support athletes with products and, in some cases, financially. We take their feedback very seriously, and it is important to us.
We view the retailers of our products – both in fixed shops and online – as partners. For example: In October, I'm going climbing with the Bergzeit employees. The climbing day with the Schuster employees already has a long tradition and is very important to us."