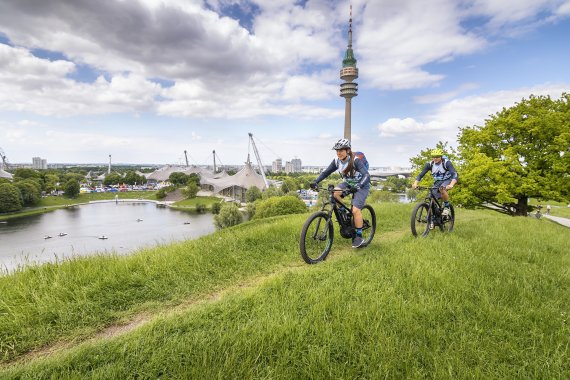 E-biking is booming. With 720,000 e-bikes sold in Germany in 2017, there's been spectacular growth of 19 percent compared to the previous year. The one million mark could soon be cracked: E-bike riding is not just en vogue among older people, and the clientele is becoming more and more demanding.
This could also be seen at the E Bike Days in Munich's Olympic Park: More than 100 exhibitors talked about the latest developments in pedelec, E-MTB, and others. E-bikes are becoming more and more beautiful, comfortable, and diverse.
Here are the latest innovative developments in the e-bike scene that could even convince skeptics.
"The trend is clear: It should be easy, good-looking, and not too expensive," says Hans-Peter Gratt, owner of the specialty store E-Bike4You. By using light materials such as aluminum or carbon, the weight of the top wheels can even get below 15 kg.
Also to note on the E Bike Days: On many bikes, the battery is fully integrated into the frame – and is therefore hardly noticeable. In addition to an efficient, powerful engine and more suspension, more and more customers also want an attractive appearance – and with e-bikes that means the battery shouldn't be too noticeable.
Whether an e-scooter, e-trike, or an e-bike in a Harley Davidson style: The e-bike scene is becoming more and more colorful, and the e-MTB is no longer the latest trend. At the E Bike Days, the models that stand out with their leather and vintage look are the bridge to the chopper and Harley motorcycle scene. The Rayvolt, for example, not only looks special, its battery can also be recharged via a solar panel.
"The Ruffian," an e-bike from Regensburg, doesn't necessarily appeal to the typical bike clientele, "but often older men who also have a classic car in the garage. They fall in love and want to have it immediately," reports Mark Ngauv, CMO of the company. Some of his retailers even sell Harleys.
The battery as an energy source for e-bikes is, naturally, also one of the most important topics for the future. Additional batteries are becoming more and more the trend, with which you can increase your range when e-biking. "The range extenders are being offered by more and more manufacturers. In the future, you'll probably take the extra battery with you like a water bottle," says e-bike retailer Gratt.
Haibike, a company based in Schweinfurt, Germany, has a model with the option of mounting a second battery on the down tube. 1000 Wh and twice as much e-biking pleasure. Bosch offers bicycle manufacturers the "DualBattery" system, which switches intelligently between two batteries. Perfect for touring cyclists, commuters, or people on extreme routes with their e-mountain bike.
Whether Bosch, Brose, or Continental: It's striking that automotive suppliers are stirring up the e-bike industry. In addition to the economic opportunities – through increasing sales – this above all has something to do with the existing technical competence in the drive sector. As a result, technologies that have long since been introduced in the automotive sector are also entering the e-bike scene. At the E Bike Days, Continental advertised the first automatic transmission for electric bicycles, for everyone who doesn't feel like shifting gears.
"Just set the cadence and the motor will adapt the gears. The car has found a target group for this, and we hope that other manufacturers will also jump on the bandwagon to develop a variety of products," explained a Continental employee in Munich.
The shared economy is also reach e-bikers. Several travel destinations, especially from the Alpine region, attracted guests at the E Bike Days. E-bike rentals are booming in many tourist strongholds, and sporting goods associations such as Intersport along with them. "It's a real trend, as many people are becoming more and more environmentally conscious. Meanwhile, tourism regions aren't the only ones to use the rental offers, but increasingly also universities and companies," reports Franziska Berger from Movelo.
Companies rent a vehicle fleet with e-bikes, which employees can then reserve via an app to travel from one production location to another, for example. This model is likely to boom in the future, especially in high-congestion metropolitan regions, and it's also an interesting offer for private customers.
Another rental model: The bike2business service bike lease, modelled after car leasing. With this offer, you can lease an e-bike starting at 500 euros through your employer as part of a salary conversion.