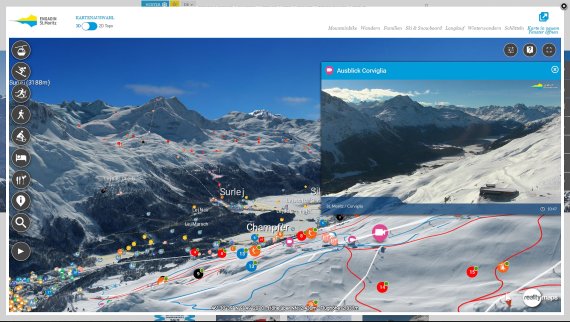 Nature, fresh snow, the perfect route on piste – or off piste. In essence, skiing and snowboarding are as analog as an experience can be, really. In comparison, especially in urban spaces, a digital living environment exists that offers the user a lot of comfort and use. The winter sports industry must therefore attune to the customers of tomorrow and the day after tomorrow. This also means consistently following the path to digitization. The industry has already taken the first few steps here in several places, however. We present three examples of projects and products that already illustrate the digital future of winter sports, based on data.
At the "Your Winter. Your Sport." summit Richard Mayr, one of the two CEOs of LEADonSPORT, presented, with his speech "Data is the new currency," a service provider that bundles IT and marketing knowhow. Focusing purely on winter sports, it may mean,  for example, that entire ski regions or sporting goods manufacturers can collect and use pooled customer data on one platform. The goal is to be able to generate individual offers and therefore foster higher customer loyalty. In winter sports , there remains a marked lack of data knowledge amongst many companies and destinations, particularly in comparison to other industries.
With regards to digital development, the winter sports industry still has major growth potential in many areas," says Thomas Ammer, also CEO at LEADonSPORT. "You have to use the opportunity to get to know your customers digitally." Of course, this has to happen in a way that also provides added value for customers – using competitions, gamification, and interesting content , for example. "The perfectly-prepared piste or cross-country ski trail, the stress free journey to the resort, the accommodations, the right equipment – it's all part of the winter sports vacation," says Ammer. "The next step is now to achieve this level of convenience on a digital level." For example, with an app that brings together both the planning and execution of a vacation.
Tour planning, route tracking, searching for a hut – all within a high-resolution 3D map produced from aerial photographs and elevation models. Among others, the prominent Swiss ski resort of St. Moritz, works with maps from RealityMaps, a company from Baierbrunn near Munich. The company specializes in apps and VR technology in tourism and sports. The app continuously updates via GPS and displays your position live on the 3D map. This way you can track the number of kilometers covered, both in terms of height and piste.
"The resolution is so good that even individual ski tracks are visible," says Claudia Roeben, who is responsible for sales within Germany, Austria, and Switzerland, and a speaker at "Your Winter. Your Sport." "It shows piste status, weather reports, and web cams, as well as eateries and hotels shown and filtered based on availability."
In the browser or in the app, entire days of skiing can be planned in advance from home. This way, ski resorts can grant their guests a completely new and, above all, comfortable access to their offers.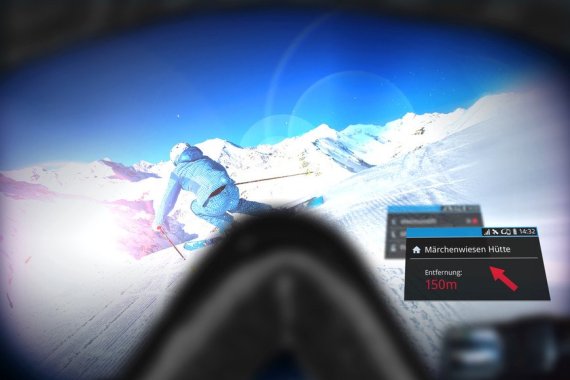 The combination of smart ski goggles and an app means that the data ski goggle user no longer has to pull out their smartphone when they want to reach a certain place in the ski resort. Ski amadé is the first ski resort in Europe to offer rentable devices for its guests, who can use them to navigate on the piste.
In the lower right area, the goggles show not only the speed and the route to the desired destination, but also information about piste and lift status, as well as points of interest such as huts or view points. Users can set a personal speed limit, which when surpassed will result in the display switching off so as to not present a safety risk by distracting them.
The Smith IO Recon model can be rented from 25 Intersport stores in Ski amadé for the price of 19 euros per day. A mini computer developed by Recon with internet connectivity and GPS is hidden in the goggles. The data is transferred from the Ski amadé app to the goggles via USB. The goggles are controlled via a remote on the wrist. Navigation is available in offline mode, while piste and weather information require an active internet connection.
"With regards to digital development, the winter sports industry still has major growth potential in many areas"
Thomas Ammer, CEO of LEADonSPORT