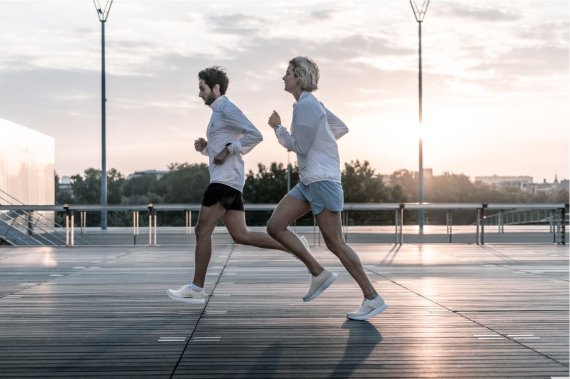 In Ardoix, France, in the Auvergne-Rhône-Alpes region, the first fully automated shoe factory with digitally controlled, intelligent production is currently being built. The four fully automated production lines range from cutting the various shoe components to packaging the finished product, including all assembly phases. At full capacity in 2025, the "Advanced Shoe Factory 4.0" (ASF 4.0) should be able to produce 500,000 pairs of sports shoes per year.
The ASF 4.0 was developed as a joint major project by the French textile manufacturer Chamatex as the main owner, the shoe manufacturers Salomon, Millet and Babolat, the technology provider Siemens Digital Industries and the innovation forge Groupe Zebra. The factory is scheduled to go into operation as early as summer 2021, with the first products coming onto the market in 2022. The goal of the entire effort: Relocating production from Asia to Europe, shortening reaction times, making production more flexible.
For Salomon, this marks the start of a project on which the company has been working for a long time. "We started working on Industry 4.0 ten years ago and developed our own small production facility with two robots in our R&D department in Annecy", explains Guillaume Meyzenq, VP Footwear Category at Salomon. For Salomon it was clear that the current way of producing in huge factories in the Far East would not remain the only cost-effective option for much longer. New material technologies and bonding techniques opened up completely new production processes that hardly required any manual work and could be automated.
In 2017 Salomon launched the first limited shoe collection 'Made in France', produced in Annecy. "And the more we learned there, the better we were able to start looking for suitable partners," continues Meyzenq.
Salomon had his own experience of how automated production could work and what kind of products would be possible with it, but building his own production plant alone was not the goal. That required partners. Chamatex and Salomon have already been working together for several years. Chamatex, for example, supplied the material Matryx, which Salomon used for trail running shoes for the first time in the summer of 2020 and which will also be used in the ASF 4.0. Siemens stepped in to develop the so-called Industrial Internet of Things (IIoT) for the Smart Factory, including the integration of numerous new technologies such as augmented reality, digital twins and autonomous robots.
In order to ensure that the capacity utilisation is right in the initial phase, other Chamatex customers were brought on board who want to produce in the ASF 4.0: Millet and the French tennis company Babolat. All brands are not only committed to specific volumes, but also participate in the investment and become shareholders and co-designers of the plant.
This type of cooperation between several brands from the same environment is unusual. "In our industry, there are still many reservations about such cooperation," says Meyzenq. "Everyone always wants to do everything alone for fear of losing competitive advantages. But in our way of thinking, we see more advantages in cooperation. Today, you don't have to and can't invent everything yourself."
This also applies to the fulfilment of sustainability goals. Previously, Chamatex had to send many textiles to Asia for further processing. For Chamatex and its customers, the distances are now massively shorter. If everything goes according to plan, more local smart factories will be set up in other markets, which in turn will help to further improve the climate balance of the products manufactured there.