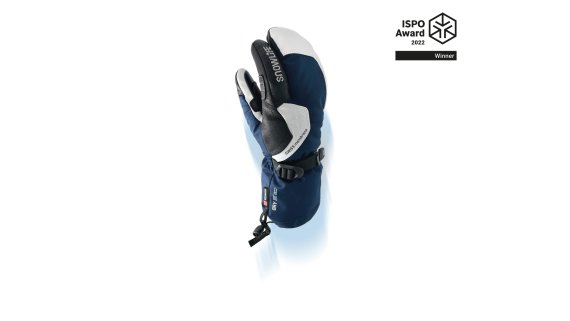 One of the great things being in an award jury is you get to know the latest product developments early. At their jury meeting for the fourth round of the ISPO Awards 2022, the ISPO Award jury got acquainted with a new membrane that is used for the very first time in a market-ready product. The eco-friendly Dimpora Eco Pur membrane is one of the key components of the new Capricorn DT Eco 3 Finger glove by Swiss company Snowlife. The sustainable materials combined with the design expertise of the well-established glove makers pleased the jury members so much they rewarded the product with an ISPO Award 2022.
The Capricorn DT Eco 3 Finger by Swiss company Snowlife is a sustainable all-round glove developed for environmentally aware freeriders. Its materials include recycled Polyester, wool lining, and wool insulation. While the outer fabric used for the glove is treated with C0 DWR, it is the first glove made with the new Dimpora Eco Pur membrane. Dimpora is based on a new technology that creates pores with minerals instead of toxic Dimethylformamide (DMF), so no environmentally harmful substances are used in production. It is fluorine free and delivers the perfect balance between high waterproofness and breathability.
For freeriders and any other athlete who loves mixed winter activities, the Capricorn DT Eco 3 Finger keeps fingers warm and protected. The aim of Snowlife, who were founded by ski racer Nando Pajarola in 1973 and are based in the Swiss winter-sports paradise of Klosters, was to create a glove as sustainable as possible in its category without reducing functionality, quality, and lifecycle. Thus, the new glove only uses natural or recycled components in combination with a modern look and a light hand feel. The Lavalan padding in combination with a wool lining ensures a comfortable climate and is biodegradable. The palm and fingertips are reinforced with hard-wearing goatskin. The fingers are slightly pre-shaped and offer a good grip. The drawstring on the long cuff can be comfortably used with one hand.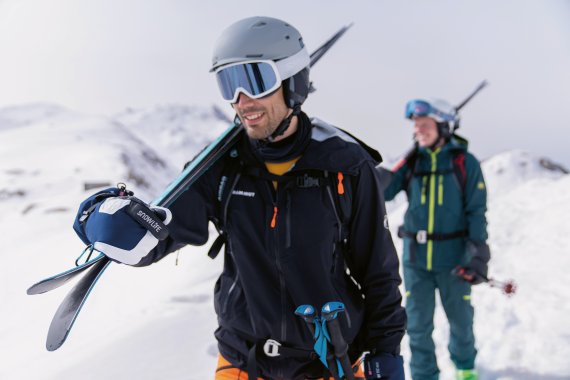 "What makes it a glove especially for freeriders are all the components like the Lavalan wool or recycled Polyester to avoid sweating and then getting cold. Then you have the long cuff, the straps for wrist and cuff adjustment, the leather parts on areas where reinforcement is needed, and of course the membrane that works better than other membranes, and is more breathable", Bettina Schneider, Designer & Developer at Snowlife, explains.
The 3-finger design of the glove is based on the fact that a mitten keeps the warmth longer than a glove, while it makes it tough to touch and handle things. "Therefore, the 3-finger design is perfect to find a compromise to keep parts of the hand as warm as possible and allow to work with the most important fingers. It's perfect to adjust your bindings and your straps", Schneider stresses.
Snowlife were not happy with the common membranes using fluorinated chemicals or toxic solvent (DMF). Their goal is always to develop long-lasting, high-quality products that are as durable as possible for less negative impact for the environment. And that's when Dimpora came into play. The start-up company from Zurich, Switzerland, was founded in 2019 by Mario Stucki and Anna Beltzung, who had met during their Bachelor studies in chemical engineering at ETH Zurich. The name "dimpora" stands for the combination of dimension and pore, both key to their vision of a seamless breathable membrane.  Dimpora develops high-performing waterproof and breathable membranes based on fluorine-free materials that are also avoiding DMF and halogens. Its membranes support the transition from old chemical processes to a new generation of functional membranes.
"We have a specific technology on how we create performance by including a mineral-based template that we remove at the end of the process to open up the pores and that's how we create open porous membranes", Dimpora CEO and co-founder Mario Stucki explains. Dimpora had been selected as ISPO Brandnew in 2020, so the implementation of the membrane in the Snowlife glove shows their progress from a prototype to a real product in only 2 years.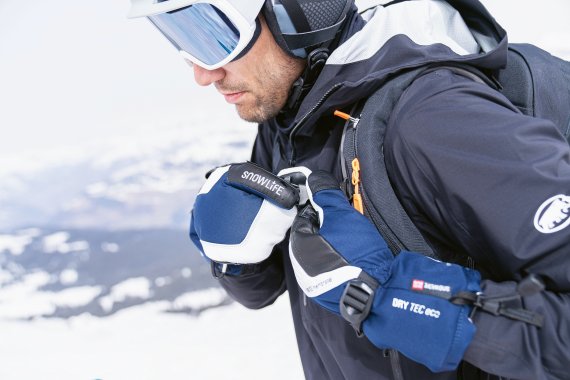 Raffael Aebersold, Head of Sales Development at Dimpora, adds: "The Snowlife project is basically our first commercial product, so it makes us very proud. The DNA of Snowlife and Dimpora with technology focussed on sustainability and Swissness was a great fit. So to prove our market readiness in a project like this was amazing." He also mentions that the technology enables them to adjust performance levels. "It also allows us to work with different polymers in the future. So what is now inside the Snowlife glove is the first generation of the membrane, but basically it's a big playground and we can work with different polymers to produce different membranes based on this technology." For sure, an ISPO Award is a great start to this endeavour!
"It is gratifying to see that more and more manufacturers are placing value on membranes that are as environmentally friendly as possible. Through the cooperation with the Swiss membrane developer Dimpora, the glove specialists from Snowlife set new standards." ISPO Award Jury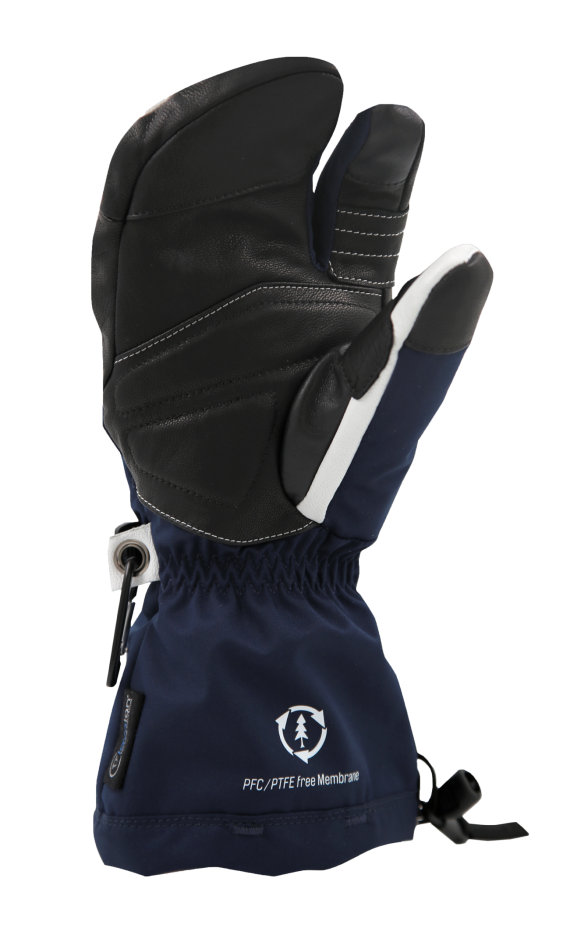 "We wanted to make a glove that is suitable for different activities. For us, it was really important to find the right combination of the right components and make a nice product out of it. This is like a huge puzzle, because sometimes things work together and sometimes they don't. The components we have now for the Capricorn DT Eco 3 Finger are the best combination we could find in terms of sustainability and functionality. " Bettina Schneider, Designer & Developer Snowlife
"Our Eco Pur membrane is developed and produced in Switzerland. We've always focussed on high breathability with open porous membranes. No fluorinated chemistry and no DMF are involved. Regarding the cooperation with Snowlife for this glove, it was important for us to work together with people who have the same ideas or feelings about Swiss mountains and local Alpine sports. And also for testing and moving forward quickly, it was a big advantage for us to work with them." Mario Stucki, CEO & Co-founder Dimpora
Eco-friendly

Lightweight

Well-conceived moisture management

Recycled materials

Waterproof & Windproof
Key data:
Colour: navy/white/black and black/brown

Price: 159.00 €

Available: November 2022