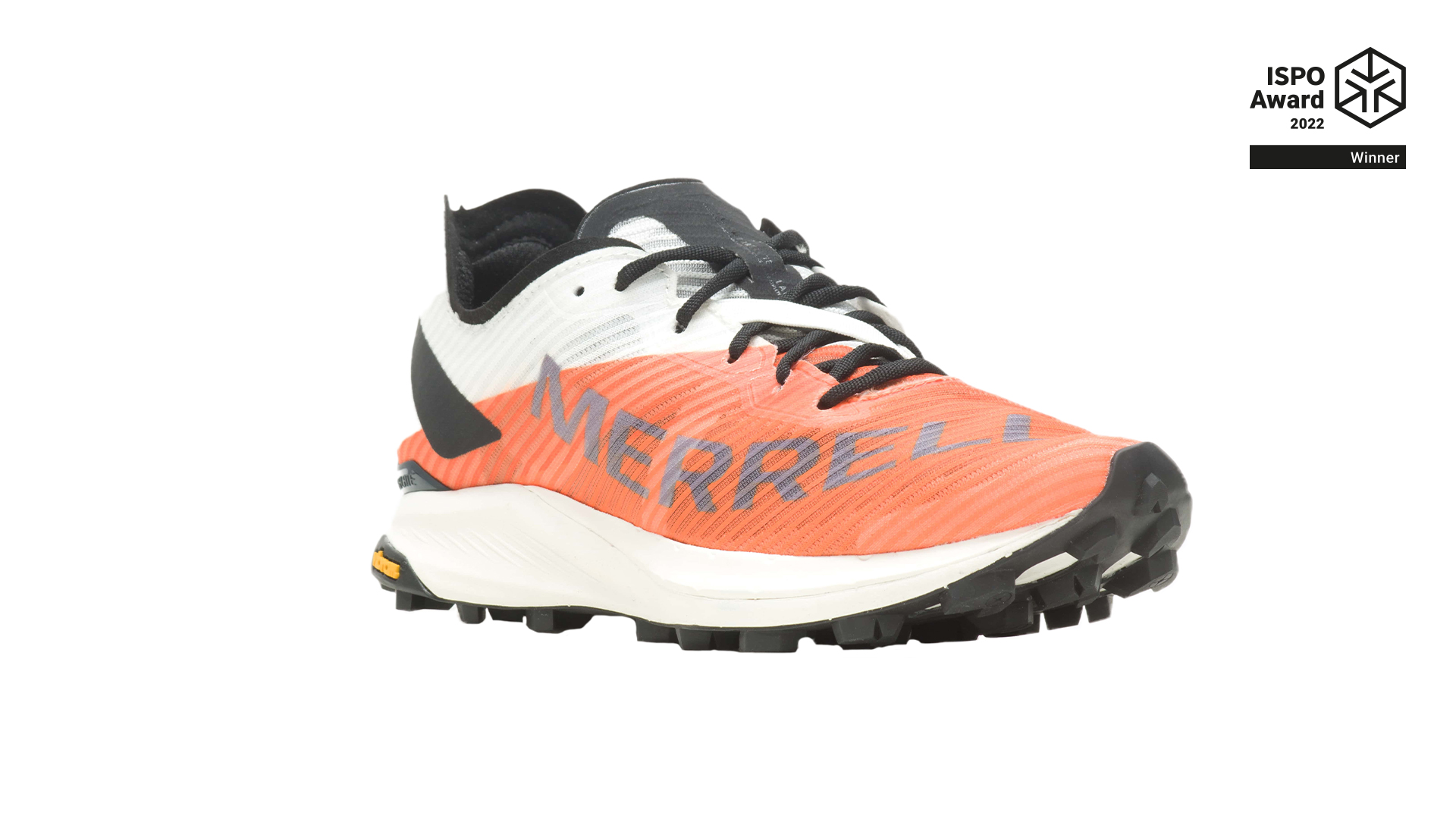 When chasing fast times running, lightness is key for running economy. Yet, in the trail running category, technicality is also an important factor. This shoe is built for runners who want to go fast and hard. The Merrell MTL Skyfire 2 was developed through the brands' product incubator, the Merrell Test Lab (MTL), where products are tested in close cooperation with Merrell's trail team athletes. As a technical shoe that doesn't sacrifice comfort or support for lightness, the Merrell Skyfire 2 has convinced the jury as a one-of-a-kind trail running shoe that uses lightweight materials to reduce fatigue while featuring a plated midsole for stability.
The Skyfire 2 is built to fly up and down mountains while chasing FKTs and records. Developed for elite athletes, the design of this award-winning shoe was created with these athletes' input in mind. While they tested its predecessor, the original Skyfire model, on countless runs and kilometers, the updated version of the MTL Skyfire 2 now includes all the learnings from many hours on the trail as well as what the Merrell Trail Team had wished for in their trail running shoe.
Ben Stark, Senior Brand Marketing Specialist at Merrell breaks it down like this: "If you remember our original Skyfire, this shoe was build for our elite athletes who needed a lightweight shoe to race straight up the mountain in. Build in the Merrell Test Lab, our elite product development incubator, we took athlete feedback, built shoes, broke shoes and rebuilt shoes, and premiered the original Skyfire. Now, with the Skyfire 2, we have taken everything we have learned and made this shoe even better."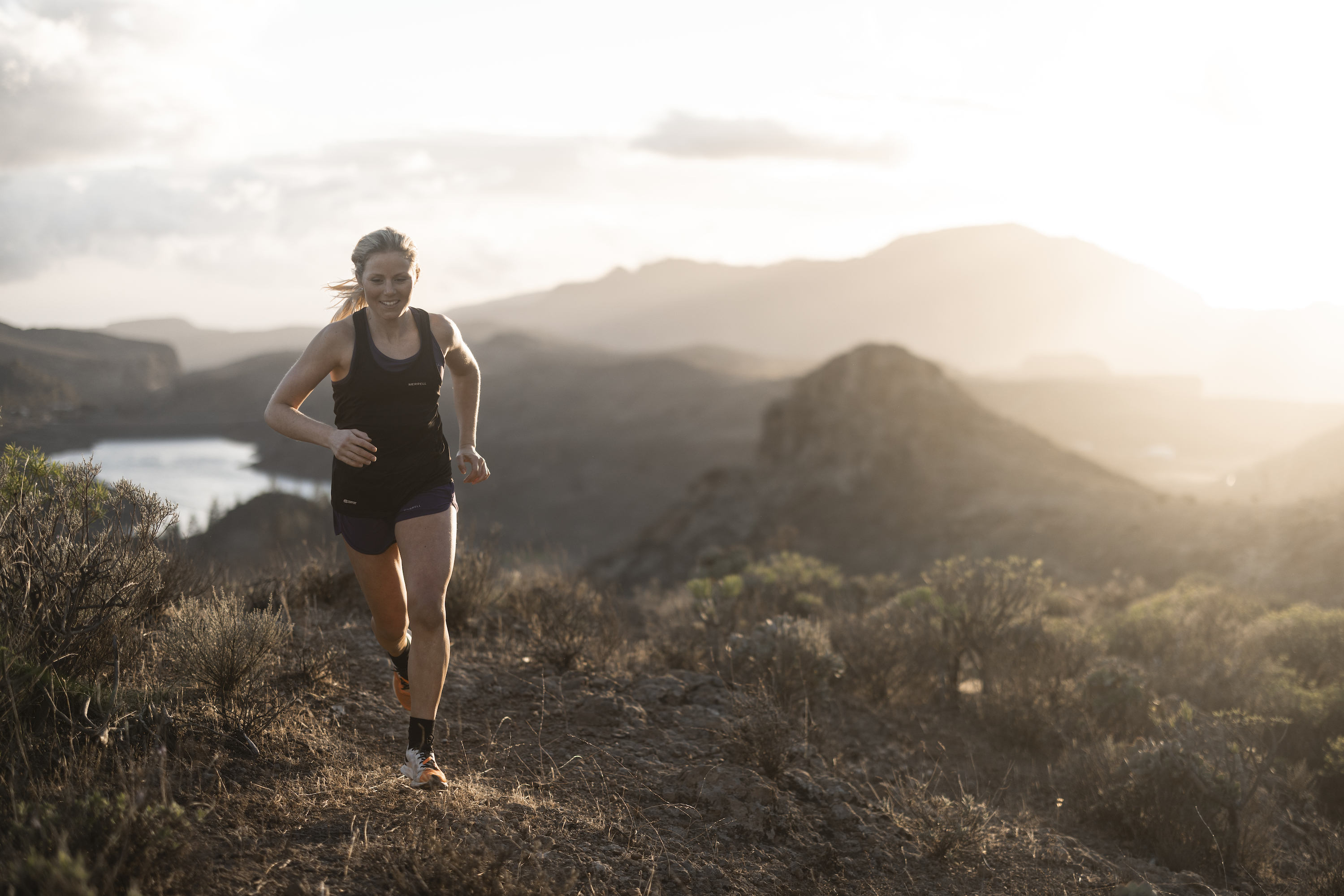 As proven in science publications, the lighter the shoe, the better your running economy. This is why the Merrell team spent hours testing this product on trails with the goal of creating a 200-gram shoe in a men's 9 (US) - much lighter than the original Skyfire model. It's the perfect mix of the lightweight performance of track shoes with the durability that trail runners need while out on uneven and sometimes unpredictable terrain. But, the Merrell MTL team knows that trail running shoes also need to be technically capable, so the team built the MTL Skyfire 2 with a plated BZM midsole for additional support while running on uneven terrain. "The BZM technology has proven to be successful in outdoor sports where acceleration, agility and multidirectional traction are very important", explains Ben Stark. "By incorporating it into our MTL Skyfire 2, we are able to provide protection unter foot, safe weight and overall improve your running economy."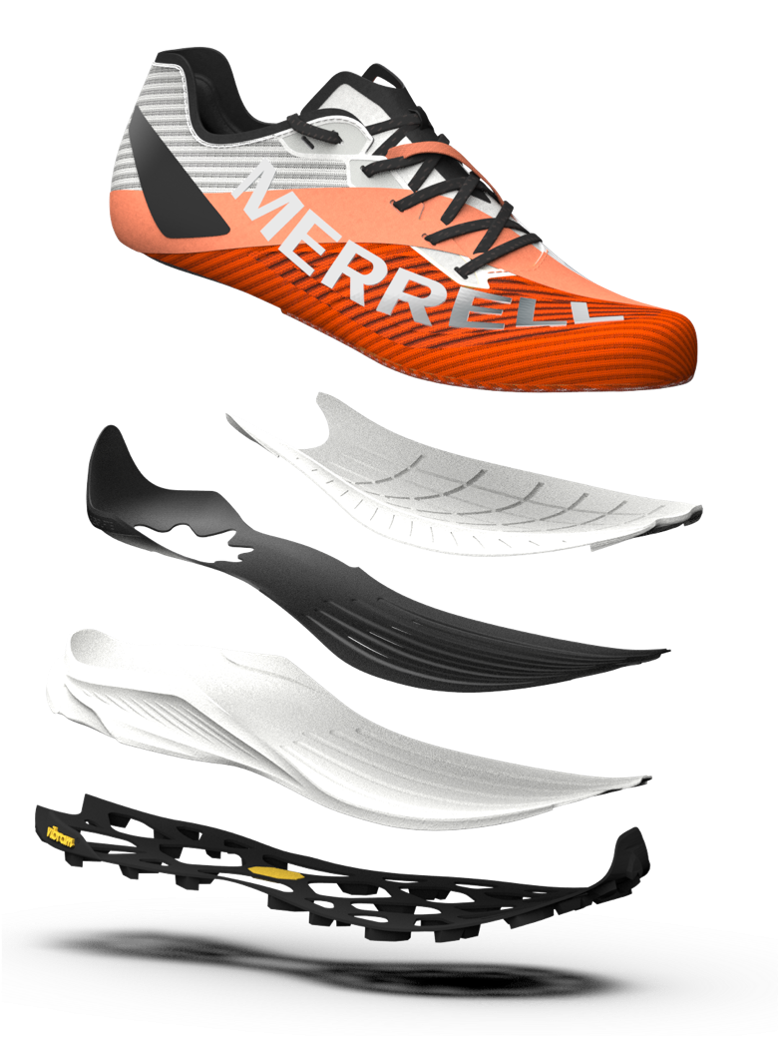 The plate sits between two layers of FloatPro Foam, a responsive midsole material. Underfoot, the jury found another major upgrade for performance: A custom Vibram MegaGrip® outsole with 5 mm lugs gives extra grip and stickiness on challenging ground in both wet and dry conditions while being more durable. To further reduce weight, unnecessary rubber in the lug pattern was cut away. This way, an ultralight shoe was created, that still performs on uneven and rough terrain and helps the trail runners who wear them do what they do best: chase and break records while they have the best time on runs and races in the mountains. The ISPO Award jury was equally impressed by the lightness and technicality of this trail running shoe. While the fit is great and promises comfort even on longer races, the sole delivers in terms of technicality and stability. There is really no gram at this shoe that hasn't been thought about and optimized to make this trail running shoe even faster.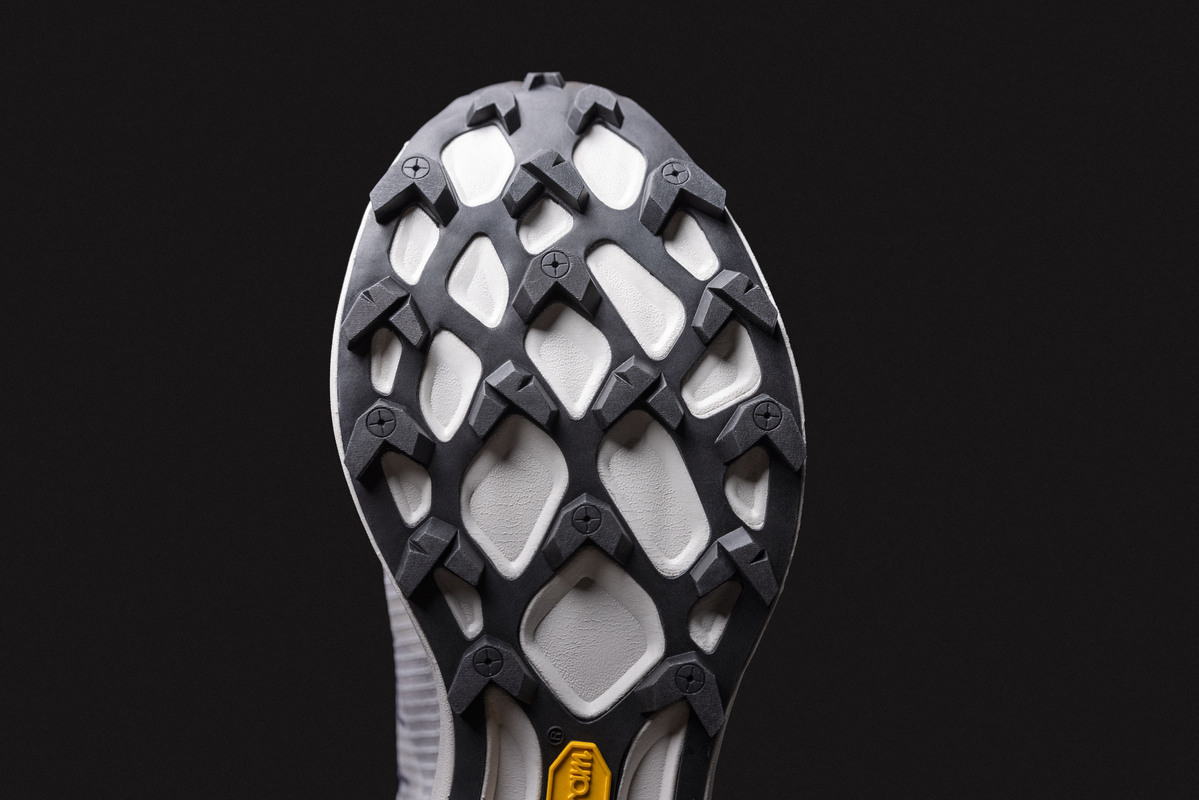 "If the sky is the limit, ambitious athletes also need the right weapon. Every gram counts uphill, but still enough stability in difficult terrain. The Skyfire combines both. In the trail area it will certainly see one or the other podium."
Dr. Monika Frenger, ISPO Award 2022 Jury Member Collaborators Club
Extra lightweight construction helps to reduce fatigue

Plated midsole for underfoot protection

Custom Vibram MegaGrip® sole for maximal traction

Developed in partnership with Merrell athletes

Agility and speed thanks to responsive midsole construction
Product Specs:
Outsole: Vibram MegaGrip®
Sole construction: BZM plate and stacked FloatePro cushioning
RRP: 200 Euro
Sizes: Womens 5-11, Mens 7-15
Colour: orange