"Like diet, like performance - like performance, like diet." This old sportsman's adage has lost none of its validity. It doesn't matter whether performance is defined as maintaining health, gaining fitness, reaching the desired weight, or measurably improving one's best time. Only if the body is supplied with high-quality "fuel" adapted to its individual needs can it achieve the desired performance.
Conversely, the type and level of performance that athletes want to achieve determines what should be consumed and in what quantity. For us as humans - and as athletes in particular - eating and drinking means much more than instinct-driven food intake. Regardless of which of the aforementioned athletic goals I pursue, nutrition will be the second supporting pillar next to training that decisively determines how effectively set stimuli are implemented. Before thinking about "what, when, and how much?" it's worth addressing a seemingly banal question: "What does nutrition have to do, in general and in terms of my athletic goals?"
Nutrition should fulfill the following things in a sports context:
Provide energy - enough to perform, but not too much to avoid weight problems.

Provide material for building, maintaining and repairing all organ structures

Provide micronutrients better for the smooth functioning of all biochemical processes of energy production, building metabolism and the immune system

Taste to promote our psychological well-being
Basically, these principles apply to everyone - from amateur athletes* to high-performance athletes*. The art lies in the individual adjustment of the weighting and quantity of the individual nutrients based on the type of sport practiced.
For each endurance sport there are training principles that are reflected in specialized plans. But for the large army of very diverse athletes, there is little choice when it comes to fuels and building materials.
Simplified, these rules apply:
Fats and carbohydrates provide the "grains," the energy

Protein provides the substance

Sports nutrition that meets needs lies in the correct weighting of these nutrients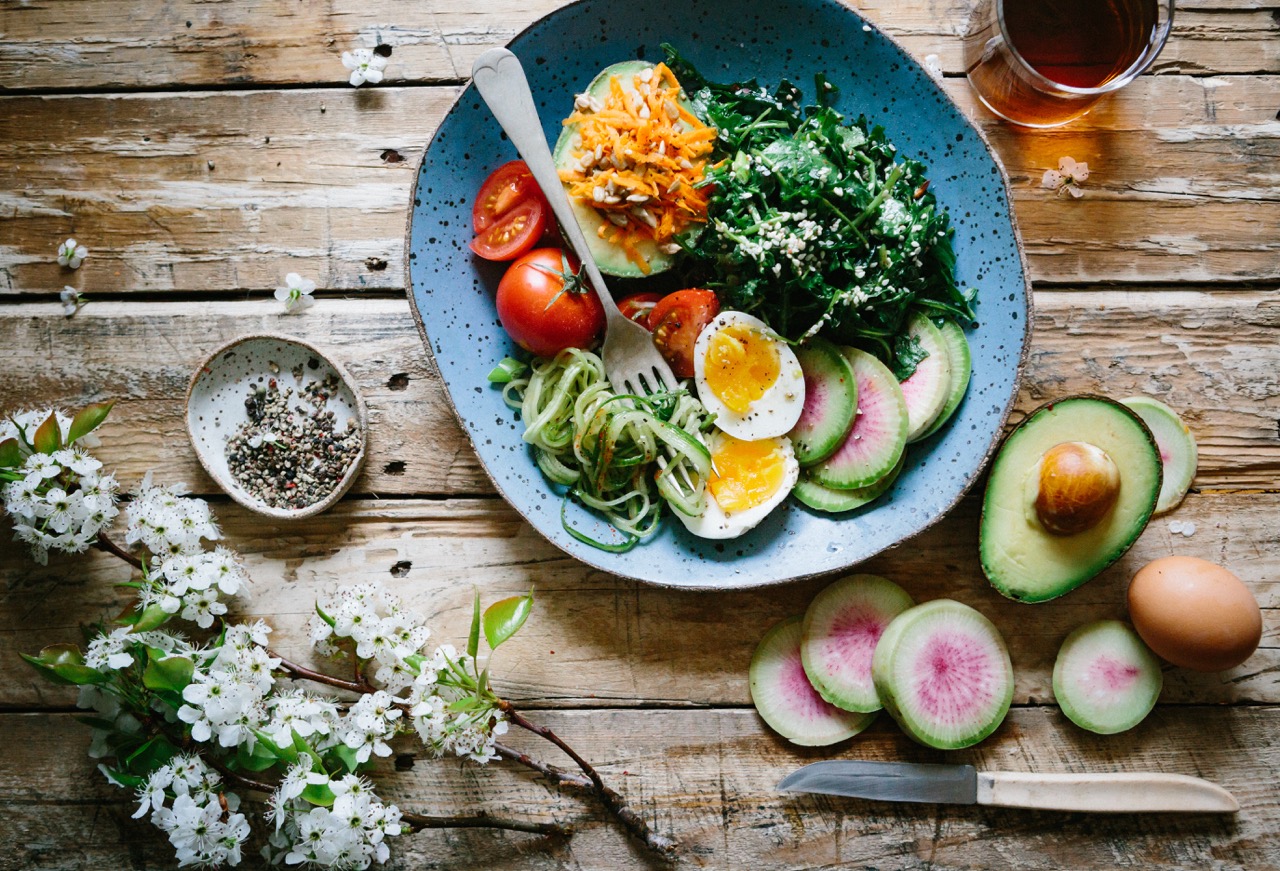 Good nutrition for endurance athletes is characterized by its adaptability to the specific requirements of the individual sports. My diet must create the conditions for my training to fail not through insufficient energy recruitment, but through the processing of training stimuli and effective recovery from nutrient deficiencies. Among ambitious amateur athletes, regeneration that is too short and filled with the wrong content is one of the most common mistakes. Runners are no better than rowers, swimmers no better than cyclists or triathletes. After the race is before the race: Every athlete knows that regeneration begins at the finish line.
In addition to nutrition, knowing how to drink properly is an elementary part of nutrition:
First, to be able to call up an optimal performance in competition or training.

Secondly, in order to facilitate the body's required regeneration after sport through fluid intake.
In endurance sports, it is important to bear in mind that prolonged exercise also means a lot of fluid loss. Consequently, athletes - whether professionals or ambitious recreational athletes - should be particularly conscientious about maintaining a balanced fluid intake.
Readjusting the balance between loading and unloading, enriching recovery breaks with active content, and offering urgently needed nutrients in the right quality and dosage is the key to optimal regeneration of the body. Especially in the first 45 to 60 minutes, the body craves fresh nutrients. During this "anabolic window" amino acids and enzymes are best absorbed and processed by the body. Now it is important to satisfy this craving as quickly as possible with high-quality nutrients. A conscious and regular approach to sensible nutrition and targeted nutrient intake protects the body and promotes overall athletic performance.
In the following overview, we have listed various products for use before, during and after sports.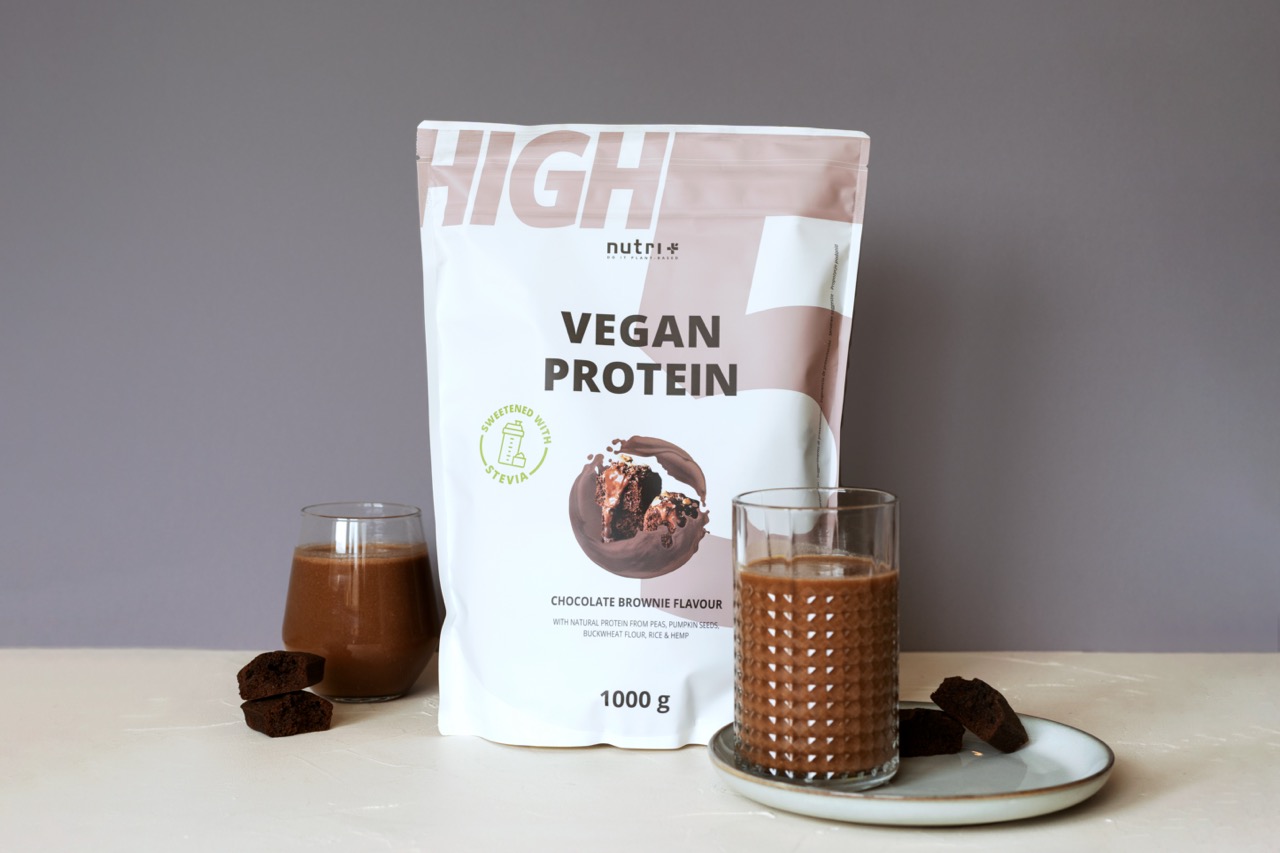 The High Five Protein from "nutri+" combines a high protein content with excellent taste, creamy consistency and best tolerability. The combination of five vegetable protein components (pea, pumpkin seed, buckwheat, rice, hemp) ensures a complete amino acid profile and a high biological value. Without soy and wheat protein and free of lactose, the vegetable multi-component protein is ideal for food intolerances or allergies.
Unlike many other protein shakes, High Five Protein contains stevia as a sweetener and is therefore free from artificial sweeteners such as sucralose or aspartame. Carefully balanced flavors offer a natural and incomparably delicious taste. The protein powder is available in four delicious flavors as well as a neutral variant (without flavoring and sweetener). Whether as a shake or for cooking and baking - the protein is versatile and contributes to the maintenance and increase of muscle mass.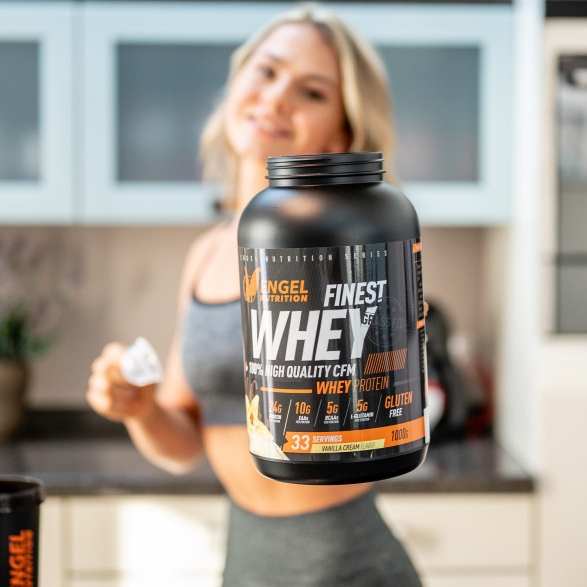 Ideal for after training: Finest Whey is a real premium whey protein with all essential amino acids. The patented enzyme complex and probiotka provides the muscles with important nutrients and thus supports the regeneration. The clever composition is particularly rich in EAAs, BCAAs and L-Gutamine and offers you the best possible support for muscle building, muscle maintenance and muscle regeneration.
This is what Finest Whey offers:
Perfect protein powder for morning & after training

Supports muscle growth & muscle regeneration

Ideal for strength and endurance athletes

Creamy delicious in water or milk
Highlights of Finest Whey Protein:
Cold-filtered 100% Whey Protein from pasture milk of grass-fed cows.

CFM production (gentle processing without chemicals & heat)

High EAA | BCAA | L-Glutamine

Low-Fat (only 0.5 g / serving)

Plus Multi-Enzyme Complex (DigeZyme)

Plus Bromelain

With probiotics Bacillus Subtilis

Gluten Free & Low Lactose

Delicious, creamy in water & milk

Excellent digestibility
"For athletes* and their muscles, we want the very best quality," explains Christian Engel, CEO of Sportnahrung Engel and founder of the brand Engel Nutrition. Carefully selected premium ingredients, natural purity and pure pleasure - with every sip."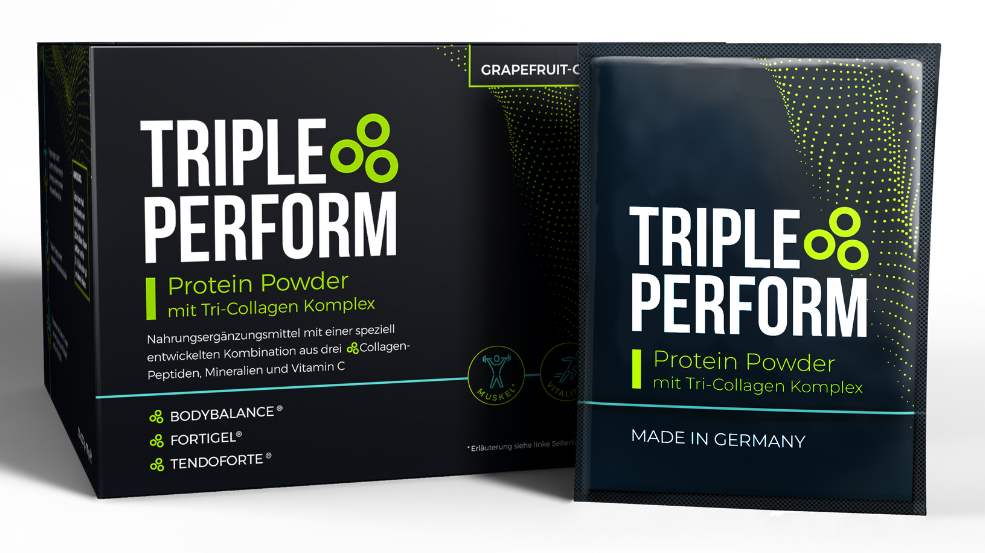 Triple Perform is a fitness innovation based on three bioactive collagen peptides (Bodybalance, Fortigel, Tendoforte), magnesium, zinc and vitamin C.
Scientifically coordinated, the protein powder with the unique Tri-Collagen complex helps to strengthen one's performance by noticeably building muscle and better protect the body. But Triple Perform goes beyond that: it not only stimulates physical performance, but also recovery after intense exercise. "It's a product for those who constantly push themselves to the limit, but want to protect their bodies in the best possible way and avoid training breakdowns," says a Triple Perform spokesperson. "That's why our high-quality supplement is nothing less than the perfect bodyguard for demanding athletes." The collagen innovation comes in two refreshing flavors, Grapefruit & Wild Berry.
Product Highlights Triple Perform:
Stronger performance, faster recovery, fewer setbacks: TRIPLE PERFORM improves your workout with bioactive collagen peptides.

Based on the bioactive collagen peptides Bodybalance, Fortigel and Tendoforte, zinc, magnesium and vitamin C, the protein powder supports muscle building, strengthens tendons, ligaments and joints and promotes recovery.

The active ingredients of the collagen innovation are of extremely high quality, manufactured in Germany & clinically proven.

Triple Perform has a special goodie in store for all Ispo.com readers: With the exclusive new customer discount

ISPO20, you can save 20% on your first purchase until October 31.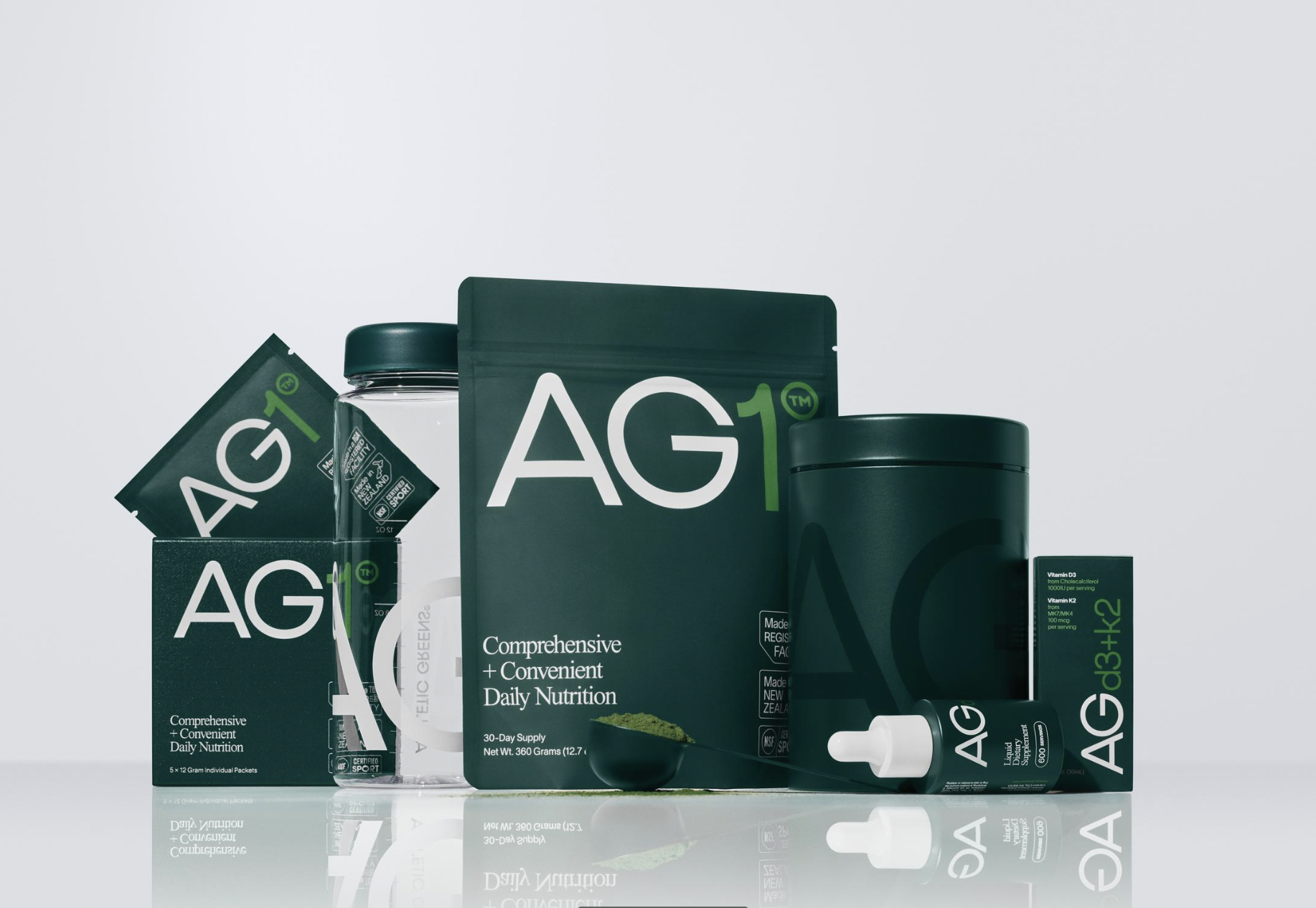 For a better morning routine: AG1 is a nutritional powerhouse with high-quality vitamins, minerals, bacterial cultures and other ingredients from real foods. In powder form, it's especially absorbable, making it easy for the body to take in daily nutrient support. In doing so, AG1 promotes the efficiency of each ingredient by taking advantage of synergistic effects. This integrates a variety of nutrients into combinations (such as vitamin C, vitamin E, and alpha lipoic acid) that allow them to work together harmoniously, rather than isolating them or using forms that are difficult for the body to access. AG1 supports the immune system (1), energy metabolism(2), cell protection(3) and much more.
Highlights AG1:
With copper, folic acid, selenium, zinc and vitamins A, B12, B6 and C, AG1 contributes to normal immune system function.
With copper, biotin, niacin, pantothenic acid, thiamine and vitamins B2 (riboflavin), B12,
B6 and C, AG1 contributes to a normal energy-producing metabolism.
With copper, selenium, zinc and vitamins B2 (riboflavin) and C, AG1 contributes to the protection of cells against oxidative stress.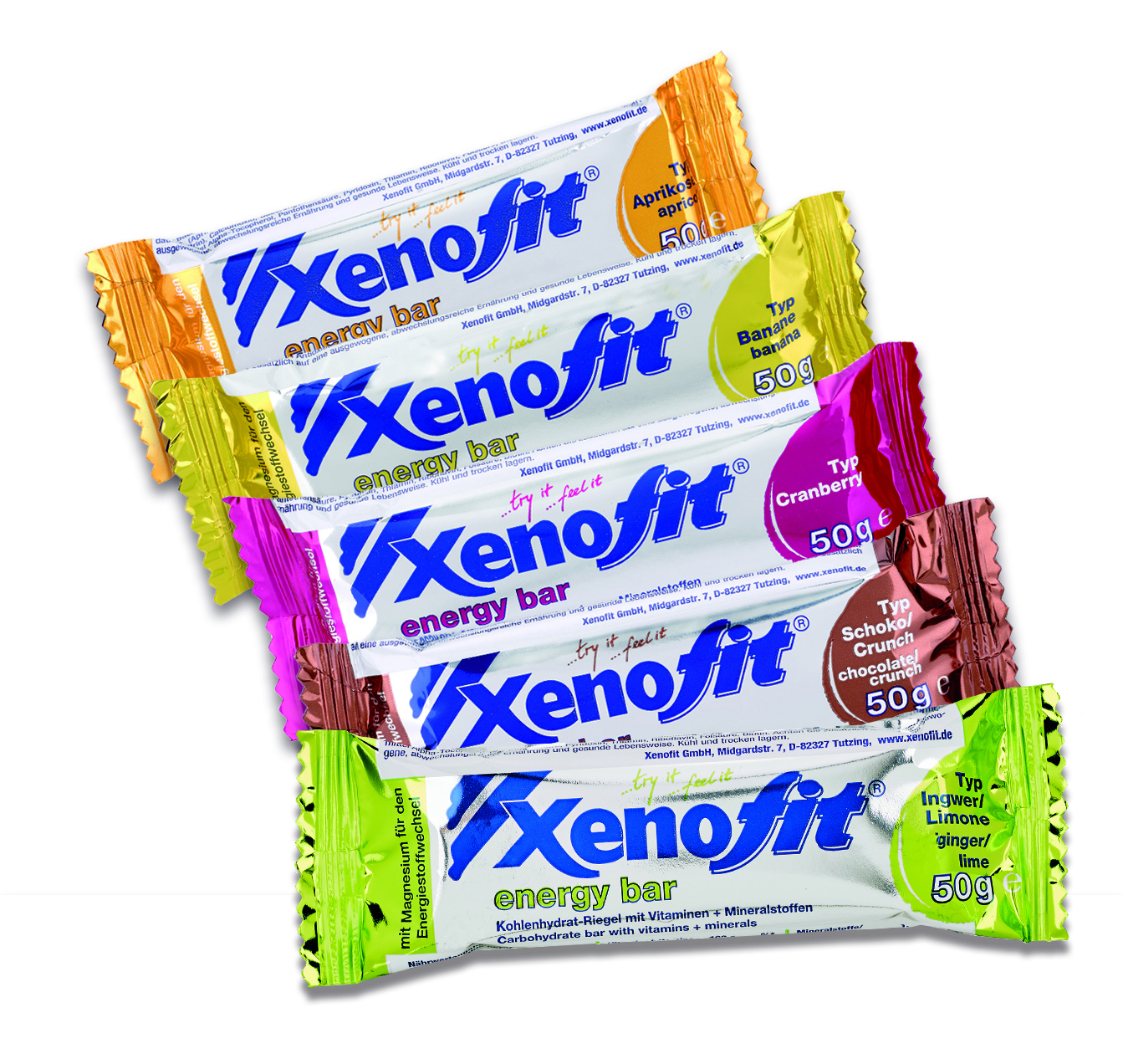 Whether it's an energy-sapping mountain bike tour, a demanding triathlon training, the daily jogging unit after work or the Nordic walking tour to the nearest vantage point: endurance sports are in high demand during the warm season. A balanced diet and sufficient energy and fluid replenishment are performance-determining factors. The Xenofit energy bar, with its optimized composition of carbohydrates, fat and protein, provides the necessary power for every outdoor adventure. The main ingredient of the small power pack is oat flakes. The addition of flavor-enhancing fat was omitted. In addition, the Xenofit energy bar contains important vitamins and minerals. There is something for every taste: apricot, banana, cranberry, chocolate/crunch and fruity-fresh ginger/lime. Also suitable for vegetarians.
For 35 years, numerous hobby and competitive athletes have relied on the sports nutrition of the Xenofit brand. Xenofit GmbH is EMAS certified and attaches great importance to a sustainable corporate strategy, comprehensive environmental protection and quality assurance of all products. Xenofit - sports nutrition made in Germany.
Highlights Xenofit energy bar:
- Fills energy stores before and during exercise
- Made on the basis of natural oat flakes
- With important vitamins and minerals
- Without added fat, without artificial colors and without palm oil
- Suitable for vegetarians