Everyone knows them, the offices that look like something out of the TV series Stromberg: dark movable walls between the desks, thick carpet and dove-gray wallpaper. No wonder that for many the path to the home office was an easy one. Even older sports facilities have fallen victim to free online sports courses in many places. Hardly surprising when you consider the gray flat-roofed bunkers with cold communal showers.
"The role of the office has changed enormously in recent years. To ensure that employees today continue to enjoy coming to the office despite the home office option, it must become a meeting place and be able to do more than just provide a comfortable home office. It must offer an attractive, sustainable and functional working environment," says Steffen Szeidl, Member of the Executive Board of Drees & Sommer SE, a consulting firm specializing in construction and real estate. "In concrete terms, this means that an office must enable everything that the home office cannot or cannot always provide - spaces for concentration, communication and cooperation within individual teams."
Sandra Brand, Head of Corporate Communications at Drees & Sommer, is also convinced: "100 percent home office is not a solution. When everyone is at home, it's far too easy to lose contact with each other. Social and collegial exchange fall by the wayside - in a sports team, team spirit and a sense of community suffer. That's why it's important to train remote work and working in the office, or on your own and together in a group, as complementary concepts." In addition, Sandra Brand is certain that sustainability aspects also play a decisive role in the attractiveness of buildings. Whether office, home office, sports halls or training rooms "People spend over 90 percent of their lifetime in buildings. So it's surprising how little we know about the materials used in interior spaces. Yet a sustainably optimized building can contribute a lot to people's well-being, health and athletic performance, which in turn has a positive impact on the entire company or team."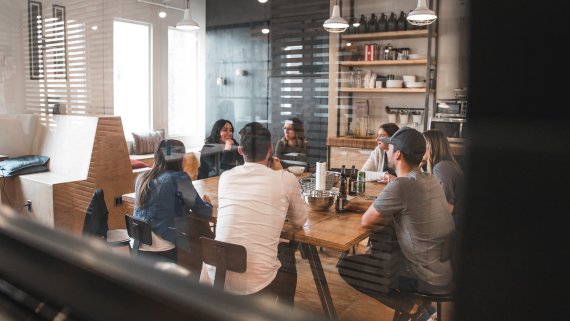 As an example, she cites the Cradle to Cradle concept, which focuses on healthy, low-pollutant products and their recyclability. According to Brand, those who implement such sustainable concepts in their own buildings score points not only for climate friendliness but also for higher employee satisfaction, reduced sick leave and an overall better working or training atmosphere.
"The good thing is that such concepts are not only applicable to office buildings," adds Szeidl. "Take a sports hall: its use can release pollutants into the air that are not conducive to athletes. In contrast, a chemically safe and ideally sustainably certified floor covering with markings that do not release harmful particles into the air can contribute positively to health and athletic performance. The same applies to the building envelope: pollutant-free insulation materials and wall cladding can additionally ensure clean air and an optimal training climate. In other words: In sustainable surroundings, it's healthier and perhaps faster to the winner's podium."
So regardless of the building's use, it's clear that the space always serves people - and not the other way around. "As so-called 'protective buildings,' buildings can protect our health and help us feel good. By being optimally tailored to our needs, offering us opportunities for retreat as well as space for creative, spontaneous exchange, they promote our motivation and well-being," says Sandra Brand.
For her, a safe work environment also means that employees don't have to worry about airborne contaminants or chemically hazardous inventory. "For example, windows should no longer be glued or taped, but hung when possible. Textiles such as carpets can also help clean the air instead of emitting toxic substances themselves. Hygienic standards, moreover, not only need to be maintained, but best contribute to the health of the user:inside. For example, toilet areas could be designed to distinguish entrances and exits through defined walkways, or doors could be opened automatically or by app to avoid touching door handles," says Brand.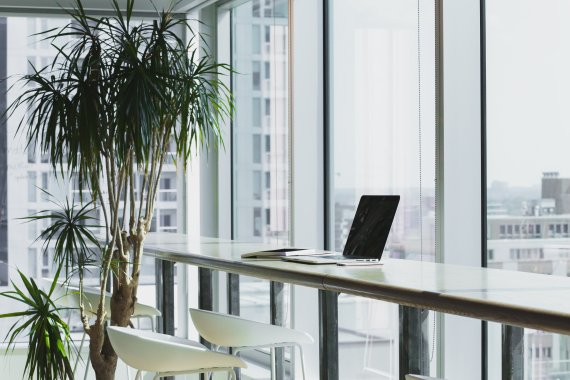 According to Steffen Szeidl, digitalization can help here in particular: "In so-called smart buildings, for example, workstations can be booked very easily and as needed with the help of office apps. The intelligent control systems ensure the right lighting, the right desk height and more. In this way, the workplace can be optimized and individually adapted to one's own needs without wasting much time."
Sandra Brand is also convinced: "Just as every little detail can be decisive for victory for athletes, simple details can also make a big difference in an office environment. Plants, for example, are one way to improve the indoor climate, feel-good atmosphere and design of the rooms in a cost-effective and uncomplicated way. The use of regional and organic products, subsidies for public transport tickets and job cycling offers - all points that can be decisive for the health of employees, athletes and other building users."
Steffen Szeidl also sees not only the environment as a decisive success factor for sustainability, but also the appropriate training clothing from head to toe and equipment, such as drinking bottles, should be selected according to harmless and sustainable criteria. After all, there is direct physical contact here.
However, all these points can only be implemented successfully if the management team is behind them. "The working environment is a leadership issue," confirms Sandra Brand, "at the same time, it is important to place the employees as people in the focus of all considerations. As users, they know best what is good for them and promotes their work, training, health and work-life balance. That's why it's important to let them participate in all measures and to convey our own appreciation in this way as well."