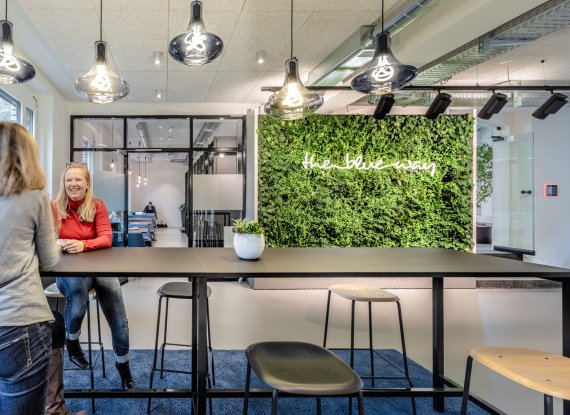 When it comes to sports, we optimize everything, make the perfect training plans and then? In between, we sit in the office for eight hours and often pay far too little attention to our environment, our (sitting) posture and our habits. But a healthy office environment can contribute a lot to health and performance.
We spend most of our time - if we work at a desk - inevitably sitting down. An ergonomic office chair is worth its weight in gold. Especially if the chair can be adjusted to different employees as easily as possible when occupancy changes. A comfortable yet healthy chair is definitely a plus for the office. Even more so if, in addition to the standard chair, there are Pezzi balls or standing seats, for example, to provide the necessary variety. So if you have some catching up to do when it comes to seating in the office (and at home), you should also think about the right materials to buy as sustainably as possible. Many suppliers, for example Flokk, Ahrend or the manufacturers of upholstery fabrics from Climatex rely on a circular approach, guaranteeing that recycled raw materials are used and full recycling is possible when the office chair has reached the end of its life.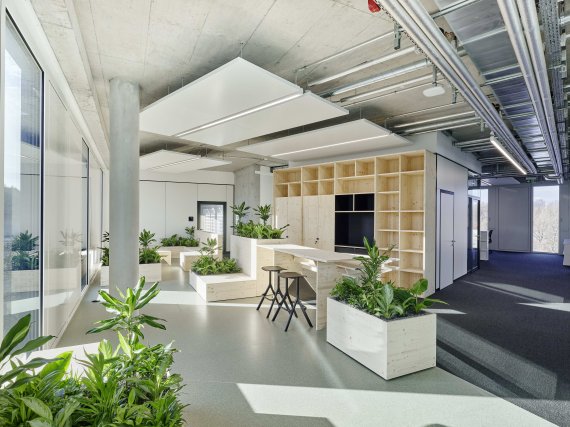 Let's face it, everyone knows that plants are beneficial for the (indoor) climate. Do we implement this consistently? Often not. Especially in the office, the attitude is often rather, "it's not my home after all". That's certainly true, but anyone who wants to spend quality time here should definitely rely on plants. They provide oxygen, humidify the air, and various plant species are able to filter environmental toxins such as formaldehyde, benzene, or trichloroethylene. So you can be really grateful to your colleagues with green thumbs.
It's a cliché detail for any boring office: a gray carpet, really nice and dusty and unkempt. If you have the opportunity here to invest in a floor that is healthy and good for your circulation, you should do so. For example, there are already carpeted floors which clean the air. At the same time, you should focus on adhesive-free solutions, which improves indoor air quality and is good for the environment and health. Some suppliers are already using cradle-to-cradle solutions here, too, to keep waste and discarded products in the product life cycle, among other things.
What sounds banal needs to be well thought out: how are the walkways in my office spaces? Two aspects are particularly interesting here: Firstly, it's about creating random, pleasant encounters, for example in the shared open kitchen with lounge. A chat over coffee with colleagues may lead to the next inspiring idea, or at least contribute to team building.
On the other hand, the right walking routes can contribute to the feeling of safety in times of a pandemic. Those who can make it possible should, for example, equip restrooms with different entrances and exits. Of course, this also applies to the many sports facilities and gyms.
Who looks into the right windows you win twice. Proven freedom from pollutants contributes to healthier indoor air and makes the window cradle-to-cradle. For example, windows should be hung, not glued. At the same time, the right window choice helps save energy and protects against sound.
Especially in winter, the right lighting is central for a good working atmosphere and for relaxed work. Working at a computer screen exposes the eyes to unfavorable conditions. Lamps that have an optimized ratio of direct and indirect light and can be individually adjusted are a basis for a modern workplace. Anyone thinking about a new purchase can already acquire Cradle to Cradle certified lamp systems.
You and your company can take a quick step forward if you think carefully about which materials you use and buy again and again. Especially with everyday things like pens, toilet paper or all printed materials, it's worth thinking twice. In addition to the price point, the ecological footprint should also be right. For example, there are certified toilet paper - cradle-to-cradle certified and free of hazardous substances, pens that are already made from 87 percent recycled material and print shops that take care to ensure that printed products retain their recyclability.
Getting to the office can be an annoying waste of time (stuck in traffic by car), time for the day's reading (taking the bus across town), or double the exercise session (biking from the residential area to downtown). It's good if the employer plays along and supports the latter two options. For example, with a shower option after the outward journey by bike or in running shoes and offers employee tickets for public transport. Goodies such as recyclable bike tires and tubes and partnerships with job bike providers also go down well, of course.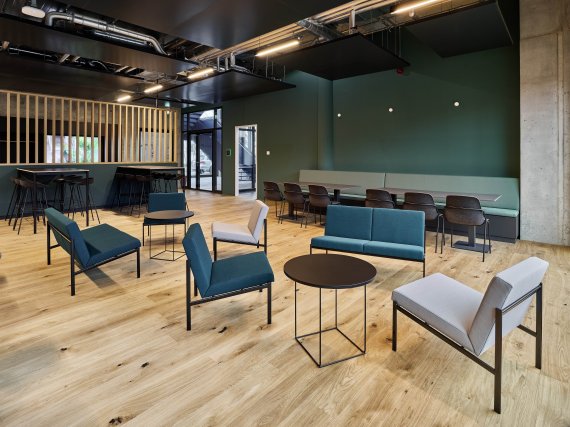 Speaking of goodies. A nice drink bottle with company branding and employee names, plus drinking stations with still and sparkling water on each floor and near a small lounge (see point four) can encourage drinking. This helps prevent headaches and lack of concentration, and also facilitates a pleasant exchange of ideas. Another plus: Unnecessary beverage packaging is easily avoided.
Finally, a little inspiration for you: the City Hall of Venlo. Okay, not everyone has the opportunity to build a completely new office building with a handsome budget, but the planning and implementation shows what is possible today: buildings that generate their own energy, consume a third of the energy of the former city hall, clean the outside air with the help of a greenhouse, significantly reduce the rate of employee illness and are equipped with an intelligent water saving circuit. The next goal is for the building to generate more renewable energy than it consumes.
"Buildings should serve people," says Sandra Brand of Drees und Sommer, specialists in circulation-oriented buildings and thus sums up what every team should consider for its office. At the latest, when you prefer to go to the office rather than stay at home, you know you're on the right track.