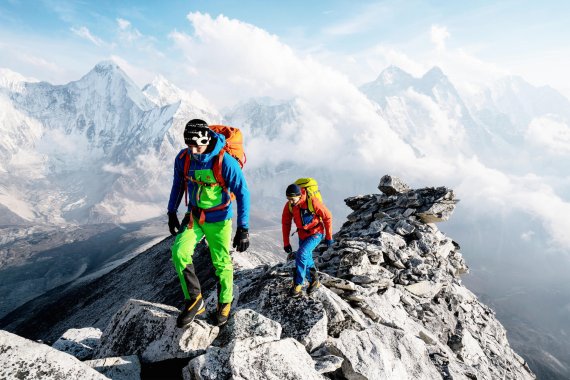 Designer and product manager Tim Yuan developed the lightweight. In an interview with ISPO.com, he reveals everything in and behind Kailas, why he works 2,000 kilometers away from the mountains, and what floating ropes for shipping have to do with the Edge.

ISPO.COM: Mr. Yuan, every gram counts when climbing. You've developed a true lightweight with the Edge – according to the motto: higher, faster, and lighter?
Tim Yuan: In the mountains, it's not necessarily about superlatives for us. We simply want to offer good equipment to extreme climbers, but also completely normal hikers – with an inner strength.
An inner strength? You'll have to clarify.
With the Edge, the inner strength consists of its lightness. It's to lend a good feeling to the extreme mountain climber just as much as the normal hiker, and not be a burden on your back. With it, you can overcome the hardest and most difficult of challenges. Edge is there for razor-sharp cliff edges and mountain peaks.

Kailas has spiritual roots

What does the Kailas brand name stand for?
Our name derives from a great, holy mountain in the Gandise mountain range in Tibet. The Kailas towers over all other summits around it, and is made up of a majestic, rocky massif that juts 6,638 meters into the sky. Translated, the name Kailas means precious snow jewel. Throughout the year people make pilgrimages to Kailas, following the thousands of years-old traditions of their ancestors. They embark on a spiritual journey that stands for humanity's search for freedom.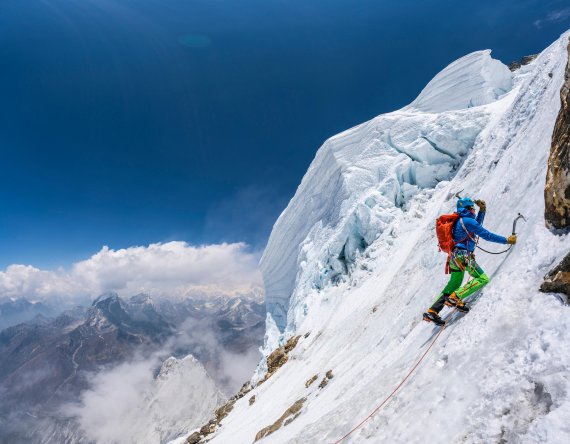 What meaning do the mountains have for you personally?
As a designer and product manager, I spend most of my time sitting in offices in front of flatscreen monitors. But I don't lose sight of the mountains because of it; they're an important component for me. Something like home, great freedom.

Then you could be pretty darn homesick?
You could say that, since our company headquarters is in Guangzhou, a metropolis in the south of China with over eleven million inhabitants. There are no mountains within a 2,000 kilometer radius there. But this distant also doesn't keep us from always going back into the mountains. China possesses incredibly multifaceted and magnificent mountain worlds that inspire and move us tremendously in designing and developing outdoor products.

Mountains as a source of inspiration

Are you inspired by nature?
I love the interaction with and in nature. When I'm outside hanging on a rock wall, I feel this incredible calm, this peace. And that's how I come up with pure, good ideas. The mountains are a source of inspiration for me, they push me forwards, let me overcome obstacles, and show me how important each little detail is.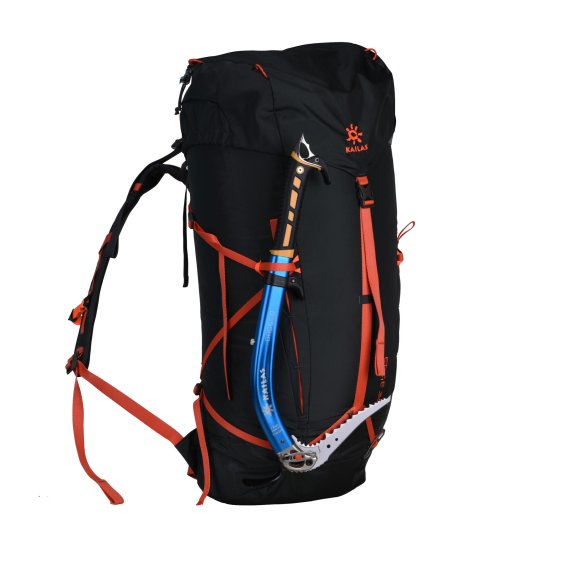 The Edge looks very puristic – but at the same time is a technical forerunner. What's behind its design concept?
That was exactly our intention. No unnecessary gimmicks. The Edge is reduced to its essentials without losing function or quality – and when we combine that with the highest quality and most modern materials…

…you can then make the backpack that light?
Exactly. In the straps, for example, we use polypropylene instead of nylon. That's a thermoplastic synthetic material, which is also used to make floating ropes for shipping. This material is very firm, robust, and lightweight. Our SAS carrying system also enables adjustable weight. Without the waist strap, aluminum braces, and cover, the Edge only weighs 700 grams. The experience and knowledge of our athletes also played an important role here. Our climbing team is made up of people like Marcos Costa from Brazil, Jon Otto from the USA, Gaëtan Raymond from France, and Qixin Zhong from China, all of whom actively support and advise Kailas.

And for 13 years, at that. 
In the beginning, there was only Baggio Zhong. He founded Kailas in 2003, and is our president. Back then, there still weren't really any professional outdoor brands in China, although our country has a one of a kind mountain world and many outdoor fans. Zhong wanted to change that – and he did. By applying all of his experience, his knowledge, and especially his passion to the mountains.

Now, with the lightweight backpack Edge, you've won the ISPO AWARD Product of the Year in the "Asian Products" category in Munich.
Yes, it's a great award. It means very much to us, and is a major motivator for all of our employees. Furthermore, with this award we gain even more confidence and motivation. We get a better insight into the international markets way beyond China. That helps us in our search for new partners, new ideas, and freedom.


Facts on Kailas
Company headquarters: 510507 Guangzhou, China
Number of employees 1,000
Products: Climbing and outdoor equipment, as well as shoes
Website: www.kailasgears.com