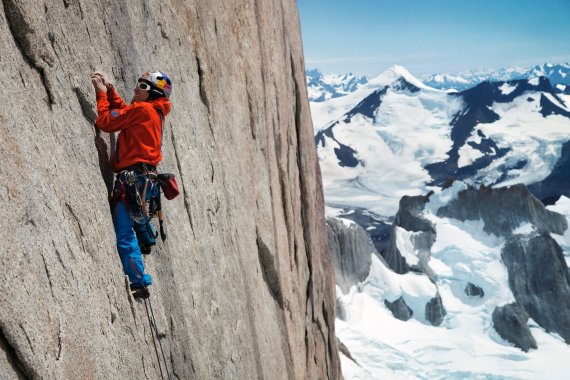 David Lama was born on 4 August 1990 in Innsbruck, Austria. His father Rinzi is Nepalese and his paternal grandfather was indeed a Lama, that is, a Buddhist high priest. His mother Claudia is from Austria.
Aged five, Lama took part in a climbing course led by Peter Habeler, who, alongside Reinhold Messner, climbed Mount Everest in 1978 without using supplementary oxygen. During the course, Lama's astounding talent for moving on a vertical axis soon became evident.

Success story climbing mountains
At the age of nine, Lama won the Austrian Alpine Association junior cup under the guidance of his first mentor, Reinhold Scherer. When he was ten, he became the youngest person at the time to ever climb a route graded 9+/10- on the UIAA scale, a route in Slovenia called 'Kindergarten.'
In 2004, Lama climbed his first route graded 10+/11- on the UIAA scale, marking the beginning of an unequalled series of successes in sport climbing and bouldering that continues to this day.

In 2004 and 2005, he became youth world champion. He was named adult world champion in lead climbing in 2006 and then in bouldering in 2007. In 2008, Lama won multiple world cups in bouldering and lead climbing.
In the following years, David Lama shifted his focus away from sport climbing and indoor climbing towards alpine pursuits. In 2010, together with Jorg Verhoeven, he completed the first successful free ascent of the 'Brento Centro' route up Monte Brento (UIAA 10, 28 pitches).

Shift towards alpine pursuits
In 2011, together with his friend and regular rope partner Peter Ortner, he climbed the 'Pacencia' route (UIAA 9+/10-), which is on the Eiger North Face and is one of the most challenging alpine tours in the Alps.
The final proof that he had successfully moved from being a sport climber to an alpinist was provided in 2012 when he climbed the legendary Cerro Torre, accompanied once again by Peter Ortner.

He became the first person to climb the Compresso route (UIAA 9+/10-) up the legendary rock needle in Patagonia without using any artificial aids.
Lama's multiple attempts at the route are documented in a movie entitled 'A Snowball's Chance in Hell', which provided him with much public exposure.

At the age of 25, Lama has already made a significant contribution to the history of alpinism. In 2015 he successfully completed his first ascent of the 'Avataara' route in the Baatara Gorge, Lebanon (UIAA 11).
Profile
Date and place of birth: 4 August 1990, Innsbruck
Country: Austria
Greatest successes: European champion in lead climbing (2006) and bouldering (2007)
Greatest alpine success: First free ascent of the Compressor route up the Cerro Torre, 2012
Books: 'High. Genial unterwegs an Berg und Fels' (High. Brilliantly en route in the mountains and on the rock), 2010 'Free – der Cerro Torre, das Unmögliche und ich' (Free – the Cerro Torre, the impossible and me), 2013
Films: 'Cerro Torre – A Snowball's Chance in Hell', 2013
Main sponsor: Mammut