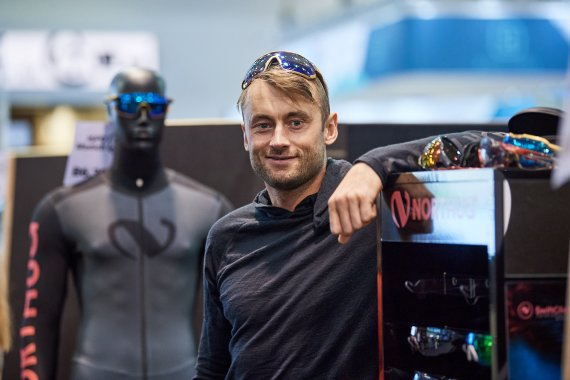 No wonder that Petter Northug looked pretty exhausted on Monday at ISPO Munich 2020. He arrived directly from the famous cross-country skiing race Marcialonga in Italy, where he covered 70 kilometres on the cross-country ski run on Sunday. "99th I became. So top 100. I'm happy," says the Norwegian and grins.
Before he ended his career, Petter Northug won many trophies and medals as professional skier. His journey of success started in 2005 with gold in the nordic junior championshops and ended in 2016 with winning bronze in the nordic championships. 
Petter Northug looks back to the following achievements: 
Two olympic gold medals
13 gold medals in nordic world cups
6 gold medals in nordic junior championships
2 gold medals in roll ski world cups
14 gold medals in Norwegian championships
9 silver medals all in all (including one in the olympic games)
8 bronze medals all in all (including one in the olympic games)
These words make it clear that a lot has changed in the life of the 13-time cross-country skiing world champion and two-time Olympic champion after his retirement from competitive sports around three years ago. In the past, even a second place was a defeat for Petter Northug, who was once sentenced to 50 days in prison after drunk driving, including hit-and-run and false testimony.
"I have a good life and I'm still in competitive mode. But now in the business sector," says Petter Northug. He works as a TV expert for Norwegian television, for which he is also active in the entertainment sector. Northug is the protagonist of a country show between his home country and Sweden - the very neighbouring country he has so often defeated in sprint finishes in relay races.
At the ISPO Munich, however, the 36-year-old functioned as an ambassador for his brand Northug. This business story started with glasses, and clothing is to follow in the coming winter. As a world premiere, a running suit could be seen at the ISPO Munich 2022. "I've won everything in my career that I wanted to win. Now I just want to make a brand the number 1 and the ISPO Munich is the perfect stage to start the journey", says Petter Northug.
Petter Northug is known for finishing what he started and wanting to be the best at what he does. And for the former Norwegian skier there is no limitation in the different things he could do. So in 2020 he decided to try hisself as musician - and he succeeded! He published a christmas song which was called "Petters jul" and reached numer 39 of the Norwegian music charts.