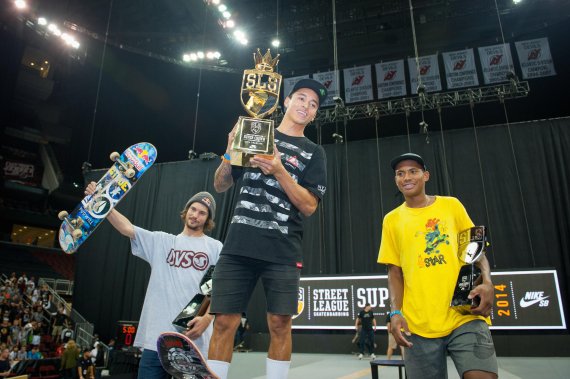 At age 16, most teenagers are thinking about partying, girls, and chilling – Huston was already Champions League winner. Not as a soccer player, of course. At age 16 in 2010 the Californian boy, who grew up in Puerto Rico, won a station in the Street League Skateboarding World Tour (SLS) for the first time, which is considered the "Champion's League of street skating."

It long since wasn't to stay Huston's only triumph. Only four years later, he succeeded in a performance that's unique to this day: Nyjah Huston was the first professional skater to win in all SLS events in the 2014 season.
Nyjah Huston in an interview before Munich Mash 2016
Various other spots on the podium at renowned street skating events like the X Games or the SLS Super Crown World Championships emphasize the dominance of Americans.

Nyjah Huston speaks in an interview with ISPO.com about his start at the SLS event as part of Munich Mash 2016, his charity organization "Let It Flow," which the 21-year-old want to use to improve living conditions in developing countries, and his thoughts on the topic of skateboarding at the 2020 Summer Olympic Games in Tokyo.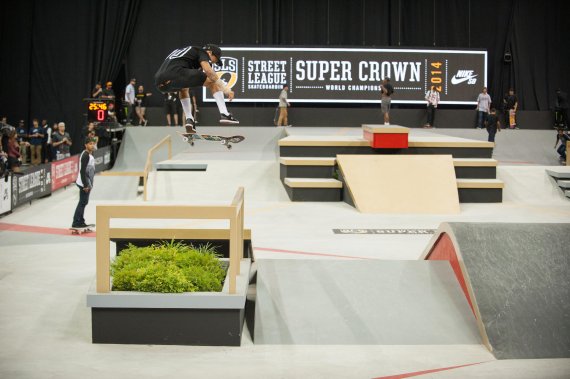 ISPO.COM: Mr. Huston, in 2013 you missed the premiere of the SLS tour stop in Munich due to an injury, but this year you'll finally be able to be involved. What expectations do you have coming to Germany in 2016? 
Nyjah Huston: I was really disappointed when I had to decline the 2013 event. I still remember how I sat in front of the TV and wished for nothing more than to be able to be there. I therefore am looking forward to Germany that much more – the location looks really good and I can hardly wait to skate there.
Have you ever skated in Munich before?
No. So far I've skated in several European cities, but never in Munich. That's why I'm also very glad to be able to make up for it. Germany's been on my to-do list for a long time.
It says on your website that, throughout your entire career as a professional skater, you still haven't broken a single bone, and that you attribute that to your healthy diet. Will you give us your secret?
I simply pay attention to my diet and work out regularly. Extra pounds don't just make you slower, they're also bad for your sense of balance. Luckily I have a very fast metabolism and can eat as much as I want without gaining weight. I do also try nevertheless to eat as vegan as possible; my father already taught me how to do that as a child. 
In the past you've won all major competitions and countless awards. How do you manage to keep motivating yourself? 
I just want to keep skating as long as it works somehow. The sport is pretty hard on your body, and I've been jumping down huge sets of stairs for over ten years now. In order to keep being able to skate at this high level, I have to keep myself fit – like Chris Cole and P-Rod (Paul Rodriguez), they've both been around for ages. To be sure, I am a competitive guy, but I don't expect to win every contest. If I win two contests per year, I'm already satisfied, because the level is damn high every time. I have one simple goal: to get better each day. That's the great thing about skating, there's always something that I can still learn.
Have you set certain goals for yourself for the 2016 SLS season?
I'd like to try to win a couple of contests. Last year was pretty okay, I came in at a couple of second places and even won once. My goal is to always give it my best shot and to win. That isn't taken for granted, because the others also skate insanely well.
How has the SLS influenced your career?
When I won the first Street League Contest in Arizona, it gave my career a serious boost. It was my first official win as a pro, something that means a lot to me to this day. Since then things have gone pretty well for me. The SLS didn't just helped me personally to mature as a skateboarder, but also made it possible for me and the other guys out there to push the sport to a new level.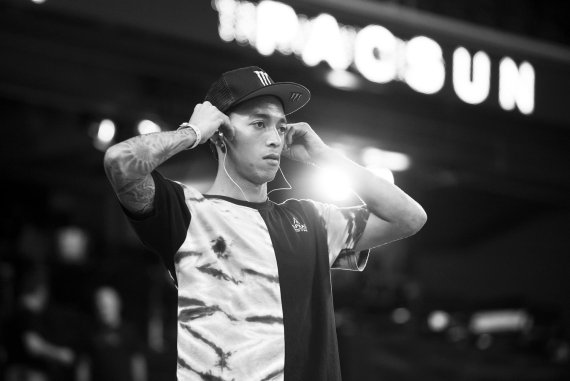 Was there someone who you looked up to in your early years as a skater?
I was a little "skating geek," I watched every skating video and read every skating magazine. Paul Rodriguez and Chris Cole were my heroes back then. Sometimes I just can't believe that I'm skating with them today and count them among my friends.
You're one of the few skateboarders who can live off of your sport. How long did it take until you were where you are now? 
Every child that loves skateboarding as much as I did back then and has a perfect sport to skate will become a good skateboarder. I really wanted to skate each and every day, and set the goal to learn a new trick every day. Thanks to this attitude, I managed to get to the X Games when I was eleven years old, and I still have that attitude to this day.
Olympics would make skateboarding even more popular
What do you think about the discussion of introducing skateboarding as a new discipline at the 2020 Olympic Games in Tokyo?
I really hope that becomes a reality, because I would love to see more kids out there on skateboards. The sport is growing damn fast right now, and people are slowly realizing that you can even earn money doing it. If skateboarding becomes Olympic, we're going to see a new generation of skaters grow up.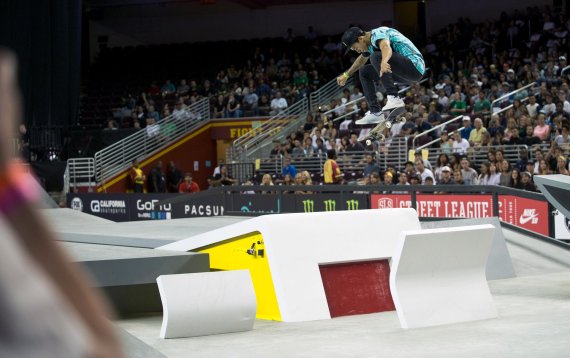 If you had the chance, would you participate in the Olympic Games?
But of course! If I can manage to stay in shape, I would give everything to be there in Tokyo in 2020.
What effect would "Olympic skateboarding" have on your sport?
I approve of anything that helps the sport grow. There will always be people who don't want skating to become "mainstream" or even Olympic. But it is a sport that people all over the world practice, and I don't understand what disadvantage there's supposed to be if it grows. The bigger skateboarding gets – and it will once it's Olympic – the more opportunities kids will have to fulfill their dreams and travel around the world as pros. I love it if I could be a part of that movement.
As a boy, Nyjah Huston had to fetch water from the river
Now you're not just campaigning for the Olympic Games, you've also founded your own charity organization. Where did the idea for "Let It Flow" come from?
When I was little, my family and I lived on a farm in Puerto Rico where there wasn't always clean, running water. So my brothers and I always had to go down to the river to fetch water – for laundry, washing the dishes… But water isn't quite that easy to transport when you're a little kid. Besides personal experience, today there are still many people and children who grow up without a supply of water. I want to change that – that's how the idea for "Let It Flow" came to be.
What function do you have at "Let It Flow"?
I founded the organization together with my mother, Kelle Huston, because we both always had the dream of making access to clean water possible for as many people as possible. Working together with her is incredibly fun. I don't believe I could have picked a better person for it.
How can other people support "Let It Flow"?
We're always happy to accept volunteer helpers and donations. On the Let It Flow website , you can find all the info about how you can take action. I think it would be great it more people join in – skaters, other athletes, or just my family and friends. It's a wonderful experience for me, and I know that this project will have a positive effect on everyone who's a part of it.