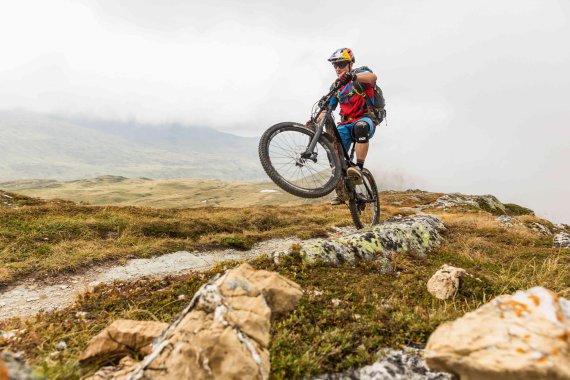 Bike-Masters, Bike-Attack, and Megavalanche are the races by scene star René Wildhaber. The Swiss citizen has been able to triumph here multiple times. The 40-year-old is considered the best downhill marathon rider in the world. However, groundbreaking video parts and bike adventures also set the Swiss rider apart.

"He rode enduro before everybody was talking about enduro. He rode big mountain adventure before it started trending," says Trek Brand Manager Travis Ott of René Wildhaber. "He recognized the potential of e-mountain bikes before the hype had kicked off." By now, René Wildhaber is primarily in action for his former mountain bike racing sponsor with his E-MTB.   
E-bikes make training fun
Many seasoned mountain bikers were skeptical of the subject of E-MTB at first, was that also the case for you?
René Wildhaber: Since I can remember I've liked to try new things, I'm curious. Even back when the first e-bikes showed up in the local bike shop, I immediately asked whether I could take one for a ride. When I hit the rode on city bikes, I could sense the immense potential.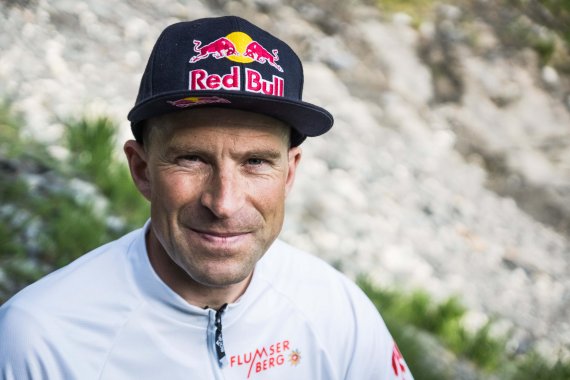 And then you nabbed an E-MTB?
I was curious about the new technology, and that I could select the resistance myself with an e-bike. When I go uphill I can set the support in such a way that I need just as much strength at that level. I myself started training with the e-bike when I was injured, or when I want to ride through a mountain – but starting from the training plan, you should go flat.
That's when I took the e-bike. I can go uphill with just as little effort as if I were riding straight, yet at the end I still have a downhill ride.
E-bike weights will drop
E-biking works, everybody who's tried it out knows it. How did you win over the biggest skeptics from the biking/MTB scene?
So far, a test ride has still fascinated every biker. Only a few of them refuse any contact with e-bikes.
You're very interested in the development of the bikes, and also significantly involved in their sponsorship. What will the e-bike look like in a few years, what is yet to change?
On the outside, the e-bike will hardly be distinguishable from a bicycle without a motor. The weight of E-MTBs and other e-bikes will also drop. The components will be powered by an even more powerful battery and the entire bike will be connected.
From hub motor to mid-drive motor
In your opinion, what was the most important innovation in the e-bike sector, and what is yet to come in the next few years?
For me, the step from hub motors to mid-drive motors was crucial for the E-MTB. The handling and efficiency got much better in one fell swoop. It made use in the countryside possible. In the future, design and connection of the components will definitely play a big role.
The E-MTB is even going to replace the MTB, believes another MTB pro >>>>
What makes for the biggest fascination of e-biking for René Wildhaber?
I love adventure: When I'm on the road with lots of luggage, the E-MTB generally helps me enjoy the tour more. For example, when I'm out in the mountains on a bike-camping trip. And when you need some distance from everyday life, you'll really get high and far with an e-bike.
René Wildhaber on e-bike races
Do you believe that racing series for e-bikes will become established?
For me, e-bikes are ideal for trips riding bikes together. Even when you're with friends or family, people are going to have differing fitness levels, and the e-bike offers a shared riding experience. For racing series, you'd have to be able to check the bikes technically and the rider for doping. It's really expensive to sort out a clean sport like that.
Has e-biking changed mountain biking and the bike scene?
A new category of bikes is establishing itself – 200 years after the invention of the draisine. Just like the mountain bike began its success story in the late 1970s. It's a good thing when the bike scene reinvents itself, it gets new people to acquire a taste for biking.
Advice for your e-bike purchase
What tips do you have for e-bike beginners, how do they find the right bike for them?
It's best to get a good consultation from a retailer specialized in e-bikes. Then, this retailer can also offer the proper service. E-MTBs are like SUVs in the auto industry, you can use them anywhere. But the speed is limited to 25 km/h. When road legal, 45 km/h is possible, and thus ideal as an environmentally friendly alternative to a car on your daily commute.