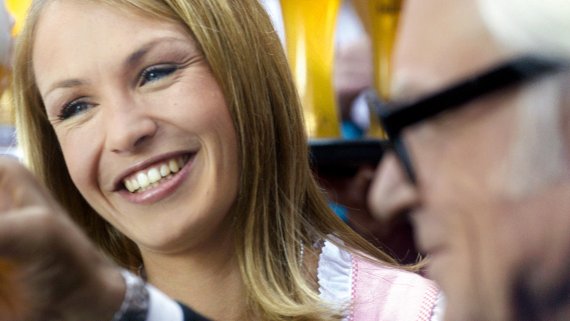 Of course, the Biathlon World Cup was on TV at the Neuner house. Mom and record-breaking world champion Magdalena Neuner were watching in any case, as well as dad Josef and daughter Verena. Born in May 2014, Verena was already speaking her first words in the first two weeks of March 2016. "When the biathlon is on, she says 'ski' and 'boom boom,'" explains Magdalena Neuner. "And with the shooting: nomoi." At the Neuner home in Wallgau, near Garmisch-Partenkirchen, they ultimately speak the Bavarian form of German. "Nomoi" means "nochmal" in standard German, or "again."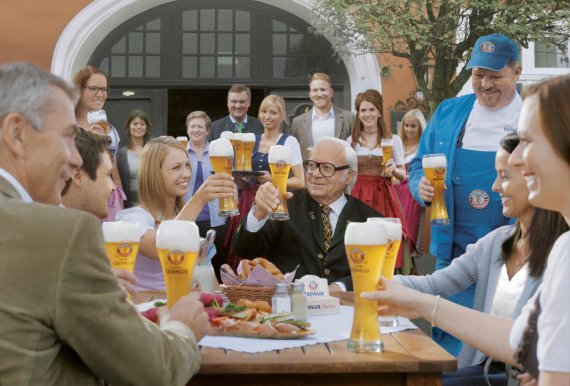 Magdalena Neuner tells the story of her family life as naturally as she sat at the top of the world on the track during her biathlon career. And she explained it on the stage of Munich's Gloria Palast, as sponsor Erdinger presents its new commercial in the Edel-Kino (cinema) back in 2016. Brand ambassador Magdalena Neuner joins in too; in one scene, she gets to clink a glass of weißbier with owner Werner Brombach.
You only see her for a couple of seconds, but those seconds are enough: there could scarcely be a better sympathetic joker for the family-run northern brewery than the biathlete who, while she was active, had already advertised for Erdinger Alkoholfrei (alcohol free). Even about ten years after her retirement in early 2012, Neuner is ever the down-to-earth, charming Gold Lena, who even tells the audience about her daughter's first words, or about her husband Josef who "had to get used to healthy cooking at home for the first time."
It shows that these are professionals at work. Presenter Gerd Rubenbauer has carefully prepared his passes to director Hans Steinbichler; Werner Brombach himself gives an odd, but charming look into the soul of the brewer. And Magdalena Neuner, who has amazing talent in her second career as a businesswoman, even brings phrases like "we always only have weißbier at home, we have to buy pale ale when friends come over" from the world of staged marketing into the Neuner home in Wallgau - where she, as a stay-at-home mom, "naturally wears the pants."
She sees the day of shooting with Brombach and the Erdinger crew as "a really casual day, we clinked glasses a lot." Even so with alcohol-free weißbier, "very civilized," says Neuner. In the evening, it eventually continued on with the flight to Frankfurt and the next appointments. The ad, "He Speaks a Classic, Traditional Language," can be seen by many television viewers for the first time on March 19th, at 8:15 p.m.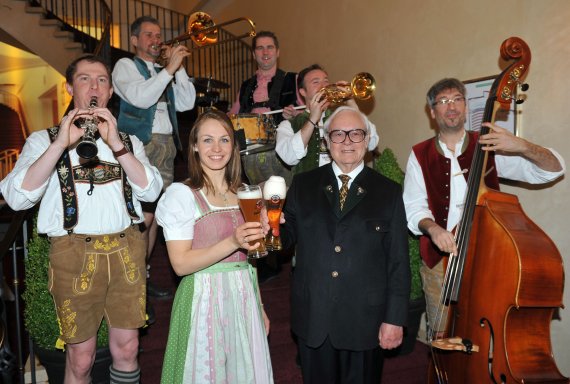 In the ten years after she ended her career, Magdalena Neuner has been involved into many different projects. She worked as a TV host for a public German channel and is still active as ambassador for many known brands. Besides that, she started the "Peak performer foundation" which aims for the goal to support young people to reach their sports goals. But Magdalena Neuner likes to point out that it's more important to show kids how enjoyable life can be with sports and doing your best - especially because she, as a passionate mother, really cares about kids. 
Magdalena Neuner looks back at an impressive career and her achievements are the ultimate proof for that.
She looks back at the following accomplishments:
2x olympic gold
1x olympic silver
12x gold in biathlon world cups
4x silver and 1x bronze in biathlon world cups
3x gold in summer biathlon world cups
1x bronze in biathlon european cups