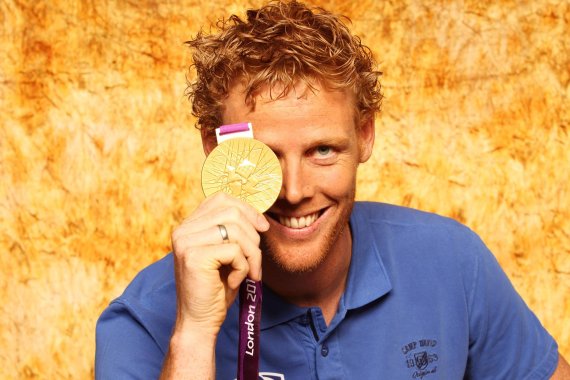 ISPO.com: Mr. Reckermann, four years ago you celebrated your greatest triumph: Olympic gold in London. What do you think of the games in Rio?
Jonas Reckermann: Beach volleyball on the Copa Cabana at the Olympics: it doesn't get any better in our sport. I'm happy that I get to be here live as a ZDF expert.

Shortly after your Olympic victory, you had to end your career due to injury. As a beach volleyball player, you probably don't have it made for life in that kind of moment (read more here: What medals bring in financially). How do you earn your money today?
First I completed my degree, to become a sports and geography teacher. But that's on the back burner for now, as an option for later. I still haven't put it completely aside, I always wanted to become a teacher, but I'm only going to start my traineeship when I'm sure that I'm going to become a teacher, and forgo other things. After the end of my career, I got started directly as an expert and commentator on Sky Germany at the Smart Beach Tour, and this will be my fourth year already. I'd like to stay in the sports journalism sector and expand too, and that doesn't have to be limited to beach volleyball.
Does that mean that Sky lent you out to the ZDF for Rio?
Exactly. It's just advertising for the sport of beach volleyball there – and so too for the Smart Beach Tour on Sky.

Reckermann is also a brand ambassador
How are the activities beyond the beach going?
I give talks for companies about motivation, dealing with losses, diversity, being able to work as a team. Aside from that, I'm a brand ambassador for Smart and the clothing firm Camp David. My tasks after my active career were a bit repurposed. Now I have more time and so, for example, last year I shot "brand content" for Smart in Rio – things like that never happened as an athlete. Now I can give back time, which is great since Smart is a big promoter of beach volleyball.
Ein besonderer Ort für ein olympisches Abschlusstraining ;) Kira/Laura und Karla/Britta konnten nicht am Venue trainieren und wichen zur Freude der Fans kurzerhand mit einem "öffentlichen Training" nach Ipanema aus. Für die Mädels kein Problem, sie wirkten noch sehr entspannt und voller Vorfreude! ZDF Sport wird großflächig vom olympischen Beachvolleyballturnier berichten, Stand heute sind folgende Übertragungen live und in voller Länge an den ersten beiden Tagen geplant: Im Livestream/Red-Button: Samstag 18:00 MEZ Elsa/Liliana (ESP) - Gallay/Klug (ARG) Sonntag 02:00 MEZ Böckermann/Flüggen Beachvolleyball (GER) - Kantor/Losiak (POL) 03:00 MEZ Herrera/Gavira (ESP) - Huber/Seidl (AUT) 04:00 MEZ Forrer/Vergé-Dépré (SUI) - Wang/Yue (CHN) Live im ZDF: Sonntag 23:30 MEZ Beachvolleyball-Team Laura Ludwig & Kira Walkenhorst (GER) - Elghobashy/Nada (EGY) Montag 02:00 MEZ Karla Borger und Britta Büthe (GER) - Heidrich/Zumkehr (SUI) Die Spiele werden kommentiert von Martin Hüsener, als "Experte" gebe ich meinen Senf dazu ;) #WirfuerD #Rio2016

Posted by Jonas Reckermann on Friday, August 5, 2016
Sounds like you had fun at your job.
It suits me, it really is a nice interface between sports journalism and business. My athletic background is important in that respect. I also made films about German Olympic drivers with my former teammate Julius Brink: "Gold Meets Golden Hope," which will be shown on sportdeutschland.tv, the DOSB's full video channel. We were with Martin Kaymer, Robert Harting, and the national handball team. It's been twelve films in total that the ZDF has secured the rights for, in order to show them during the games.

"Beach volleyball isn't a fringe sport anymore"

Beach volleyball has evolved a lot in the past few years, but in comparison to soccer, tennis, or golf, it's still a fringe sport. How easy or difficult is marketing?
I have to disagree: beach volleyball definitely isn't a fringe sport anymore. The sport has been in the Olympics since 1996, it's evolved tremendously: always uphill, a highly attractive advertising environment. The Smart Beach Tour is a complete success, too, has been for years, and beach volleyball always has the highest ratings at the Olympics. The top German teams can market themselves very well. I, for example, was always a full-time pro, even in my first year, through sponsors and promotion by Sporthilfe and the Beach Volleyball Association. Not every sport can do that. Therefore we're already in a comfort zone, if not comparably to soccer. But I don't want to gripe. Other sports have it a lot harder.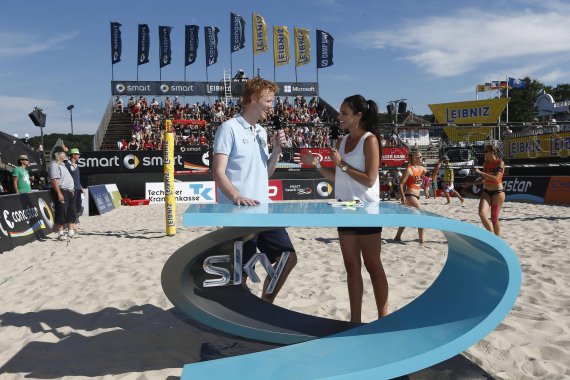 How many athletes in Germany can live off of beach volleyball?
Not that many. There are three to five national teams, and behind them one to three other teams that stem completely from private sponsors. After that are the hobby teams and the kids who play alongside their studies.
So maybe one or two dozen players?
Yes, there aren't thousands right now.

You've been very successful for many years now. What kind of boost does Olympic gold give in terms of marketing?
It's difficult to say. Sky once said that our Olympic win was the reason they secured the rights to the Smart Beach Tour. That's how it is with all sports: You first need German successes to direct the focus onto the sport. It's pointless to speculate where the development would have gone if we were only second or third place. What we do know is: the sport is still continuing to grow.

Training camp check for soccer players
You also once founded your own company...
Yes, www.trainingslagercheck.de. It's going very well. A good friend is pulling all of the strings. Soccer is the biggest market in the training camp business. But we also have swimmers, track athletes, and volleyball players.

How are you connected with your former beach volleyball partner Julias Brink?
Julius is likewise involved in marketing at the Smart Beach Tour – and as an expert for the ARD in Rio. We also give talks together. Our topic is the benefits of diversity. We were very different characters on the court, but that's something that brings along a lot of potential.

What companies are you booking?
Bayer, Telekom, Der Spiegel, and mid-sized companies too, very diverse. I can't tell you how cool I was, but something is going to stick and relate to the corporate situation. People are going to take something away for their own work.
Your gold medal is now four years old. Does the euphoria around the Olympic champion Reckermann persist, or is it gradually getting weaker?
It's going well at the moment. In the beginning, however, it was that the name and the title were more important than the content.

"Geez, there comes the Olympic champion..." Which sport? Who cares!
Exactly. But that's starting to pivot now. Soon there will be new Olympic champions that will be more in the spotlight. That's why you should already be delivering content. You can't live off of a title forever. But I'm on a good path in that regard. I don't just have 'Olympic champion' on my business card. Those who learn more about me will come across the Olympic win, but that's why you don't have to make that big a show of it.