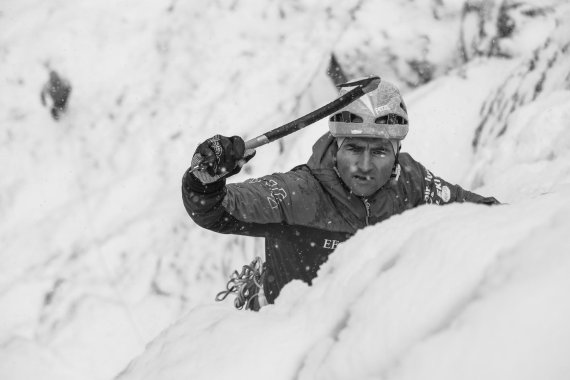 Göttler expressed his condolences through an emotional message on Facebook alongside a photo of Steck while lead climbing. 

Yesterday I got the news that I lost a good friend. A friend with whom I was in this very same place a year ago, with...

Gepostet von David Göttler am Montag, 1. Mai 2017
Unlike Steck, who specialized in high altitude mountaineering, Stefan Glowacz focuses on climbing. Nevertheless, Glowacz was an avid follower of the speed specialist's activities.  

Die Nachricht von Ueli Stecks Tod erreichte mich beim Lowa Salesmeeting in Portugal. Wenige Stunden zuvor unterhielt ich...

Gepostet von Stefan Glowacz am Montag, 1. Mai 2017


Ueli Steck was an inspiration for Stephan Siegrist and Ines Papert
Compatriot Stephan Siegrist is a mountaineer and climber and has been the first to ascend mountains on all seven continents. He knew Steck from their youth.

Alpine mountaineer Ines Papert feels right at home in this world of ice and rock faces. She too has been greatly affected by Ueli Steck's death:
The prayer mills continue to rotate for you, Ueli. Your loss makes me very sad. The Community will miss you and your...

Gepostet von Ines Papert am Montag, 1. Mai 2017


Steck's death shocks the outdoor industry
Steck's sponsors simply cannot believe the loss of such a significant member of the mountaineering community. Watch manufacturer Suunto pays its respects to such a great source of inspiration.

We are in a state of shock and disbelief after this morning's news from Everest on the passing of our long-time friend...

Gepostet von Suunto am Sonntag, 30. April 2017
In a guest contribution for ISPO.com, Bernd Kullmann, former top-class Alpine mountaineer and CEO of Deuter,
shared his thoughts on the death of the extreme mountaineer
. Companies other than the Steck's outfitters, such as Mammut, also expressed their condolences and sympathy through various messages.
We are very sad to hear about the tragic news of Swiss mountaineer Ueli Steck. What a huge loss to the mountaineering community. Our thoughts go out to his family and friends.

Gepostet von Mammut am Sonntag, 30. April 2017
Ueli Steck died at the age of 40. The respects mountaineering colleagues paid following his death demonstrate just how much of a legend he had become in his lifetime.