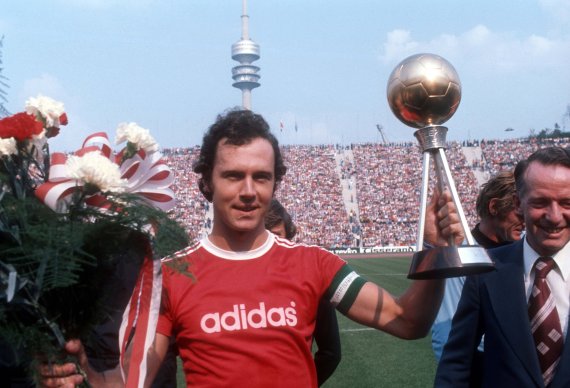 Franz Beckenbauer's unique career in football began right on his doorstep in Munich's Giesing neighborhood. Because there, in the south of Munich, the sports field of SC 1906 Munich was right in front of the Beckenbauers' apartment. Franz Beckenbauer started playing football there at the age of six, before, at 14, he joined FC Bayern München in 1959 - the club with which he celebrated his greatest successes.
In 1964, at the age of 18, Beckenbauer made his debut in the first Bayern team and quickly became a top performer - initially in midfield, later as a libero with offensive drive. In 1965, together with later stars such as Gerd Müller or Sepp Maier, he led the Bavarians into the Bundesliga for the first time and later to four championships.
From 1974 to 1976 Beckenbauer was the head of the team that won the European Cup three times in a row.
In 1977, Beckenbauer then moved to the USA to play for the New York Cosmos, where he played with Brazil's legend Pele and won the championship three times by 1980.
In 1980, Beckenbauer returned to Germany to Hamburger SV, for whom he played 28 more Bundesliga games until 1982, before he ended his active career after another brief stint at the New York Cosmos in 1983.
After his debut in 1965, Beckenbauer also quickly advanced to become a regular in the national team and then captain. He became world champion with Germany in 1974 and European Champion in 1972. In 1966 he also reached the World Cup final and in 1976 the European Championship final.
As team manager of the German national team from 1984 to 1990, Beckenbauer initially missed out on major titles before he took his leave as world champion with his triumph at the 1990 World Cup in Italy in the final against Argentina and his legendary lonely walk across the field in Rome. Beckenbauer and Brazilian Mario Zagallo are the first two footballers, who became world champions both as a player and a coach.
Beckenbauer took over as interim head coach at FC Bayern twice in the 1990s, winning titles twice: the German championship in 1994 and the UEFA Cup in 1996.
As a player in the men's field:
1964-1977 FC Bayern Munich

1977-1980 New York Cosmos

1980-1982 Hamburger SV

1983 New York Cosmos
As a manager:
1984-1990 Germany (team manager)

1990-1991 Olympique Marseille

1994 FC Bayern Munich (interim)

1996 FC Bayern Munich (interim)
As a player:
World Champion: 1974

European Champion: 1972

Intercontinental Cup

winner: 1976

Winner European Cup of the national champions (3): 1974, 1975, 1976

European Cup Winners Cup: 1967

German champion (5): 1969, 1972, 1973, 1974, 1982

DFB Cup winner (4): 1966, 1967, 1969, 1971

US champion in the North American Soccer League (3): 1977, 1978, 1980
As a manager:
World Champion: 1990

UEFA Cup winner: 1996

German Champion: 1994

French champion: 1991
Honors:
Ballon d'Or (European Footballer of the Year): 1972, 1976

Germany's footballer of the year: 1966, 1968, 1974, 1976

Honorary captain of the German national football team: 1982

Silver laurel leaf: 1966, 1967

FIFA World Cup of the 20th century, 1998

3rd place in the election of the world footballer of the 20th century: 1999

Germany's footballer of the century: 2000

ISPO Cup: 1990