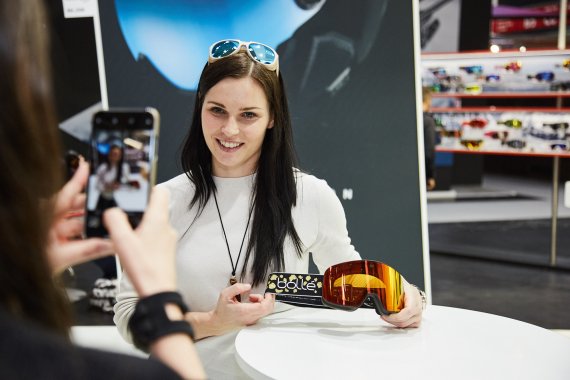 Anna Veith knows how to move people: 651,000 fans on Facebook, 365,000 followers on Instagram and 191,000 on Twitter - in addition to her extremely successful career as a ski racer, Veith is also a social media star. No wonder that the crowd was so big when the 29-year-old Austrian held an autograph session at the ISPO Munich.
Networking with the sports industry is extremely important to Anna Veith. She used the world's largest sports fair to meet with her sponsors. At the stands of Head and Bollé, Veith received many encouraging words. In mid-January she tore her cruciate ligament again, her second serious knee injury within three years.
Veith's a fighter. She no longer needs the crutches, but her right knee is still splinted. "The most important thing is to accept the injury so that you can deal with it," she said to ISPO.com. "Now it's important for me to focus on my health and getting well quickly."
Despite her recent setback, Anna Veith does not yet want to end her sports career. "At the moment, I'm not really thinking about what I want to do after my active career," she said.
Women are currently conquering the sports business, so a start as a sports functionary would be just the right thing, wouldn't it? "I think it's very important that athletes are getting involved because they're the ones who know exactly how to get to the top," said Veith. "I could imagine bringing in the knowledge I've accumulated over the years."
Most recently, Anna Veith has attracted attention with her criticism of the tight schedule in the Ski World Cup. The power woman from the province of Salzburg is known for discussions at the Austrian Ski Association (ÖSV).
Anyway, there'd be plenty to do. In other sports, digitalization already plays a major role, as can be seen at ISPO Munich 2019. But the ski business is just at the beginning, said the three-time world champion: "I don't think digitalization has pervaded my sport yet."
Anna Veith, on the other hand, masters the game with social networks, on Facebook she has 13 times more fans than the channel of Austria's alpine women's ski team (55,000 fans). "Social media has become very important for athletes," explained the Olympic ski champion.
Every posting is worth cash. As an athlete with a large reach, "of course you also try to think in economic terms," said Veith. The marketing of this reach has "created entirely new opportunities in recent years".
Whoever speaks to her quickly notices: Anna Veith thinks ahead. Austria's ski fans would certainly be delighted if Veith would remain active in skiing in her home country even after her active career.