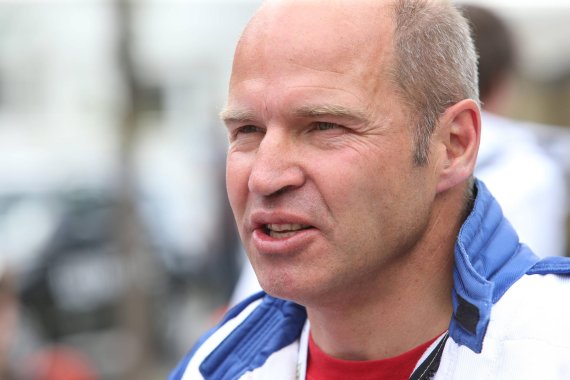 Five-time overall World Cup victor Marc Girardelli rose up to the challenge and overcame the ski mountaineer cult event in 14 hours. After the race, ISPO.com spoke with the 52-year-old skiing star. A conversation on the challenges on the mountain, serious injuries, records as an athlete, failures as an entrepreneur, and his loyalty to skiing.
ISPO.com: Marc Girardelli, was this your first start at the Patrouille des Glaciers?
Marc Girardelli: Yes (laughs). Probably the last time, too.
What goaded you into such a slog on skis?
I just didn't know what I was getting myself into! Last summer, a friend of mine from Luxembourg asked me if I would compete in a team with him. With the background that, back then, I had quite a few too many pounds on me, I spontaneously accepted. I saw an ideal opportunity to have to train regularly again.
When did you realize what was in store for you?
A couple of weeks later I read up about what the Patrouille des Glaciers really means, and I had to seriously ask myself if it wouldn't be better to call it off.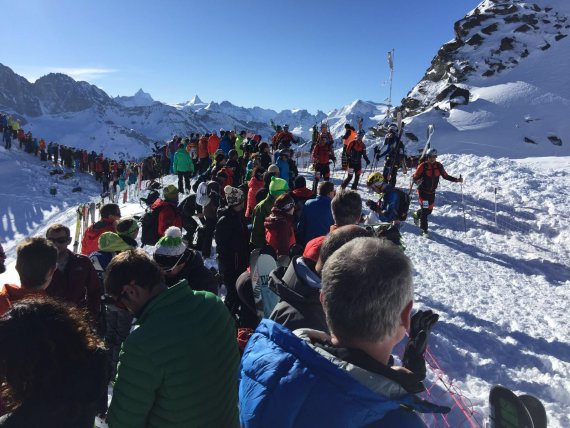 According to the list of results, you reached the target at 14 hours. How satisfied are you with your performance?
It was clear that we didn't break any records. We wanted to finish and that's just what we did.
"Much more than a competition. It's an experience."
What impressed you the most?
On the last summit before Verbier, I turned around for one second and saw the Matterhorn far off in the distance. Then you realize, purely geographically, just how much of a stretch you've covered on skis from Zermatt. You traverse more or less all of Valais from east to west. That's what impressed me. And the mood in the church, of course.
Church? 
Before the race, all of the starters meet in the church. For one, the event progress and organizational things are explained there and talks are given before a short church service takes place, including a blessing. The ceremony was moving. Only in the church did I realize that this race is much more than a competition. It's an experience.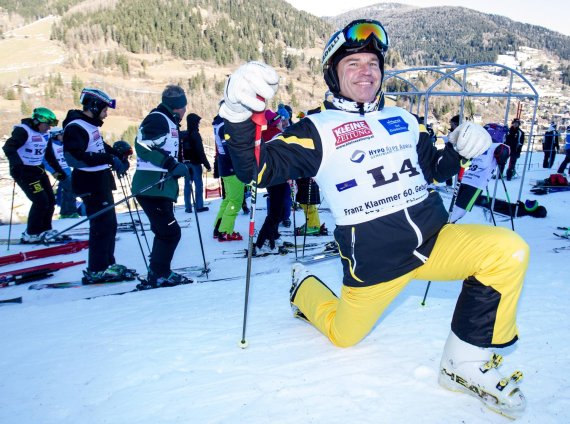 How did you prepare?
Starting from November, my two teammates struggled down 60,000 to 80,000 meters of altitude during tour training. In the winter with my business obligations – several incentives and talks – I hardly had any time for targeted training, and came to a set task of a laughable 12,000 meters of altitude. Okay, I often sat on the exercise bike, but I was rarely on the slopes. In that sense I'm surprised how well it ended up in the end.
"The mood in the darkness and quiet was sublime"
Are alpine abilities necessary at the PDG?
You have to already be half-way experienced in the terrain, and be able to downclimb a via ferrata on the slope with skis on your back. I'm not afraid of heights, I can handle heights well and used to climb regularly. For my teammates who came from the lowlands, it was more difficult, especially at night.
Is it fun to run over mountain ridges in the dark or is more for a born fighter?
The night stages from Zermatt to Arolla were my absolute highlights. I felt strong, the mood in the darkness and quiet was sublime. From dawn on, though, I didn't perceive much of the atmosphere and just looked at the tips of my skis.
Does that mean that overall you witnessed little of the breath-taking scenery?
Correct. First it was pitch black, and then I was physically incapable of marvelling at any landscapes. I had to focus extremely hard on my breathing. When it also got really warm near the end, after 100 steps we always added breaks of a couple of seconds. Otherwise, your pulse rushes up to 200 and you keel over.
"I have 18 surgeries behind me"
How many real breaks does somebody make on a 14-hour ski tour in demanding terrain?
We stopped at two official stations for five minutes each and had some food. Namely, if you're not within certain time limits, you get disqualified. One of our team wasn't a good skier, which especially cost us time during the night departures. What you lose during departures you don't get back in the ascents.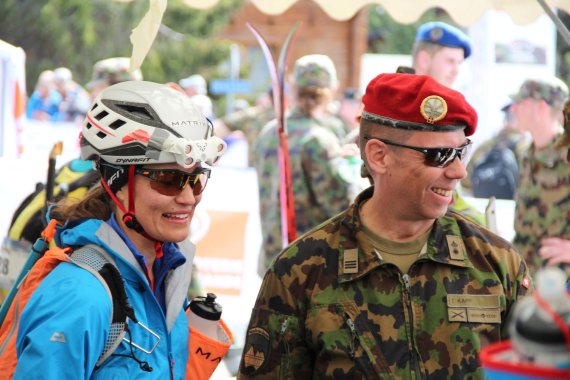 I faintly remember that you suffer from the after-effects of a serious knee injury.
I've been 15 percent disabled since I was 19, but later I came in with five total World Cup wins with this knee (laughs). The doctor who examined me back then gave me the urgent advice to look for a job where you don't have to climb stairs. Today I'm 52 and I've overcome the Patrouille des Glaciers well. Can I go into a little more detail here?
Go ahead!
I didn't just have this one serious knee injury. In total, to this day I have 18 surgeries behind me. That takes an incredible amount out of a body. Starting from 2000 to 2010, I was on Voltaren daily. At some point even the pills didn't help anymore. I couldn't run up stairs without using a handrail anymore. Just at this point I accidentally came into contact with the company Bemer, I tried out their devices for physical vascular therapy, and after two months I was pain-free without pills. I share this experience with conviction and take the opportunity to pass it on to people, mainly athletes. This form of therapy helped me an unbelievable amount.
"60 to 70 ski days per winter"
Does it actually bug you that Marcel Hirscher won the overall World Cup for the fifth time, and thereby has drawn level with you?
I don't begrudge Marcel Hirscher any success, and communicate that intently. I know how hard it is to be the five-time best. Marcel has also won five times in a row, on top of that. Hirscher is a very interesting personality. He still has more to show, of that I'm sure. And I'll be the first to congratulate him then.
How often are you on skis?
Very often. Next I'm going to Samnaun participate with the Swiss Martin Hangl (note: World champion, Super G, 1989 in Vail) in the European Championship in formation skiing. I promised him. Per winter I get on to 60 to 70 ski days, most of which I spend with customers, since I organize ski incentives full-time.
Were you able to earn good money in your exceedingly successful time as an active alpiner?
Now I don't know what a Hirscher earns today, but I was able to live well on skiing at that time. You know, it's always relative with money. Measured with a soccer player's income, or a top golf or tennis player, Marcel Hirscher is an idealist. But if you compare it with an artistic gymnast at the top of the world, Hirscher is doing very well money-wise.
"I don't need a private jet"
There were a few difficult phases in your life. Injuries during your active period. After your sports career failures as a hotelier, you fell through as an entrepreneur with a ski hall in Bottrop.
As hoteliers my parents and I primarily had to take the rap at the end, but we were able to sell the property reasonably well. Gastronomy's not my thing (laughs). I prefer to sit on the other side of the bar. By contrast, the ski hall was a large and risky company with 120 employees at that time. The Dutch hotel group Van der Valk, which I sold the hall to in 2004, admittedly does successfully run the ski hall to this day. The concept and location have fundamentally proven themselves.
But you lost a lot of money in Bottrop.
You could put it that way. I'm just a guy who likes to rise up to new challenges. As such, you have to then be ready to carry the consequences when something goes wrong. You can always lose money, but also win it back at any time. I don't need a private jet (laughs). A helicopter's enough for me.
You also work as a consultant in Bulgaria.
I've been active as a sort of ambassador in the topics of skiing and tourism in Bulgaria for 10 years. I helped organize getting World Cup races to take place in Bansko. Bansko is namely a magnificent ski area, good to reach, but has the best lifts and pistes, great hotels, and really fantastic cottages. In perception, Bulgaria is still just the backyard of Europe. But the country has been really flourishing since the lifting of the Iron Curtain. I've made many good friends there.
"My dream is a glider pilot license"
Marc Girardelli must also be a sought-after testimonial for ski companies, however.
For two years by now I've worked together with Bode Miller for Bomber Ski. The owner and founder of the ski brand comes from New York, but the company headquarters and production are located near Milan. Bomber produces very exclusive skis by hand, similar to the brands Zai or AK, and wants to invest in ski racing. It's quite possible that Bode Miller will once again be at the start on Bomber Ski.
Summer's right around the corner. Are you looking forward to it or do you miss the snow?
I'm actually happy when I can put my ski boots in the basement. Whereas I occasionally also have customers from South America, with whom I also go skiing in the summer in Chile. But it's usually quieter in the summer. I'll go mountain climbing, head out with my racer, and maybe fulfill a dream of mine.
And that would be?
Getting my glider pilot license. For 25 years now I've been a helicopter pilot. But floating through the air with no motor power, that would be it.