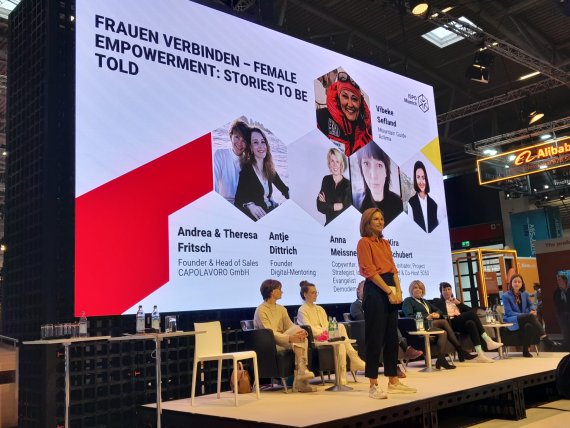 In the morning, the Future Lab's Main Stage focused on feminine success stories. The initiative Frauen Verbinden (Connecting Women) invited female entrepreneurs whose backgrounds could hardly be more different:
Sweden's Vibeke Sefland has already scaled the highest peaks on each continent. Even more inspiring, however, are her development aid initiatives: In Nepal, she and two women who had escaped forced marriages founded a sewing factory that now employs 97 women from difficult backgrounds. In South Sudan, she helped a local women's community set up a coffee business as well as an elementary school. "That's empowerment: teaching people how to use their skills, other people and know-how for development," Sefland said.
Other panel guests: Kira Schubert, who developed Project 5050, an initiative for gender parity in leadership positions - including her own podcast and festival. Theresa and Andrea Fritsch presented their three learnings about the handover of the family business Capolavora from the parents' generation to the children's generation:
An early introduction of the younger generation as responsible for new, own areas creates trust, competence and respect in the workforce.

A clear separation of business and family topics in communication is mandatory.

A jointly developed roadmap with milestones for an exit strategy for the parent generation enables a smooth handover. No expertise? Then use external help!
How can we all contribute to diversity and inclusion? That was the topic of a panel at the Future Lab. One of the panelists was Katharina Inselkammer, a restaurateur who runs Kunst Werk Küche, where one-third of the staff are people with physical or mental disabilities. "Diversity is not yet sexy enough," says Inselkammer. She promotes active enabling as an employer, for example through inclusive equipment like in her kitchen and thinking according to the Montessori principle "Help me to do it on my own." And in sports? Coaches need to be trained in how to work with people with disabilities through training and consulting programs.
Which brands are the most popular? What influences consumers' purchasing decisions in times of crisis, and which topics offer the greatest potential for the market? The ISPO Consumer Insights Report provides answers directly from the sports community. On the stage of the Future Lab, there was exclusive insight into the new report for the 3rd quarter of 2022.
An important point that motivates customers to switch to another brand: How climate-friendly and green is a brand really? "Renting instead of buying" and "vanlife" are among the major trends with growth potential.
In order to be able to create safe and sustainable materials for sportswear, the chemical industry must also make a contribution - because this is where the actual life cycle of a garment begins. Dr. Daniel Waterkamp and Fabian Walda from Bluesign explain how the implementation works for companies in the chemical industry. Bluesign helps companies achieve sustainability standards for their products. End consumers can also use the label as a guide.
The key takeaways from the presentation for companies:
Acting responsibly starts with developing a sustainability strategy as well as setting the right goals.

Furthermore, the company must control its own supply chain and, if necessary, replace suppliers that do not meet sustainable as well as social standards.

The products of the industry, e.g. dyes and auxiliaries, must be safe and sustainable along their entire life cycle, from production to disposal - both for the workers who come into contact with the chemicals and for nature, which comes into contact with the waste.
In the late afternoon, the doors of ISPO Munich 2022 closed after three days with 1,700 international exhibitors and trade visitors from 117 countries. "The revised concept as well as the new date of ISPO Munich at the end of November were very well received - both by exhibitors and trade visitors," summarizes Stefan Rummel, CEO of Messe München.
But of course: After the trade show is before the next trade show! From June 4 to 6, 2023, OutDoor by ISPO 2023 will take place at the MOC - Event Center of Messe München. ISPO Munich 2023 is on the schedule from November 28 to 30, 2023. We are looking forward to seeing you!