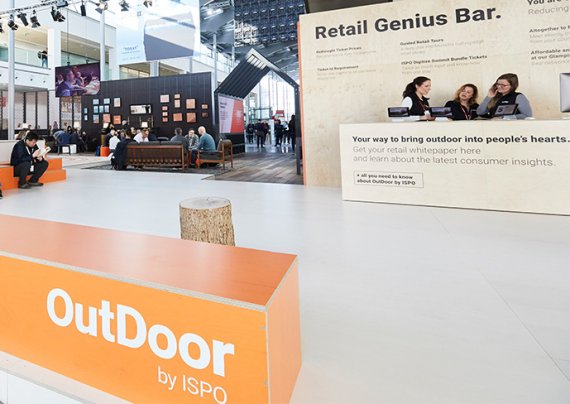 The Retail Lounge in Hall A4 of OutDoor by ISPO from the 30th of June to the 3rd of July invites trade visitors from the retail sector to exchange ideas and relax. At the same time, it serves as a knowledge hub for new retail solutions and innovative ideas for the point of sale.
Supported by The Outdoor Industry Compass, we offer you interesting lectures, panel discussions and information on new digital solutions in the specialist trade.
Adidas is present twice with lectures. On Monday, July 1st from 5 p.m. Yohan Ham (Director Adidas Statement), Stuart Wells (Director Brand Marketing Adidas Outdoor) and Andre Doxey (VP Design Adidas Outdoor) will discuss the so-called Hype Fashion.
For Adidas, the entire outdoor market is much more than a hype or a trend. Andre Doxey: "We are excited about the energy in the outdoor market. It aligns directly with our purpose and provides us with an opportunity to reach and engage with more people through outdoor sports." How does Adidas intend to achieve this? Visit the Retail Lounge for answers.
On Tuesday, 2nd of July at 5 pm, Steffen Hack (Director Adidas Outdoor Digital) will speak on "Win Search: How Optimizing Your Own Master Data Helps Consumers Find Your Products".
Already on Monday we talk about the future of outdoor: "Outdoor reinterpreted! What opportunities for the trade? The discussion will be organised by VDS (The German Association for Retailers in Sports). 
For an up-to-date event overview of OutDoor by ISPO, simply use our event calendar with a practical filter function.
In addition, the Retail Lounge invites visitors to the trade fair every morning from 9 a.m. to 10 a.m. to the Detox Happy Hour Breakfast. Networking and joint exchange of the outdoor scene are guaranteed at the start of an eventful day at the fair!
The Outdoor Industry Compass also has a booth in the Retail Lounge and presents its industry newsletter. According to the publisher EDM Publications, the e-mail subscription is read by 80 percent of all top managers in the outdoor industry. With the code "OBI19", there is a 20 percent discount on annual membership.