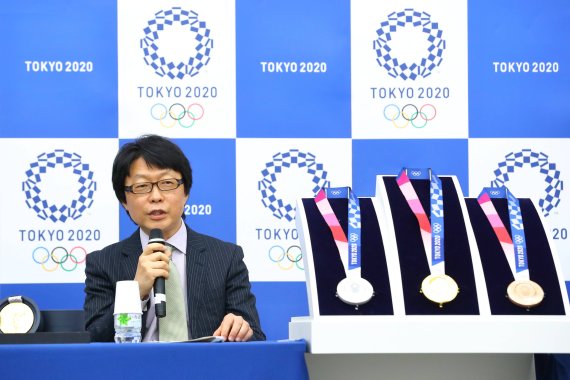 Thousands of years of craftsmanship and digital innovations - hardly any other country in the world is as tradition-conscious and progressive as Japan. As the visitors of the Runner's World Running Symposium at ISPO Munich 2020 learned, its capital Tokyo will have a lot to offer as host of the Olympic Summer Games 2020.
Just like it does at the entire ISPO Munich, sustainability will play an important role at the Olympics, reported Andreas Moll, Merchandising Director Footwear of Olympic sponsor Asics. "The 5,000 medals are made from recycled electrical equipment donated by Japanese households. All volunteers will be equipped with recycled clothing. And the podiums, on which the bronze, silver and gold medal winners at the awards ceremonies are placed, were once PET bottles.
Visitors can also look forward to the first robot mascot of the Olympic Games, autonomous means of transport to the sports venues and assistance robots at the competitions. "Tokyo wants to guarantee security by means of facial recognition," Moll added on the stage of the Runner's World running symposium. Sponsor Asics itself also wants to improve in terms of sustainability and digitalisation and is therefore working on a new shoe. "We are often asked what we think about tech doping, for example carbon plates in running shoes to be faster. Our answer is already in the testing phase with athletes," Moll promised, but he didn't want to reveal more at the symposium. According to the shoe expert, Asics will present its new shoe in Tokyo in March.
Even though Dieter Baumann already ended his career in 2003: His fascination for the Olympic Games has always remained, the 54-year-old exceptional runner confessed on the stage of the Runner's World Running Symposium. "I'm a fan and I'm really looking forward to watching it in Tokyo. Olympia was already the big thing for me as an athlete - all other competitions were secondary."
Nevertheless, Baumann, who today tours from stage to stage as a cabaret artist, didn't seem sad that he won't be an athlete in Tokyo 2020: "When I was still active, we had a completely different rhythm and in between there was always a year to catch our breath. Since the European Championship and the World Championships are every two years, there is no break for the athletes anymore.
Laura Hottenrott feels exactly that. The long-distance runner from Kassel, who has justified hopes of qualifying for the Olympic Games, is back on a good track after a long break due to injury: "Last year I had problems with a heel spur for a long time, but since November things have been going pretty well", said the 27-year-old marathon runner. "I've never started the year so quickly and I'm very optimistic that I'll have a small chance to start in Tokyo. However, there are certainly more than three women in Germany who want to break the norm this year. Maybe we'll all run into each other at one of the big spring marathons."
Currently, the standard for the women's marathon race at the Olympic Games in Tokyo is 2 hours 29 minutes and 30 seconds. But this does not guarantee a starting place, German athletics has additional nomination criteria. Hottenrotts current best time is 2:32:58.
In order to enable long-distance runners in particular to reach their potential at the Olympic Games, the organizers have moved the marathon north to the island of Hokkaido, to Sapporo. A reaction to the heat battle at the World Championships in Doha, where only 40 of 68 runners in the marathon made it to the finish line due to the high temperatures. "Whether Sapporo or Tokyo, I don't care," said long-distance runner Laura Hottenrott. "As long as it's the Olympics!" She believes that the transfer was the right decision. "In Sapporo it is supposed to be five to six degrees colder than in Tokyo, which sounds reasonable, so that something like Doha will not happen again."
When Dieter Baumann ran in Tokyo, 1991 at the World Championship, he didn't worry about the weather at all, he confessed: "Before the trip, I had no idea how hot it would be there. When I got off the plane, I thought: Wow, this is gonna be tough." For young runner Hottenrott, the 1992 Olympic champion from Barcelona has another tip: "You can't concentrate on your competition if you live in the Olympic Village during the Games. Olympic villages are terrible - they are funfair, party zone and distraction industry at the same time. If you really want to be focused, you shouldn't stay there overnight."