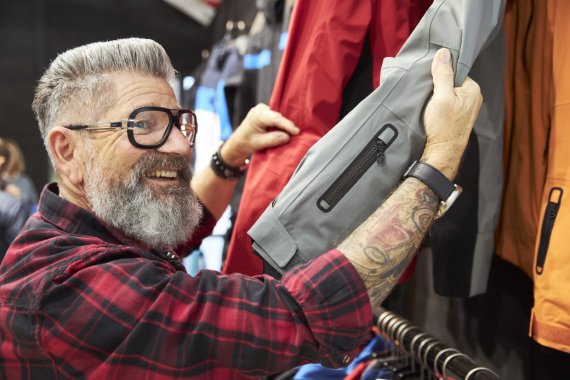 April was particularly hardly hitten by the current corona pandemic: While shops in many countries were still open for at least a few days or weeks in March, the crisis in April meant a complete shutdown for most retailers in Europe. It was a moment when nobody knew how the situation would develop. The only clear thing was that the situation was threatening to health, the economy and the very existence of the company. For a first overview,  ISPO launched an international online survey on April 9th on the effects of the coronavirus crisis in sports retail. The survey gives a concrete impression on actual situation in retail.
Only 9 percent of the retailers surveyed were able to open their stores as usal in April.

Almost half of all retailers (44 percent) had to close their stores completely.

34 percent were able to maintain their online business, while

local business

had to close.
The downturn in sales had already been announced by many in March:
Overall, 83 percent of retailers recorded a decline in sales in March compared to February.

Nearly one fifth (17 percent) of retailers even saw sales fall by more than 80 percent.

Just as many retailers (17 percent) did not feel any effects at all in March and even made profits because the stores had not yet had to close.
With the forecast for April, the overall picture darkens significantly: 
Almost half of all those surveyed expected a sales loss of more than 80 percent for April.

However, not everyone could imagine that the shutdown would also completely dominate May. Although some retailers were also expecting the same scenario in May, with sales losses of more than 80 percent, the majority of retailers expected less dramatic declines.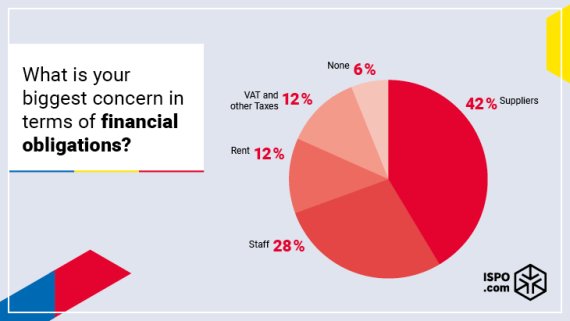 Since

local

shops were closed and direct contact between people was prohibited, 72 percent of the dealers developed new strategies to keep sales going.

Lo

cal

retailers set up pick-up services for products at the store entrance and delivery services from the store to the customer.

Multichannel retailers used their stationery stores and sent parcels from there.

Many retailers used digital media during the crisis to stay in touch with customers. The preferred channels were e-mail, social media and their own websites. At least 50 percent also used the telephone.

The importance of e-commerce became painfully clear to many during the crisis. Almost half of the surveyed retailers do not conduct online business. But 20 percent of them want to start now.
In view of the upcoming order for the SS 2021 season, 73 percent of the retailers can imagine not visiting showrooms and instead ordering via digital tools. At 27 percent, almost a third of those surveyed see no alternative to real showrooms.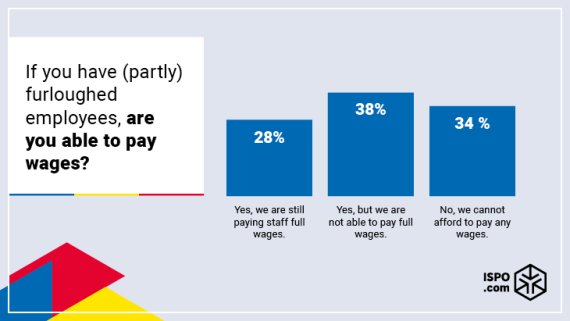 In view of the closures, many dealers had to take leave of absence, put employees on short-time work, or even dismiss them.

At least half of them did not need to take any such measures and were able to continue to employ the workforce.

Two percent had so much to do in online retailing that they even hired new staff.

46 percent were forced to send all or parts of their employees home.

One third of those said they were unable to pay their employees during the shutdown.

Others (28 percent) paid full wages despite taking leave, but the majority (68 percent) said they were only able to do so for one to three months.

Not everyone can count on state aid: One third of retailers do not expect any financial support from the government for the payment of wages.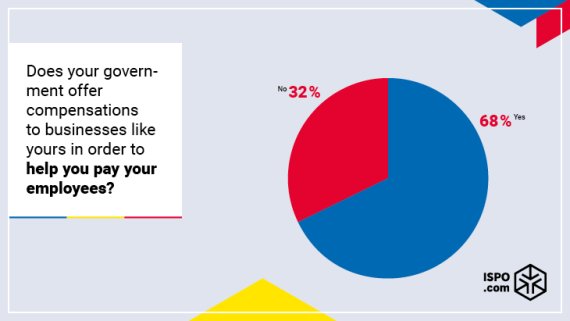 While fixed costs such as rents and salaries were the focus of discussion at the beginning of the crisis, the survey shows that the majority of retailers (41 percent) are primarily concerned about financial obligations to suppliers. The costs of salaries (28 percent), rent (12 percent) and taxes (12 percent) rank second.
Most retailers do not want to take out high loans: Half (46 percent) would be prepared to take out a loan of up to 50,000 euros, 11 percent more than 500,000 euros.

If

the world shut

situation lasts even longer, 41 percent of the retailers fear that they would have to close their business completely after one to three months. 7 percent would have to close down for good before that. One fifth would be able to keep the situation going for a whole year.
132 dealers from more than 20 countries took part in the survey. Most of them (21 percent) came from Germany, followed by Austria, Italy, Switzerland and France. 65 percent of the retailers surveyed run one local store, 35 percent two or even more. 10 percent are pure online retailers, 58 percent serve both channels. In terms of product ranges, the categories outdoor (73 percent), winter sports (41 percent), sports fashion (34 percent) and running (29 percent) predominate.