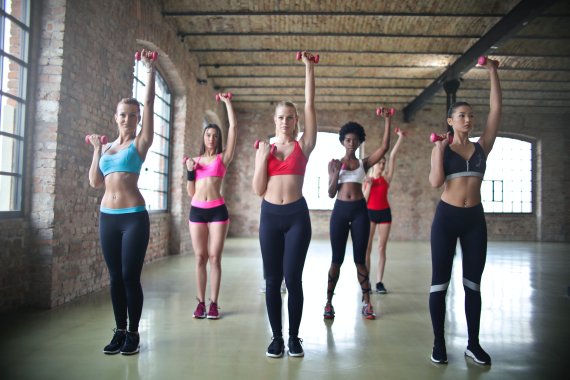 Snow, cold and long nights - going to the gym is twice as hard in the dark season. Instead of going to the gym, it would be much nicer to stay at home, wouldn't it? For all you stay-at-homes, here's the solution: Zumba training at home.
These are the advantages of doing Zumba at home:
Time savings
You are not bound to membership fees
Saves money
Training at home creates time flexibility
Beginners especially find it hard to go to the gym because you might be at a lower fitness level than others. Although this need not be a cause for concern, many people feel the same way, which is why exercising at home is perfect.
Working out at home is not for everyone. Many people don't find the motivation at home because they need the presence of their workout buddies or are too easily distracted by the TV or other temptations.
Plus, you can rarely teach yourself a sport as well as a fitness instructor. There is a risk of doing certain routines or exercises incorrectly.
With Zumba, it's more a question of motivation - if you're easily distracted at home or even prefer to be outside your own four walls when exercising, it's better to go to a gym.
For a few years now, the Latin American dance workout Zumba has had a firm grip on the fitness scene. Whether as strength training, for fat reduction or simply for the fun of moving - Germany is in Zumba fever. That's no surprise, because the combination of fiery rhythms, aerobics and interval training is not only a highly effective training method, the workout is also a lot of fun and that is known to be the best motivator.
Zumba is especially suitable for those who like variety and speed in their exercise. Not everyone likes to sit on an indoor bike for several hours or lift a barbell with both arms. Zumba is an endurance sport with dance elements that brings a lot of variety and is fun.
Expensive training equipment, bulky dumbbells and lots of space - you don't need all of that for Zumba at home in your living room. If you don't live in a small apartment and have a few square meters at your disposal, you're perfectly equipped for the Zumba workout. But what is needed in detail? Especially for newcomers it is important that the training takes place under professional guidance. A good option here are Youtube, apps or classic Zumba DVDs - at least if you get the right one.
When choosing, it is advisable to first get an overview and, if necessary, read a few testimonials. While you have to pay 70 Euros and more for the official Zumba DVDs, the versions of numerous no-name companies are already available for a fraction of the money. For example, the "Latin Dance Workout" from the 5W publishing house offers a basic program that is completely sufficient for beginners - at a cost of ten euros. The app version for smartphones is even cheaper. "Zumba Dance" from Majesco Entertainment is available for two euros for both iPhone and Android devices. And for all those who want to save money, Zumba instructions are also available conveniently and free of charge on YouTube.
When choosing the right footwear, the most important thing is the right grip. Fast changes of direction, twisting movements and jumps - there are all this in Zumba in the most diverse variations. Even if you train Zumba at home. Therefore, special dance sneakers are best suited, but Zumba also works well in shoes for cross-training. On the other hand, it is better to avoid jogging shoes with raised elastic soles, as there is too great a risk of twisting your ankle when changing direction.
When it comes to tops, pants and T-shirts, there are basically no special guidelines: True to the motto "what pleases is good", you can venture into the fitness workout at home in any look. The only important thing is that the clothes don't restrict you and that you have enough freedom of movement. If you have breathable functional clothing, you are of course at an advantage. There are no problems with heat and moisture regulation, there is no danger of rubbing seams and unpleasant odours won't spoil your evening later.
Last but not least, the only thing missing is a suitable surface, because if you often train at home, you shouldn't rely on the tripping hazard of carpet. However, you don't have to invest much: a simple fitness or gymnastics mat is best here. Good basic models are already available in stores from 15 euros.
Those who want to train at home, but at the same time want professional supervision, can use an online course. All you need is a laptop or computer and a working internet connection. The offer of online courses is growing and there are many possibilities to practice the sport professionally at home. In the end, this also makes it easier to search for a special offer - in just a few clicks you can find a workout with the right routines at the right time.
Nowadays, home workouts have hardly any disadvantages compared to training in a gym. Thanks to online courses, apps and video portals like YouTube, it's easy to find a professional "trainer" and work out at low cost and in a time-saving way. But at home, there is also a greater potential for distraction and some people constantly put off working out. So a "I'll start tomorrow" becomes a "I'll train sometime".
In the article we have devoted ourselves almost exclusively to the Home Workout. Finally, to answer general questions about Zumba, we have prepared a FAQ.
Zumba is based on speed and endurance training. It is therefore well suited for losing weight. The calorie consumption per Zumba hour is about 300 to 600 calories.
There are many different apps for Zumba Workouts available in the Apple Play Store and Google Play Store. Most of them are free, but have a paid premium version.
Gymondo specializes in home workouts and also offers special Zumba classes.
Zumba is for all ages! Special courses on YouTube and professional trainers are aimed at the 50plus target group.