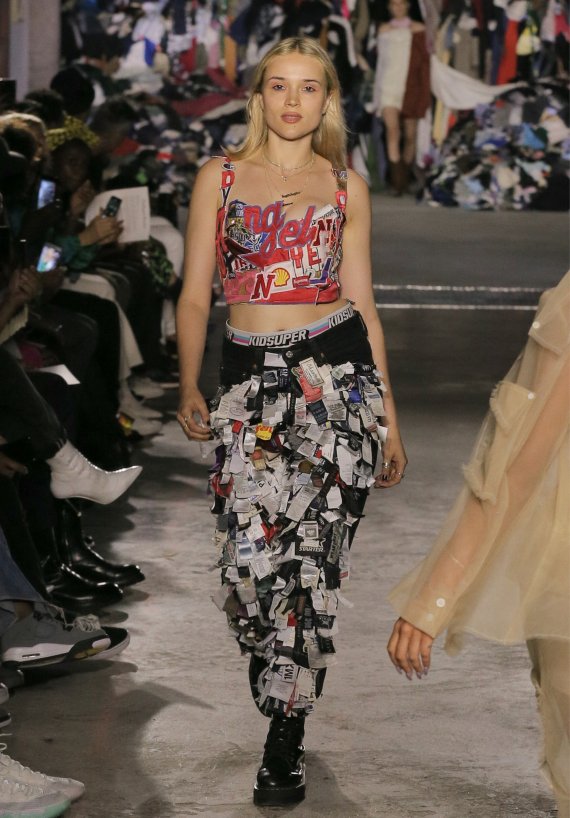 Almost everyone has a pair of jeans in their closet that is stonewashed. The very fashion-conscious may even own a favorite piece in the destroyed look. The new home furnishings in shabby chic offer flair and that certain something - or not?
No doubt, the so-called used look is in. But when you think about it, you actually have to shake your head at the ideas of resourceful marketing strategists. Isn't it absurd to use artificial aging to increase sales opportunities - and at the same time lower the utility value? The upcycling trend says otherwise!
The term - a compound of the English words up (high) and recycling (reuse) - means not only the use of waste resources in a modified form. It is about transforming the "garbage" into new, useful things. In a sense, the original form is repurposed and upgraded without the material having been destroyed beforehand.
Turning old into new - In the meantime, many products go through the process of upcycling and are then sold.
On the one hand, the realization of the finite nature of available raw materials is causing upcycling to increase, and on the other hand, upcycling is now also respected and often used by artists and designers. The trend is gaining in importance due to the decline in natural resources and as a result of social change.
In addition, cost savings and new marketing opportunities represent further advantages. In Europe 50 million tons of textiles are thrown away every year. Of this, only 75 percent ends up in a landfill. And of that, only 25 percent is ultimately recycled.
With the help of fabric upgrading, bags are made from old plastic bottles, for example. Also popular are unused fire hoses, which can be turned into bags and other accessories.
An old cable reel becomes a garden table, weathered boat planks become shelves, wooden pallets become seating groups, weather-beaten sails become cushion covers, or even the sports bag becomes a hat and the beloved skateboard becomes coasters, clipboards and bottle openers. In this way, individual and, above all, durable products are created.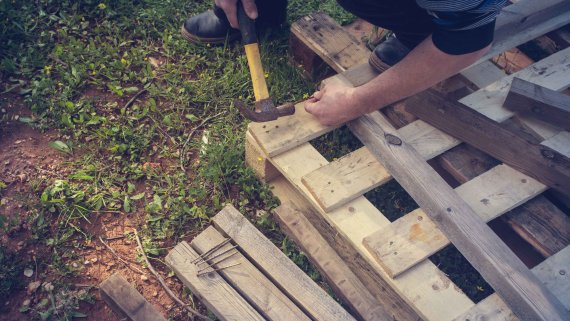 Who invented it? That seems difficult to pin down; certainly, comparable processes have actually always existed. However, the term "upcycling" itself first appeared in 1994 in the British monthly magazine "Salvo" in an interview with engineer Reiner Pilz. Specifically, it was about the recycling of building materials.
Pilz had denounced existing waste guidelines, saying: ""Recycling, I call it down-cycling. They smash bricks, they smash everything. What we need is up-cycling where old products are given more value, not less." 
What has established itself as an aesthetic trend in an affluent society like Germany has long been taken for granted in poorer regions of the world and is used more often than average. Due to the low availability of raw materials and the poverty of the people, many useful objects have long been created there from old or broken products. Here, imaginative upcycling is the order of the day anyway - even without an active environmental policy.
In the Philippines, for example, plastic bottles filled with water are placed in the roofs of houses. These serve as a source of light during the day. In Tanzania, too, people are upcycling. Old motorcycle tires, for example, are turned into practical footwear, a useful aid for the dangerous terrain there.
But even in richer regions, or "throwaway societies," upcycling is becoming more and more common: Many companies try to use everyday materials through the creative misappropriation of unconventional resources. For example, sunglasses are made from old books and broken pants or cups from coffee grounds. In addition, aesthetic aspects are gaining in importance; old fruit crates, pallets or wine bottles are thus used for interior and exterior design. Upcycling is also being used more and more in the fashion sector.
Since disposable products are no longer an option, more and more companies offer a repair service where, for example, broken outdoor clothing can be made ready again for the next use. In addition, many outdoor manufacturers now produce exclusively recyclable, which means that even if a damaged product can no longer be upcycled, it can still be recycled again.
Due to the high water consumption and the use of many chemicals, the production of clothing is usually very environmentally unfriendly. Outdoor companies like Patagonia, Jack Wolfskin and Marmot are now focusing on sustainable and environmentally friendly production.
But clothing is only really sustainable if it is worn for a long time. Much of it ends up in the trash too quickly. Outdoor manufacturers have therefore set themselves the goal of making their products as durable as possible so that they can be worn for longer and, in the event of damage, can be repaired/recycled.
Italian button manufacturer Metalbottoni is a pioneer in the field of environmentally friendly manufacturing. The company has developed a production cycle that has a low impact on the environment.
Together with the jeans brand Redew8, which manufactures its products with ecological and sustainable materials, Metalbottoni wants to develop a button. This is to be made of recycled copper and produced without chemical processes.
Jeans are also to be produced in a more environmentally friendly way in the future. For one thing, the high water consumption is to be reduced and fewer chemicals used. In addition, cotton alternatives are being sought.
Soorty, a jeans company, relies on Zero Water Blue, a process that is supposed to reduce water consumption in fabric production by 90 percent. As a result, only 3.1 liters of water are used per garment.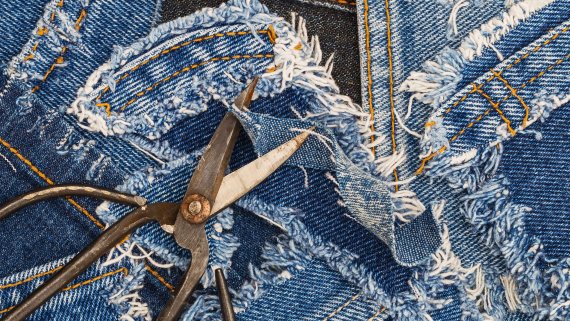 In view of growing mountains of waste, however, it is not only environmental politicians who are calling for new strategies. "Upcycling heralds a new era in waste recycling," hopes Christian Rauch, head of the Institute Of Future in Frankfurt am Main. In his eyes, we are on the way from a throwaway society to a recycling society.
The aim, he says, is to make lasting use of the quantities of raw materials that are in circulation. "In recycling, we feed products with a relatively high energy input to a lower processing level - in upcycling, that doesn't happen, you take the products as they are."
The trend researcher expects that the upcycling phenomenon will not get stuck in the lifestyle sphere. For him, one example is architectural models in which new houses are created with the help of old shipping containers - purely from waste products.
Upcycling is an idea which advantages jump out at you: First, it is active waste avoidance, then resources are conserved because fewer raw materials are needed. In addition, it stimulates creativity and imagination - those who like can live out their individuality and personal style while still being easy on the wallet.
Upcycling is both sustainable and trendy. We should all try to upgrade old items and get away from the lifestyle of the throwaway society. US inventor Thomas Alva Edison said, "To invent, you need a good imagination and a bunch of junk." He proved that it can work.
Upcycling is not considered a sustainability trend without reason - the process is environmentally friendly and encourages creative rethinking, which is ultimately the foundation for innovative business ideas. In addition, upcycling products are significantly cheaper than new purchases.