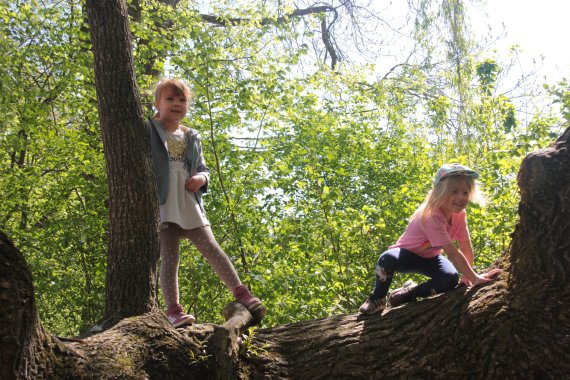 Playground or swimming pool are taboo in many countries during the corona crisis. How getting kids outside daily to play and have fun?
Dr. Susanne Kobel is a sports scientist with a focus on promoting physical activity for children and teaches at the University of Ulm. The mother of two provides ideas for child-friendly outdoor activities during the corona crisis. She gives valuable tips for increasing physical activity and also explains what outdoor sports activities can do for children and parents.
"At present children and parents spend more time in front of the screen. Parents for example for digital meetings, children for school, as a "care substitute" or out of lack of opportunities. More important right now is a contrast to this, not only for the eyes. And exercise in the fresh air offers much more than just variety in the currently limited everyday life", explains Kobel.
Outdoor activity helps children:
Just 20 minutes in nature significantly improves your mood.

The stress hormone cortisol is best reduced if you spend about 20-30 minutes walking in the countryside.

Physical activity releases happiness hormones that can increase well-being and reduce depression.

Exercise outdoors allows the body to replenish vitamin D, which should not be neglected for stress reduction, positive mood and the immune system.

Activity strengthens the cardiovascular system

Concentration and cognition are enhanced

Children sleep better if they get enough exercise, which is good for their health and their immune system - and for their parents' nerves.
According to the WHO, children should exercise for three hours a day, and from the age of five years on at least one hour of moderate to intensive daily exercise. Which activities offer kids varied, appropriate incentives to exercise?
Movement expert Dr. Kobel points out 7 possibilities:
Outdoor rally:

Each family member names three things they think they'll see at the rally: For example three different insects, a jogger, a walker with two dogs, a white flower. Then the search begins.

Mindfulness scavenger hunt

: Kids should look for something red, something soft, something tiny, something light, something useful, something sticky, something shiny, something rough or something like that. The children can also be creative and make suggestions.

Throwing games:

For the game "Hollow Throwing" make a hollow in the ground and put small branches in the ground as a boundary around it. From a distance, stones are thrown into the hollow. Whoever hits the hollow gets a point. Or games with fir cone long throw. If you feel like it, you can pack a frisbee (to build it yourself: just staple two paper plates together). With it you can for example

Disc Golf

play. A homemade flutterball (cut open tennis ball and stick

crepe tape

in) is also suitable for target and long throwing games.

Building a barefoot path yourself:

The surface can be earth, pebbles, leaves, flowers, wood shavings, bark mulch, grass, paving stones, moss. Just collecting them together is an incentive to move. With sticks the different "barefoot zones" can be separated.

change the perspective:

With a mirror in your hand, you can watch outside while walking, which you normally never see, because you are always looking forward or down: what is happening above you in the forest.

Nature as a playground

: Balance over tree trunks, climb a tree (even the adults, they do this far too seldom), play hide and seek, catch or jump in different ways: on one leg, in a circle, like a frog.

Build a bow and arrow from wood and practice with it:

Children are skilful observers, so that even kids from the age of 3 years can implement the steps

.

Instructions for this can be found for example at

GEO-Line

or the

Alpine Club South Tyrol

.

The search for the right wood can also be used for small sprint games, backward running exercises or stop running, for example.
Dr. Kobel has these suggestions especially for training coordination skills and balance:
Climbing a tree trains strength, coordination, agility and reaction - but also courage, skill and self-confidence.

Throwing games should specifically train hand-eye coordination but also concentration.

Whoever builds a bow and arrow and then tries it out promotes patience, calm, attentiveness, fine motor skills, strength, concentration and hand-eye coordination.

Walking barefoot trains the mindfulness, foot muscles and balance.

Jumping trains the bounce and is THE movement to strengthen the bones. That is why we should do it often during childhood. Only up to the age of 30 do we have the opportunity to strengthen our bones so that they will last a lifetime.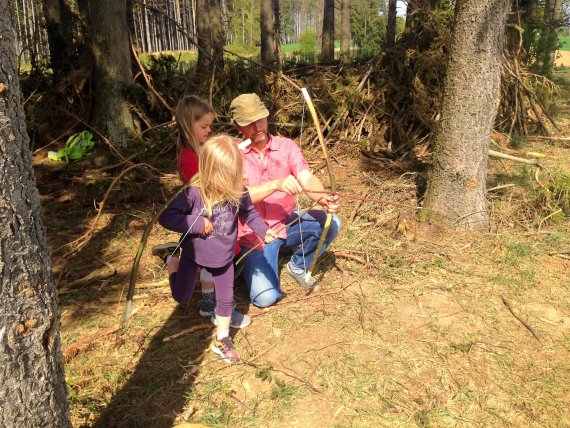 Snakes made of colorfully painted, strung together stones are "growing" everywhere in Germany. Usually it is children who lay them out  with messages like: Join in! In times of spatial separation, they should create a sense of community between kids and bring joy.
"We know that realistic, exciting destinations for children are positive incentives for physical activity. In order to train the musculoskeletal system in different ways and as efficiently as possible on the way to their destination, children can sometimes walk - either fast or slow and backwards - or use a walking bike, scooter, bicycle or skateboard to get to the Stone Snake," suggests Dr. Kobel.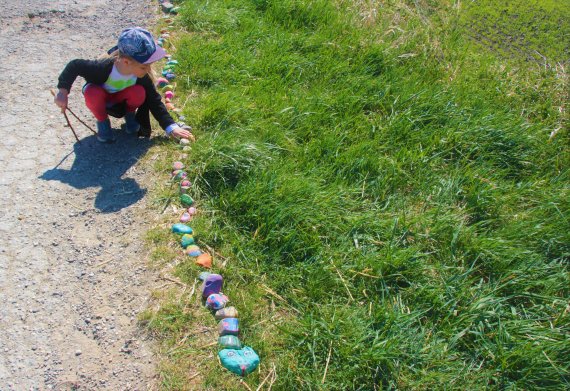 For Dr. Kobel the corona crisis is thus also an opportunity for new movement habits:"The hope is that at least parts of the new positive movement habits will be maintained for the future. The aim should be to make daily exercise as natural as brushing your teeth.