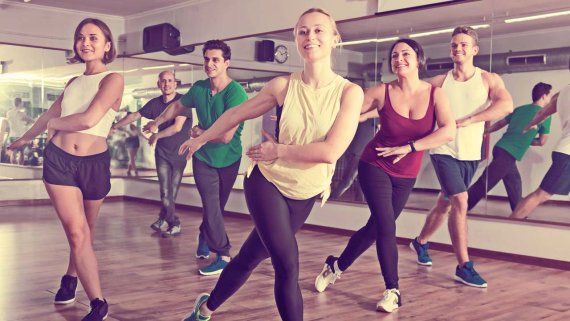 Extremely popular and highly effective: Hardly any fitness system today can keep up with the Latin American dance workout Zumba. Weight loss enthusiasts and fitness athletes flock to the studios to get their bodies in shape to hot Latin rhythms or to dance off the excess pounds.
It is now around 20 years since the Colombian fitness trainer Alberto Perez stumbled upon the popular fitness concept more or less by chance and first conquered the USA and then the whole world with Zumba. The current Zumba fever proves that the then completely new combination of aerobics and South American dance elements is not just a passing trend, but an effective training method.
Age, body stature, fitness level or previous dance experience - all this plays a subordinate role in Zumba. Nevertheless, there are now numerous Zumba courses that are specifically aimed at certain groups of exercisers. But how do you recognize a good Zumba class? Which is exactly the right one?
Zumba lives primarily from fun, a sense of team spirit and the awakening sense of community of like-minded people. In order to convey a good bit of joie de vivre to the participants, and thus to motivate and inspire them for the dance workout from the first day of class, a Zumba course and a Zumba instructor should also definitely be infected with the dance virus themselves.
Another important criterion: besides fun and motivation, it is the interval principle that makes Zumba such an effective aid to losing weight. In contrast to other courses, which have a predominantly uniform tempo during the training units, the intensity in the Zumba course is changed again and again. If everything is demanded of the trainees during one song, they can catch their breath again during the next one. A good instructor knows this and knows the right amount of exertion and recovery, which in turn can vary with the class participants and show you how to learn Zumba properly.
In order to find out whether it is a really suitable Zumba course, only one thing helps in the end: try it out. Most studios offer free trial classes, in which you can get an idea of the course and the trainer. Small tip: Since the training time to become a Zumba instructor at many academies is very short, so only little training science knowledge can be taught, it is recommended to pay attention to other references of the course instructor.
Strength training, conditioning and losing weight - when it comes to fitness, Zumba is a real all-round talent. In order to be able to respond even more specifically to your own training needs, there are different variants. Here is a short overview:
Zumba Fitness: The most original form of dance workout is offered in almost all fitness studios and is basically suitable for everyone. The classic when it comes to stress reduction, weight reduction and lots of fun in a group.
Zumbatomic: If even the youngest are gripped by dance fever, Zumbatomic is the right choice. Between the ages of four and twelve, the Zumba offspring can take their first steps to merengue, salsa and reggaeton. The joy of rhythm will be discovered quickly.
Zumba Gold: Dance workouts are also ideal for older people. Zumba Gold is aimed specifically at the needs of fitness enthusiasts at an advanced age and focuses on exercises that particularly address the torso and back. However, you will also work up a good sweat here and the training effect is no less great.
Zumba Toning: For real fitness freaks who feel underchallenged with classic Zumba and value an extra round of strength training, Zumba Toning is the method of choice. Each participant gets two small dumbbells in their hands and the intensity of the workout is raised to a whole new level.
Aqua-Zumba: Real water rats can also get their money's worth - with Aqua-Zumba. But if you think it's less strenuous in the cool water, you're wrong: the resistance of the water makes all movements more difficult and makes this particularly gentle workout even more effective.
This year more important than ever is of course the possibility to participate in a Zumba course online. Professional providers should have changed in the last pandemic years and offer courses online. Here, of course, it should be emphasized that there are also numerous free and professional alternatives on video platforms such as Youtube.