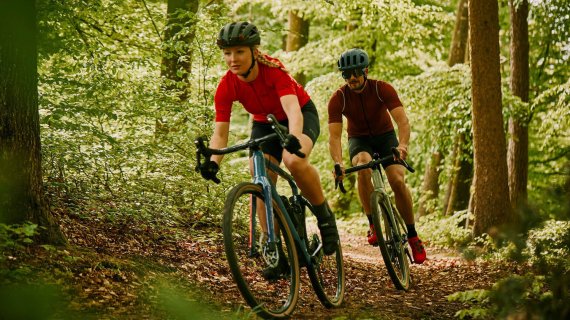 Road bikes for off-road tours with wider, profiled tyres have been in use in Europe as cross-country bikes since the 1960s. Today these bikes fall into the category of cross bikes. From this category, gravel bikes have developed in recent years, which first caused a sensation in the USA since 2015 and then found more and more followers in Europe as well.
A pioneer of the gravel bike scene is the US brand Salsa, which comes from the mountain bike and touring bike sector. Gradually, industry giants such as Specialized, Trek, Cube or Giant expanded their model range and developed their own gravel bikes. The off-road road bike for long distances is now a fixed component of the bike range of many manufacturers.
The choice of bikes for different demands and budgets is accordingly large and noble smiths such as BMC from Switzerland, Stevens and Veloheld from Germany have always set new impulses.
It's all about the mix! Especially with the Gravelbike. With a gravel bike, racing cyclists are no longer dependent on smooth asphalt roads alone, but can also ride on gravel paths or gentle forest trails on their training laps. For mountain bikers, the versatile bikes are a good addition if the ride is designed for fitness and longer distances rather than technical trails and demanding downhills. With a gravel bike, the wild off-road ride is thus transformed into a long off-road tour over forest paths and steep asphalt ramps. Especially in varied terrain, a Gravelbike is fully in its element.
If the gravel bike is additionally equipped with a luggage rack and mudguards, the bike becomes a sporty touring bike for bike tours lasting several days. Some manufacturers also equip their gravel bikes with hub dynamo and fixed lighting, making the bike suitable for everyday use.
At first glance, a gravel bike looks like a road bike with wider, more treaded tyres. But it is not only the look that makes these bikes stand out. Gravelbikes should also not be confused with a classic cross bike. A crossbike has a dynamic geometry with a flat riding position and is designed more for competition and short off-road use.
The gravel bike has a more upright seating position than a road or cross bike. The top tube is shorter, the head tube longer and the steering angle flatter. This is more comfortable, especially on long distances and multi-day tours. The flat steering angle and the wheelbase increased by longer chainstays improve the smoothness of the ride and ensure a safe riding experience on trails. The bottom bracket of the Gravelbike is also slightly lower than that of the road bike due to its construction. This lowers the centre of gravity, which further facilitates off-road handling.
Some manufacturers use light damping and spring elements. These are partly integrated into the head tube or the seat stays and are supposed to improve the riding comfort on gravel and trails.
For the frame you have the choice between aluminium, steel and carbon. A carbon frame has the advantage of a lower weight. But in terms of price, carbon wheels are significantly more expensive than aluminium and steel versions. The materials used in the frame also influence the riding characteristics.
Carbon frames are stiffer and therefore have less damping than aluminium or steel frames. In the end, it is not only a question of budget, but also of personal preferences.
The tyres of the Gravelbikes are usually between 30 and 55 millimetres wide and have a tread pattern suitable for off-road use. In terms of wheel size, manufacturers currently offer the full range of 26, 27.5, 28 and 29 inch wheels. The 26 and 27.5-inch tyres inspired by classic mountain bikes are more agile and quicker. 28 and 29 inch wheels swallow potholes better, roll over obstacles more easily and provide more comfort and speed.
Tubeless systems are also common on gravel bikes. Why? Without a tube, which is susceptible to punctures, it is possible to ride with a very low air pressure - this increases the riding comfort and traction in the terrain.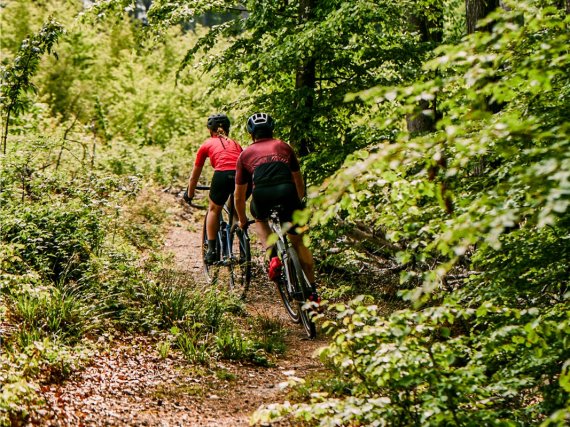 Disc brakes are standard on gravel bikes. There is a simple reason for this: In rain and lots of mud or with a high load on multi-day tours, they have a better performance than classic rim brakes. Cheap models have mechanical disc brakes, higher quality bikes use hydraulic disc brakes.
Here, too, the respective taste is decisive, and the manufacturers offer various equipment: From the classic racing bike gear ratio 2×11 with compact crank (50/34) to the cross bike gear ratio 2×11 (46/36) to the single gear shifts (1×11 or 1x12). The 2-speed version provides finer gradation, while the 1-speed version saves weight and maintenance and allows easier handling with only one gear lever.
Bicycles with electric motors are also available in the gravel bike segment. Especially on longer stages and on strenuous multi-day tours with luggage, an electric motor pays off. The slightly higher weight does not have a negative effect on the off-road riding characteristics. The electric motor lowers the centre of gravity again, thus ensuring balanced bike handling on root passages and trails.
On gravel, forest roads and forest tracks, E-Gravelbikes also get along very well, roll uphill without any problems and provide the desired extra push on steep ascents. With a range of over 100 kilometres, nothing stands in the way of a long mountain stage with the gravel bike. However, an electric motor not only provides additional power, but also a significantly higher price.
An entry-level model with solid equipment is available from about 900 euros. Those who want to dig deeper into their pockets can also spend up to 5,000 euros and more, depending on the equipment and materials. The entry-level models already have high-quality aluminium or steel frames and good components, which may weigh a little more, but are functionally convincing. Here the weight is usually over ten kilograms.
If you want to spend more than 2,000 euros on your gravel bike, you can already start thinking about a carbon frame. Carbon models weigh between 8.5 and 9.5 kilograms. However: carbon frames often do not have threaded eyelets for the subsequent mounting of mudguards or luggage racks.
E-gravel bikes start at 2,000 Euros and go up - and for an e-lightweight made of carbon you can certainly spend around 10,000 Euros. Basically, the total weight of a gravel bike is not as important as that of a road bike, for example, where every gram is saved in the high-end sector. More important here are versatility and sporty riding comfort - whether with or without an electric motor.