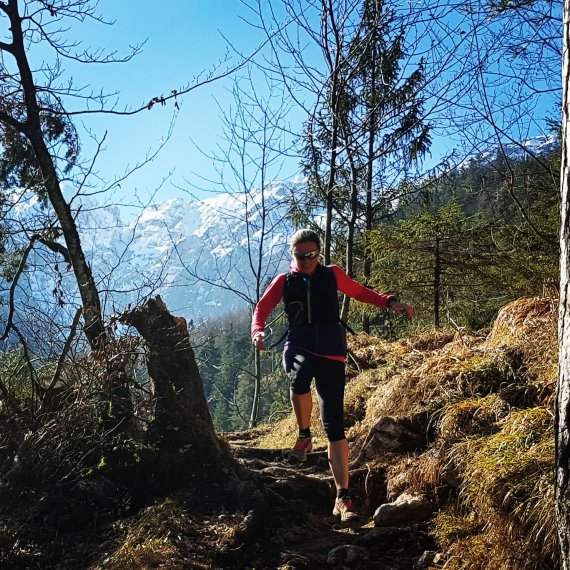 "Decent shoes on, go outside, and off you go! Don't think about it too much," says Andrea Löw. The Munich resident is an experienced ultra and trail runner, and has been hitting the mountains for years. She can bolster even beginners to take the step from the asphalt to the trails. And yet, there's a lot to consider. Here come the insider tips: How you become a trail runner.
ISPO.com surveyed six insiders:
Links to the other four parts of the Trail Running series on ISPO.com, with other expert theories, at the end of this text.
"Even pros switch between running and hiking steps"
Hendrik Auf'mkolk, trailblog.de:
1. It doesn't always have to be high alpine dream trails – trail running works (almost) everywhere, and is especially ideal for newcomers in the uplands.
2. Increase slowly – running an ultra trail in the highlands right as a newcomer is a pretty dumb idea.
3. Walking is allowed, and even more efficient in especially steep passages. Even the pros will intuitively switch between running and hiking steps.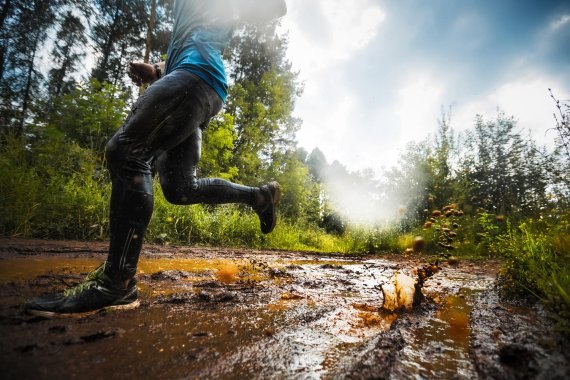 "Look out for roots and rocks!"
Andrea Löw, ultra runner and blogger at runninghappy.de: "Decent shoes on, go outside, and off you go! Don't think about it too much, just look for a good first circuit that runs offside the broad paths, and set out. Enjoy the feeling. When on your way, just take the narrow, unknown path. At the same time, concentrate on the path. There are roots, there are rocks. In short: there are more obstacles than on the street. But by concentrating on the trail, you're still much more in the here and now, you live the current view. And above all: Leave your pace be and forget about it. Just run as you feel, up and down, jump over obstacles and don't worry about how fast you're going."
"Not too much altitude in the beginning"
Holger Lapp, trampelpfadlauf.de: 
1. Approach things slowly and go calmly in the meantime, since running over hedge and ditch requires more strength and concentration.
2. Look for a nice circuit with not too much altitude, and take a good look at the course on the map beforehand. It's best to note the waypoints, turn-offs, and footpaths.
3. Turn off your watch or stick it in your backpack. We always notice on our trail tours that runners are too focused on a certain pace, then get stressed when things don't go quickly enough. Just switch off and enjoy.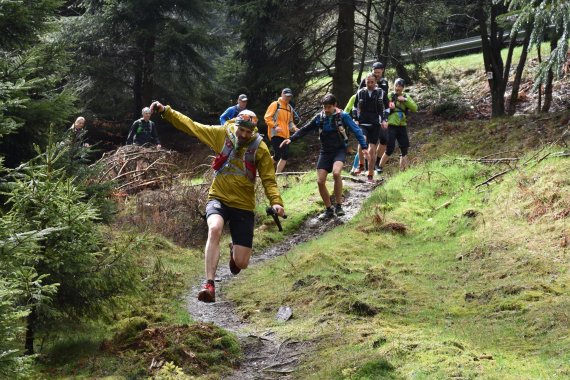 "Participate in organized trail runs!"
Lars Schweizer, Laufcampus Akademie:
1. Just set out running. Feel the natural environment and don't worry too much about the run.
2. Nobody's interested in speed. If you think you have to step it up, just do it. Don't worry about how slow you are now.
3. Absolutely participate in organized trail runs, even as a beginner. That way you'll get a feeling for the community and the experience, and get addicted.
"Don't go about it too quickly"

Marlen Franke, trail runner and blogger on trail-kitchen:        
"It's better not to get started at too high an altitude, hiking quickly uphill instead of running is totally normal – even the pros do it that way. Don't go about it too quickly, since you can keep pace at that level on the trail – especially as a newcomer. Maybe get your first experience on the trail in a group, and with guides that know the ropes. I organize a monthly run for the group "Never Stop Munich" where even trail running newbies are welcome." 
"Do exercises to strengthen your ankles"

Sandra Mastropietro, ultra runner and author ("Läuferleben"):
"Let things go easily! It doesn't have to be 1,000 meters high plus right away. In Munich, for example, the Isar trails offer a good starting point for trail running. Otherwise, I also recommend doing exercises for strengthening your ankles – that's never out of place, since you run the risk of tripping even more frequently when trail running, especially in the beginning."