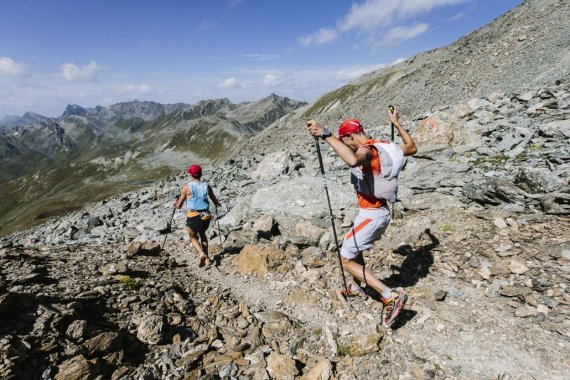 With its twelve-year history, this alpencross is one of the most prestigious trail runningevents in the world. The runners always compete in teams of two, and must negotiate the redesigned running course together from September 4 to 10.
The seven stages of the 2016 Gore-Tex Transalpine Run:
1st stage: Garmisch-Partenkirchen, Germany to Lermoos, Austria; 2nd stage: Lermoos to Imst, Austria; 3rd stage: Imst to Mandarfen-Piztal, Austria; 4th stage: Mandarfen-Pitztal to Sölden, Austria; 5th stage: Sölden to St. Leonhard in Passeier, Italy; 6th stage: St. Leonhard in Passeier to Sarntal, Italy; 7th stage: Sarntal to Brixen, Italy.
Daniel Jung: Co-favorite at the Transalpine Run
The South Tyrolean Daniel Jung is among the shooting stars in the trail running scene, and in 2015 ran in the Gore-Tex Transalpine Run with his partner, Ivan Paulmichl, in the second ring.

In 2016, the 33-year-old set a new course record in his win at the Südtirol Ultra Skyrace, over 121 kilometers at 7554 meters in height in 17:34 hours. He also won the Sciacche Trail (47 km, 2,600 m in height). Beyond that, the former mountain biker is setting his sights with new colleague Helmut Schiessl on the overall win at the 2016 Transalpine Run .
In a conversation with ISPO.com, the South Tyrolean reveals seven tricks to make sure the nearly 250 kilometers from Garmisch-Partenkirchen to Brixen aren't just felt as a torment. Or any other running event.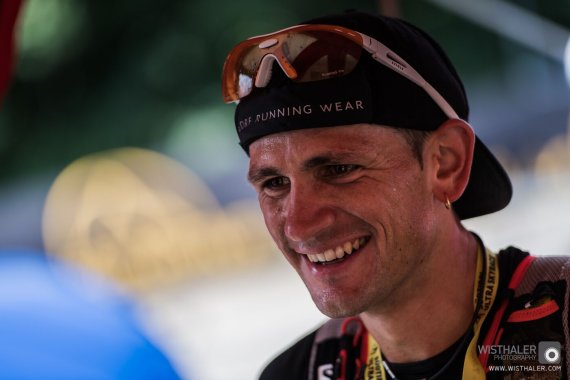 1. Preparation: Heavy units
A trained runner should start seriously preparing for the Gore-Text Transalpine Run approximately half a year before the race. Then the running is fun, too, and not just agony.

For a trail running event like this, heavy units on several days after another are especially important to get a feeling for the approaching strain. On top of that, of course, bicycling, swimming, and stretching and strength exercises with your own body weight, to strengthen your entire body.
2. Recovery: Cycling, and beer once in a while
The biggest problem with many runners is muscular recuperation. The muscle gets extremely irritated in constant stress, becomes inflamed, and in the worst case tears. This is where prevention begins, but also in the run-up to the race.

Bending and stabilization exercises, as well as bicycling, are extremely important to strengthen the muscles surrounding the stressed musculature. Between stages: eat, eat, eat. Filling up is very important.

Directly after the race: various minerals and egg whites – everything the body used up on the stage. Then a strong soup in the evening, something hearty, and feel free to have a beer, too. Sometimes I eat so much during this kind of race, I even put on weight.
3. Mental problems when trail running?

When the head doesn't want anymore, then it really is over. Outsmarting your body with your head, that can work. But outsmarting your head? As good as impossible.

Personally, I've come across yoga. That way I have a certain inner peace, and not just in difficult situations. And I'm an absolute sweets guy, so I bounce back with those great. My mood lifts immediately, and then the engine gets back running, too.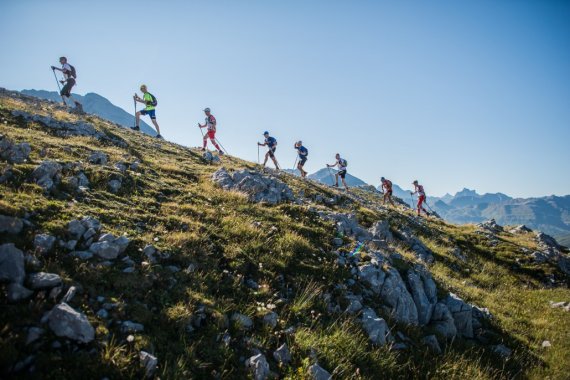 4. Nutrition: if it tastes good, it's allowed

Gels, bars, and what else there is of classic runner food is totally alright – but not necessarily my cup of tea. I just get by better with traditional food, or a good combination of both.

I have to have fun eating during the race. Homemade pancakes with Nutella and chia seeds, for example. Something salty with cheese and ham works great, too.

With drinks, I always have a bottle with an isotonic drink along with me, and a bottle with, say, a self-made elderberry juice. To keep my sodium levels constant, I offset the drinks with salt.

As a little rule of thumb: If it tastes good, it's allowed. The better your provisions taste, the more constant your food intake will be, and so hypoglycemia won't be a problem.
5. Running equipment: sticks for relief

So, in any case, the mandatory equipment is prescribed by the race organizers: rain jacket, first aid kit, gloves, cap, phone, and those kinds of things are a requirement for me in the Alps.

That notwithstanding, I always have some money with me. After all, you never know if you'll have to cancel your training or the run prematurely. Sticks are a matter of the length of the race. They relieve the legs, and can be a real blessing with certain distances.
6. Technique: forefoot instead of heel
Those who do without sticks in a race can brace their hands on their thighs when going uphill. That also has a supporting effect. What's always important is to open your chest to ensure the maximum oxygen intake.

Uphill rule of thumb: If, when ultrarunning, I can't see the end of the climb, then I keep going. Those who have problems running uphill can also go fast. That costs significantly less strength and isn't that much slower.

When running itself, I focus on the forefoot running technique, since rolling over the heel always has a slight braking effect, and above all directly disrupts the musculature during downhill running.
7. Running tactics: Start with good judgement

In general, many runners just start into a race too quickly. That can get quite difficult in a one-day race, but in a transalpine run, I have to distribute my strength over seven stages.

So, my tip is: approach it slowly. You simply can't get as much out in the beginning as you'll lose at the end, completely exhausted. Before every stage, I study the course profile with my partner very precisely, and we deliberate together on where we'll cruise at corresponding speed and where we want to attack.