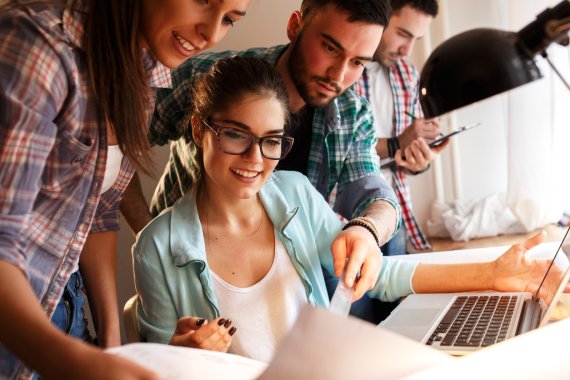 Most applicants dream of a cool job at a large sports brand. Those who reach the headquarters of companies, however, often have a light bulb moment: New colleagues who shoot by others on the career ladder are recruited here. Simply because these people have "gathered a very wide range of different experiences, can easily work under pressure and are absolutely focused on service provision."

That means: The "new starters" often worked in agencies before and were able to gather a vast range of experiences in a short period. The allegedly "uncomfortable" path that service providers take can end up being a shortcut to the most sought-after jobs. Our careers experts Andy Gugenheimer (head of sportyjob.com and cooperation partner of the ISPO JOB MARKET) and Gunther Schnatmann (recruitment consultant specializing in marketing and agencies) explain what the reasons are for agencies in sports business, what applicants expect there and what requirements they must fill.
Everyone learns teamwork here
In no other business is there such an emphasis on teamwork as in agencies. In these, financial and human resources must be tightly budgeted in order to secure sought-after jobs from companies with cost-efficient offers. In these situations, everyone needs to tackle the problem, and personal sensitivities must fade into the background.

No one is allowed to be above the task. From interns to the managing director, everyone works hand in hand. "The things that are often only achieved through costly team-building activities in large companies are a matter of course in agencies – only those who can cooperate well with all colleagues and are willing to help anyone without being asked are successful, instead of those who only prioritize their own status," explains expert Andy Gugenheimer.
Multitasking is a basic skill
Close cooperation with colleagues in agencies is one thing. Simultaneously dealing with a number of tasks is the other. An agency worker, whether they be in marketing, advertising, PR, events or sponsoring, generally takes care of a number of clients, each with numerous projects.

So it could be a campaign for an outdoor manufacturer plus their new corporate design, and also a client event for a sponsor plus their annual advertising plan. Being able to respond to calls, emails and media inquiries quickly, communicate lots, clarify issues internally, keep an eye on costs and guide other service providers at the same time – it's often a "juggling act."

Personnel consultant Schnatmann: "Those who have a structured method to their day will not be shocked later in their career as a manager in a company – recruiters and companies of course also know this!"

Looking for a job in the sports business? Find on here! >>>


Stress is a kick
Almost every employer wants workers who don't throw in the towel when they are stressed, but ones who will keep an overview. Stress is the norm in agencies because the customer is king and his wishes almost always need to be fulfilled in tight timeframes. Many agencies play with an open hand and demand people with "the ability to work under pressure" in their job postings.
If the customer needs a solution quickly, nothing can be delayed – the task must instead be completed immediately and under time pressure. Many agency workers soon learn how to distribute work in a team, how to process the load in a structured way, and how to limit stress. In the end it is often a success story, and a brilliant result is delivered to the client or the project is completed. "Experienced agency workers enjoy the stress and take it as a kick which brings their work to life," says Andy Gugenheimer.
Speed is second nature: "Client first"
Full commitment and the readiness to work under pressure are features which reveal the customer orientation at agencies. Due to competition with other service providers, the "client first" approach is also taken.

This is often demanded as a basic prerequisite in job postings. It is demanded that agency workers constantly deal with the needs and wants of clients and that they will always come up with new and improved solutions without being asked for them.
And finally, it is expected that the "expansion of client relations" will be successfully managed, i.e. the "selling" of further necessary services. For example, this can be seen in a current posting on ISPO Job Market for a Junior Manager Content Marketing/Social Media/Media Relations (at eastside communications Munich). People who are client-oriented and a born salesperson are worth their weight in gold for sportswear companies who are looking for new markets and cooperation partners.
Overtime? No problem!
Beforehand: The very difficult times are over. In this time of demographic change and skills shortage, agencies need to rethink their strategies. In order to get well-qualified applicants, service providers must also be more aware of the work-life balance and if possible, offer home office plans.
Despite this, agency work is not to be equated with company work. If it is urgent, i.e. if the client has a serious problem that needs to be solved immediately, then you must work into the night if in doubt.
Do you want a career in one of the world's most varied sectors? Find all sorts of sports dream jobs here! >>>>
The same is true for agency workers in the sports business where they are expected to work into the evening and on the weekends for events and trade fairs.
For young employees that is usually no problem, but it gets more difficult with a family. Then it is usually time for most agency professionals to move to a company. The attitude often stays the same though: I will work outside of my working hours for my employer. This is also valued by companies who need flexible workers in the sports sector.
Conclusion:
Even internships at agencies can give applicants decisive advantages. Those who have worked longer at agencies and successfully managed many client projects can entertain even greater hopes of top jobs. With this experience, the career fast lane is almost guaranteed!