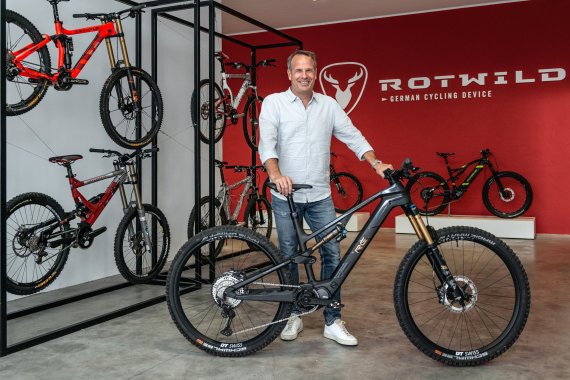 25 years. That's how long ago Peter Schlitt presented his first innovation: a brake booster made of carbon - originally devised for his own bicycle. The response was enormous. It was the starting signal for ADP Engineering GmbH, the engineer's innovation office, which now has 34 employees. Shortly afterwards the foundation of the corresponding manufacturer brand followed Rotwild.
Since then, Schlitt and his company have regularly won innovation awards - such as the IF Product Design Award, the Ret Dot Award Productdesign or, most recently and for the second time in a row, the TOP-100 Innovation Award. It honours the most innovative companies in the German SME sector.
How does Schlitt motivate his team to constantly innovate? And how does the successful product emerge from an innovative idea? The entrepreneur from Dieburg gives insights and reveals which innovation he wants to place on the E-MTB market with Rotwild. And he shares visions: about the future of the bicycle market - with chances and risks.
ISPO.com: Mr. Schlitt, what is behind ADP Engineering and how does the brand Rotwild see itself?
Peter Schlitt: ADP is first and foremost an engineering office in the field of mobility. For Otto Bock, the world market leader in prosthetics, for example, we have developed a handbike, for Audi the Junior Runner, and in addition to various bicycle brands, we have also developed bicycles for Porsche and Mercedes. We also worked closely with Brose on the development of their first e-bike motors. This cooperation enabled us to produce the first truly fully integrated E-MTB.
Rotwild is our own brand, which we founded in 1996 and under which we offer bicycles and accessories. Originally it was intended as a marketing measure to promote the engineering company. However, the brand Rotwild quickly established itself as an independent business field. With less than 10,000 units per year, we address with it above all customers who want to stand out from the masses, who are technology-driven and design-oriented. Due to our technical know-how, we have high standards for our products. Here we want to set standards, for example in the integration of electric drives. A Rotwild should generate heart palpitations and motivate customers to cycle.
ADP Engineering has been awarded the TOP 100 Innovation Prize for the second time in a row. The award honours innovation drivers of German medium-sized companies. The jury was particularly impressed by the innovation-promoting top management, the innovation processes and organisation as well as the success of the innovation. From your perspective: What makes an innovative medium-sized company for you?
In my opinion, an innovative company needs:
Freedom

Courage

Determination
Only if you leave room for lateral thinking, new ideas will emerge. When implementing these ideas, you must never lose sight of the goal and, above all, never give up in the event of setbacks. Because one thing is for sure, challenges on the way to the final product are always there and only too often practice deviates from theory, i.e. reality from the virtual drawing board. Then pragmatic solutions are needed and these are best found together, so an interdisciplinary exchange of ideas is advantageous here.
Companies are complex social systems with many time-consuming everyday processes at all levels. How do they organize their company in terms of innovative ability?
Ultimately, we have an open-door policy: every idea that moves us forward is always welcome. This is where our company size definitely suits us. With a good 30 employees, we are rather lean. We have very flat hierarchies and encourage our employees to communicate openly at all times. At ADP, for example, new model ideas are often first discussed in a team. We involve our employees in product development across departments, as for example with our new R.E375. Our Enduro Racers from sales, marketing, product management and service have always been an important source of feedback, from the specification sheet to the test rides. They have to be reflected in the product, because in the end they act as godfathers for this model in accordance with our philosophy "we build bikes that we want to ride ourselves".
For a change of perspective we gladly use our design office in Garmisch-Partenkirchen. This retreat offers further space for innovation developments. Away from everyday life and with a view of the mountains, strategies and concepts can be discussed here in the best possible way.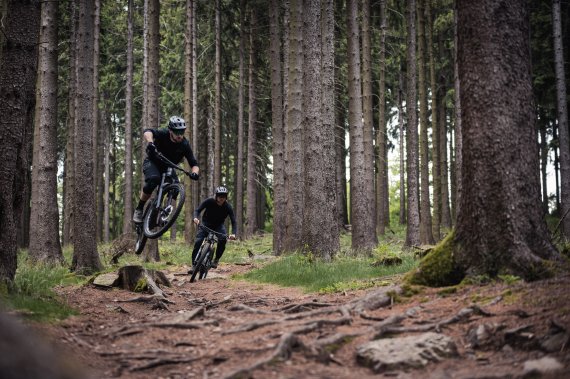 What must the team behind the innovations look like? And what does a strong, innovative team need?
The right mix is crucial. Only creative minds with a multitude of ideas do not yet make an innovation, it also requires energetic implementers to turn the whole into a finished product.
Of course, an open, passionate way of thinking is absolutely necessary to leave old paths and try out new ways. The current status must always be questioned in order to drive the optimization forward. Your own comfort zone must never be the limit. It is my task to trust my employees, to encourage and challenge them.
Keyword innovation success: What is important on the way from the idea of innovation to a real, economically successful product? What decides on the success or failure of new products?
The right feeling! For trends, the target group, the market and of course the brand. In order to create sustainable economic success, many factors must interlock. The product must not only satisfy the customer's needs, it must also fit the brand itself. In addition, it needs partners who support the development and enable the implementation. Only when all these requirements are met will the product be successfully placed on the market.
Looking ahead to the coming season: How do you see the market developing? And: What are your innovations for model year 2021 on the E-MTB market?
Basically: the bicycle industry is growing: from last year to this year and across all segments by more than 25% across Germany. This trend is continuing and is transferable to some of our European neighbours.
The bicycle is being rediscovered: also as a mobility alternative to public transport. Partly as a result of the corona crisis, topics such as general health, exercise and work-life balance continue to move massively to the forefront of a large population mass.
There is great openness to new products and the end consumer wants to invest. We hear from the end customer that the holiday expenses saved leave room for new purchases - or they want to be rewarded: for not having to spend the last few months.
Thus the stocks of manufacturers and specialist dealers are running close to zero. However, new procurement and materialisation currently require massive lead times. Because: we are still in the Corona pandemic.
For 2021, Rotwild records an increase of 45% compared to the 2020 model year, with sales growth of over 50%. Within the last three years we have more than doubled our sales. For me, this is due on the one hand to our clear, exclusive positioning, and on the other hand the premium segment is generally less exposed to economic fluctuations.
For model year 2021, we are coming up with a new, second platform, the IPU375. In addition to the new drive concept with Shimano EP8 engine and 375 Wh battery, the geometry is also significantly more progressive than in our R.750 series. With the new "Aggressive Series" we are addressing classic mountain bikers who appreciate and use a performance boost at the right moment. Above all, they want efficiency, driving dynamics and performance, in short, driving pleasure. Battery capacity only plays a minor role here. In contrast to our R.750 customer, who likes to set ambitious goals and always wants to be on the safe side to make sure that the battery capacity will not run out of power no matter how challenging the situation.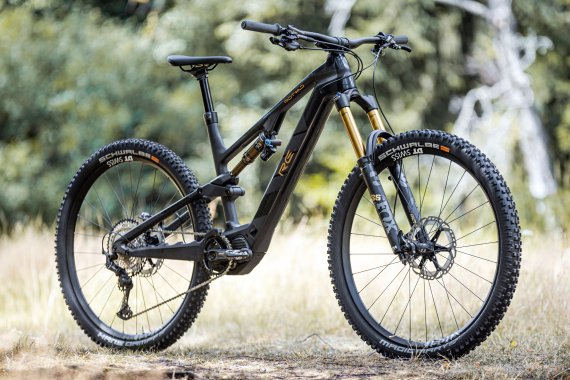 The e-bike market is growing rapidly and is becoming ever more multi-faceted. In short: It is booming. What must follow as a consistent next step to ensure that the market continues to develop so successfully? What new concrete requirements are emerging to the market?
The industry as a whole must become more professional. This applies to the entire supply chain - whether supplier, manufacturer or specialist dealer. Reliable communication, fast response times, in short, first-class service are a must today.
In addition, the connectivity of the products must comply with the digitalisation standard. The customer, driven by his everyday life, now simply expects more - he does not just buy a bicycle.
What new possibilities does this open up? What are the dangers?
Digitisation makes almost anything possible. However, many customers are not aware that e-bikes are subject to clear legal regulations and are not bicycles in the conventional sense. This applies to speed limits as well as to add-on parts. Likewise, customers who tune their bikes or simply exchange parts must be aware that they run the risk of losing all warranty and insurance coverage.
Let's take a visionary approach: Where do you see the bicycle market in 10 years in terms of market participants, bicycle developments, buyer class and target group needs - what's going, what's staying, what's new?
From today's perspective, I would say that the e-bike market will continue to diversify. Analogous to earlier developments in the bicycle sector, the range of products will be increasingly tailored to individual customer needs - batteries and motors will offer more or less power accordingly. This will allow us to address additional, new target groups. As a result, the classic bicycle will continue to lose importance.
The topic of urban mobility will also continue to occupy us. There is still some homework to be done here. The fact that people are willing to switch to the bicycle as an alternative means of transport is something we experience every day. However, the products currently on offer still leave plenty of room for improvement. Here we are only at the beginning.
Thank you for the interview.
Every year independent juries search for ISPO for the most innovative brands and products in sports .
ISPO Award is the seal of approval for the most innovative products in the sports industry. More info
Outstanding Outdoor selects the best products from the outdoor sector. More info
ISPO Textrends is the market place for innovative performance ideas. More info
ISPO Brandnew is the largest platform for sports start-ups. More info
The award ceremony will take place during the ISPO Munich and the OutDoor by ISPO. The awarded brands and products will also be presented at ISPO Shanghai and ISPO Beijing.