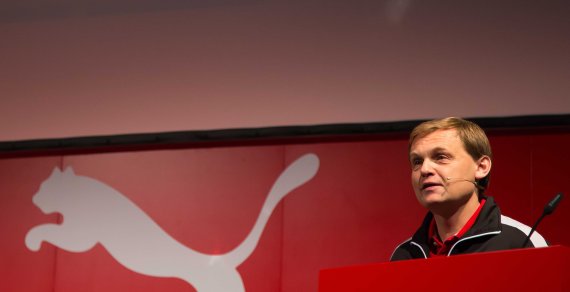 In the fourth quarter, shoe sales in particular had been the main driver of growth. Just like the other quarters, Q4 2017 was one of increasing sales figures: Adjusted for currency effects, the increase was 14.5 percent with sales of EUR 1,040 million.
For the full year 2017, currency-adjusted sales growth even amounted to 15.9 percent. According to Puma, the consolidated net income more than doubled from 62 million euros to 136 million euros and earnings per share increased accordingly from 4.17 euros to 9.09 euros.
"This momentum, coupled with the positive response from our consumers and trade partners, gives us cause for optimism about the year 2018," said Puma CEO Björn Gulden with a view to the overall balance sheet for 2017, who expects to increase sales by ten percent in 2018 at constant exchange rates. 
Gulden: "We are also pleased about our shareholder Kering's proposal to reduce his participation in Puma by distributing non-cash dividends to its shareholders. This will make Puma an independent company with a free float of 55 percent.