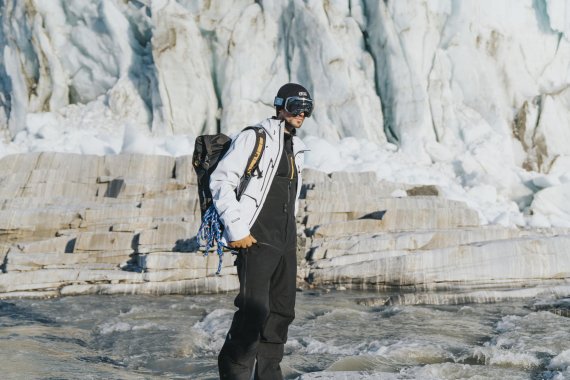 The hydrophobic and nanoporous membrane consists of polyolefin and contains only carbon and hydrogen. It is free of PTFE and PFC (polytetrafluoroethylene and perfluorohydrocarbons) and is also completely solvent-free in production because Xpore is stretched mechanically and not chemically. Since the Xpore membrane contains only hydrogen and carbon, BenQ Materials says that no harmful chemicals or gases are released during the thermal treatment for recycling. "On the contrary," says Stella Lin, Digital Marketing Manager at BenQ Materials Corporation. " A PTFE membrane contains fluorine and a PU membrane contains nitrogen, both of which cause harmful substances during thermal treatment for recycling. In short, it is possible to recycle the Xpore membrane together with textiles, without the creation of harmful substances during thermal treatment."
Xpore not only wants to set a new standard for environmental friendliness from the production process to the end product, but also offers true breathability together with waterproofness, the company says. In addition, Xpore technology is suitable for classic functional textiles made of synthetic fibres, and - according to BenQ - it is also particularly suitable for natural fibre fabrics such as silk, wool and cotton as well as for special fabrics, even leather. Xpore technology materials, including nanoporous membranes and adhesives, have already received important SGS and ITS certifications. The BenQ Materials facilities are ISO certified. Bluesign, Oeko-Tex and TAF of laboratory approvals are in process, BenQ continues.
However, the membrane is not biobased, as can currently be read in some articles. "Xpore cares a lot about environmental friendliness. Although Xpore's current raw materials are not bio-based, we plan to use recycled raw materials to manufacture membranes and produce even more high performance materials in this and next year. Our target is to use 30 percent recycled materials in the manufacturing process by the end of 2024," Lin continues.
As the first brand partner from the sportswear sector, Picture Organic Clothing presented a first ski outfit with the new membrane at the ISPO Munich 2020. Company founder Julien Durant: "This membrane is a real alternative and offers the best performance-sustainability ratio today. With Xpore we have a product that offers similar performance in terms of waterproofing and breathability to other membranes".