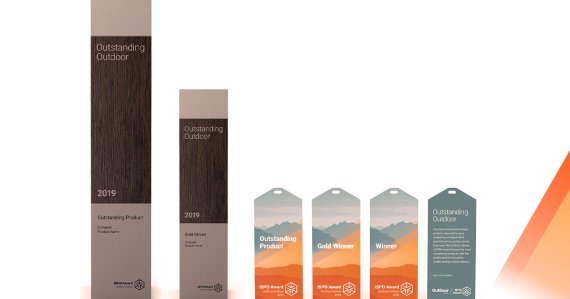 With Outstanding Outdoor we honor the highlight products of the outdoor industry and give them an attention-grabbing stage. The label offers guidance for consumers, media and retailer; it tells stories about innovation, craftsmanship and excellence.
Outstanding Product
Outstanding submissions on important industry topics are honored with the Outstanding Product award label for their special achievements in all product categories.
Gold Winner & Winner
Outstanding Outdoor reveals real product highlights. In one category, the winner will be awarded as Gold Winner and one or two other convincing products as Winner.
As an Outstanding Outdoor award winner, you benefit from a comprehensive service package with strong sales promotion and communication measures that convince trade, industry and consumers.
1. Outstanding Outdoor Label Graphics
In addition to the trophy, all winners receive an official award label that they can use in own marketing activities - from website to e-mail signature.
2. Outstanding Outdoor Hang Tag and Sticker
With the hang tags and product stickers we carry the award all the way to the retail trade, where the winning products labelled with it will definitely stand out.
3. Online Product Presentation
For an entire year, all award winners will be presented on the Outstanding Outdoor page at ispo.com, making them available to visitors, media and retailers at all times.
4. Media Production ispo.com
Each winner will receive an individual editorial package for ispo.com. The scope is based on the ranking.
Outstanding Outdoor is the seal of quality for the highlight products in the outdoor industry. The award label not only offers guidance for retailers and consumers, but also arouses strong media interest, which we support with active press work for you.
1. Award Ceremony
With the announcement of the winners we award the titles Gold Winner and Winner. The most outstanding products receive the title Outstanding Product. We accompany the announcement of the winners and the award ceremony with media coverage.
Announcement of the winners & Ceremony: 30 June to 02 July
2. Outstanding Outdoor PR
Thanks to our active press work and our large network, the winning products will reach relevant media, multipliers and decision-makers in Europe.
3. Year-round Communication in the ISPO Social Channels
In addition to the product presentation and media production at ispo.com, the highlight products are also shared with our outdoor-affine community via the ISPO social media channels.
Apply now and be part of the coveted Outstanding Outdoor award. The following video shows an interesting look behind the scenes: